About the Book
Title:
We Are Still Tornadoes
Cover Story: It's a Twister, It's a Twister!
BFF Charm: Third Wheel
Talky Talk: He Wrote, She Wrote
Bonus Factors: '80s Music, Snail Mail
Relationship Status: Playing for Keeps
Cover Story: It's a Twister, It's a Twister!
This is a fun, bright cover with a simple graphic. I would like it if it didn't have the kiddos spinning around at the bottom. They look like they're skateboarding side by side, which is not even a thing that people do, and if it was, those people really shouldn't be doing it under a tornado of music notes.
The Deal
In August of 1982, Cath leaves home, and her best friend Scott from across the street, to start her freshman year of college. Scott had lots o' fun in high school, which is to say he didn't get around to getting good grades or taking admission tests. He's a smartie like Cath, but he let her "help" him with most of his assignments, and now she's off to university without him. Don't you worry about Scott, though: he's a talented musician, a confident guy, and a loyal friend. He's figuring out what he wants, and in the meantime, he's working with his dad at the family business, a men's clothing store.
Scott and Cath's relationship is reduced to pen pal status, but in the way that a sauce is reduced to an intensely delicious magical potion you put on your meat. They write back and forth every couple of days, and they cover a lot of ground–the type of ground you cover when you graduate high school and start to learn about life and love and loss. The letters keep coming through various significant others, annoying roommates, flakey band mates, family drama and grief. Neither snow nor rain nor heat nor gloom of night stays these couriers … oh, that's the United States Postal Service. How appropriate!
BFF Charm: Third Wheel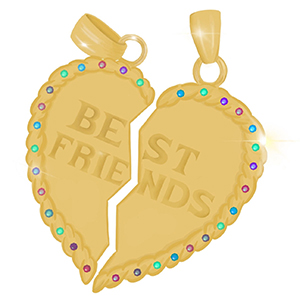 Um yeah, I would totally try to give Scott and Cath my BFF charms, and they would both probably accept, but all three of us would know they were just being nice. I'd try to hang out with them every time Scott came up to visit, and every time Cath went home for the weekend, I'd try to get myself invited. But there wouldn't really be room for me, and deep down I'd know it. I had so much fun reading their teasing, nostalgic, inside-jokey letters. I'm so totally going to over-quote this book, starting now.
From Scott:
And thanks for making me look up the word "duality." I actually had to go all the way downstairs, walk down to the den, get the dictionary off the shelf, look the word up, then put the dictionary back on the shelf, walk back upstairs, and go back to my bedroom. I only mention that so you'll be more careful about using words I don't know in the future. I shouldn't have to exert myself to read a letter.
From Cath:
I wish you were here! I really need one of our late nights where I pace around your basement as you sort of, maybe, half listen to me as I ramble about everything that has just happened, and I throw things at you if you fall asleep. No more ashtrays, I promise, I know that left a mark, but you know, pencils, shoes, pillows, whatever I need to throw some stuff at you right now!
Swoonworthy Scale: 7
This is an epistolary novel, and the thing about epistolary novels is that they leave a lot to the imagination. So if you have a good imagination (and I know you do!), then you will love the opportunity to fill in some of the blanks for yourself. That's a special type of swoon, isn't it? But don't worry: you don't have to work that hard. We get to know these two really well over the course of their year of letter writing, and the history and affection they share is so genuine and so sweet.
Talky Talk: He Wrote, She Wrote
This is a fantastic idea for a book, and I am really jealous that I didn't think of it first. Michael Kun writes as Scott, and his ol' pal Susan Mullen writes as Cath. They have different voices because they're different people (imagine!), and it just works so well. Apparently they used to write funny letters to each other when they were in law school, and this project is them resurrecting that relationship they used to have. The result is an absolute delight.
Bonus Factor: '80s Music
Now THIS is how you feature '80s music in a book. I'm talking to all y'all. Especially y'all.
I'll let Scott demonstrate:
I'm enclosing a tape I made for you as a piece offering. It's got a bunch of English Beat songs on one side so you'll recognize them at the concert, and it's got that new Simple Minds album on the other side. The last song is a Kate Bush song called "Wuthering Heights" that I like. It reminds me of that book we were supposed to read junior year, and her voice reminds me of yours when you used to sing in the choir. I think you'll like it.
Coupla' notes:
Yes, he does misspell "peace offering." He's super smart and he misspells words; it's part of his charm.
Was there ever a more sincere declaration of friendship than a mixtape? They took HOURS to prepare. That's love, you guys. Even in my day, mix CDs, which only took minutes, were an unparalleled way to show you cared. What do the cool kids do nowadays?!
Bonus Factor: Snail Mail
Oh how I miss getting real mail. There's just nothing more special than actual letters written on paper by people who care about each other. And good LORD, Kun and Mullen have got some serious correspondence chemistry. Do yourself a favor and read this book, then come back here and tell me they didn't NAIL this project. It's exactly the kind of stuff my guy friends and I used to write to each other in our late teens/early 20s, complete with music recommendations! Just add like 20 years to the music (and then of course, switch to email). Case in point, from my own archives:
I tried to call you yesterday and the saddest thing happened: this mean lady told me I had the wrong number. She was an automated lady. I hate her. It made me very, very, deeply saddened to know that you, my aforeconsidered (not a word) friend, did not let me know that your number had changed. What is your number? Also, did you get Thom Yorke's new solo album? It's pretty good, pretty Radioheady, which is to be expected.
Relationship Status: Playing for Keeps
Book, you were so much more than I expected. I laughed out loud, I sobbed softly into my pillow… I wouldn't trade a single moment of our time together for anything. (Well, there was that one letter I thought was a bit over the top, but nobody's perfect.)
FTC Full Disclosure: I received my free review copy from St. Martin's Griffin. I received neither money nor a heartfelt homemade mixtape for this review. We Are Still Tornadoes is available now.
---
About the Contributor:
It's taken a decade, but Lacey Nadeau has finally decided she misses the beaches of Southern California where she grew up. (It took only about a minute for her to miss the Mexican food.) However, she's pretty committed to the fun and sun of Denver, CO, where she plays with spreadsheets by day, and drinks boozy slushies with her husband and puppy by night. The puppy just pretends.