Fellow scientists, it's been a banner year in the FYA laboratory, with film after film proving the hypothesis that excellent YA adaptations do exist. Thank goodness for that, because Angie Thomas' incredible The Hate U Give deserves the very best — and it got it.
(Slight spoilers ahead, unless otherwise stated where there are GIANT spoilers.)
The Cast You Give
Amandla Stenberg as Starr
There's no question that she's the reigning monarch of YA movies, right? Romance, action, and now drama — what can't she do? (And, actually, she even does all of that in this movie alone.)
Russell Hornsby as Mav
I had only known him from Grimm, in which he plays a very different character, and his performance as Starr's father absolutely lives up to the well-earned hype that he's been receiving.
Regina Hall as Lisa
Do we appreciate Regina Hall enough? Is it possible to appreciate her enough? She always brings it in everything she does, which continues here with her being Starr's fiercely protective (and funny) mom.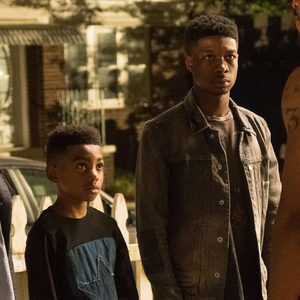 TJ Wright as Sekani and Lamar Johnson as Seven
I'm glad that glimpses into Seven's complicated relationship with his mother and the rest of his family made it into the film, and Sekani is so adorable as the bratty little brother.
Algee Smith as Khalil
This was one actor that needed to make an impact with limited screen time, which he certainly did.
K.J. Apa as Chris
Given all the familiar faces in this movie, his turned out to be the only one that I couldn't fully dissociate from his previous work. (Maybe I'm not used to seeing him without his ridiculous Riverdale dye job?)
Common as Carlos
Behold the transformative powers of the 'stache, because it made freaking Common look like an Instant Dad. (Or, more accurately here, uncle.)
Anthony Mackie as King
What would Cap think about your turn to crime, Sam?! King is probably as polar opposite to Falcon as it gets.
Issa Rae as April
Also a change of pace to see Issa in a strictly serious role as attorney and activist, April.
The Reactions You Give
I remember how emotionally devastated I was by the book, and now the movie's done the same. Even knowing what's supposed to happen didn't lessen the blow; if anything, it added an extra layer of tension to an already tense experience.
However, the movie also stays true to the heart and the humour of the novel. There were plenty of much-needed LOLs in my theatre.
The different colour filters for Garden Heights and Williamson is a neat visual indicator of the two worlds that Starr inhabits. (The rest of the film looks great, too.)
Of the many gut-wrenching moments, some of my biggest were the references to reality: victims of racial and police violence, #BlackLivesMatter signs, and "Hands Up, Don't Shoot".
Although in one pivotal scene, I couldn't help freaking out for a different reason because ANGIE THOMAS SIGHTING!
YA set decorators continue to create enviable bedrooms — and with plenty of book shout-outs that otherwise weren't as prominent in the movie.
It was probably already clear in the last section, but just to reiterate: the cast = PERFECTION. (Especially since the last-minute recasting of Chris wasn't noticeable at all.)
THE CARTERS ARE EVERYTHING. Such believable chemistry as a family.
The Spoilers You Give
BOOK AND MOVIE SPOILERS AHEAD! Stop here, skip to the very last section ("The Conclusions You Give"), or proceed at your own discretion.
I knew it was happening at some point, but WOW at opening with The Talk. Establishing right away that this movie was not going to hold any punches.
And OH MAN, just… every second after Khalil shows up. So much dread.
However, I did somehow manage to keep it together until Khalil's grandmother showed up. And then the floodgates were open.
"How many of us have to die before y'all get it?" CHILLS.
Switching gears completely: LOL at the movie having to define OTP for the Olds.
But really, Mav and Lisa are SUCH an OTP!
So much of the funny dialogue was taken right from the book: "brown-skinned Moses", Mav's Hogwarts gang theory, and the mac and cheese debate.
Some of the biggest reactions in my theatre (aside from When It Happens, which I think some viewers were really upset by) were Mav meeting Chris, and also Hailey expressing sympathy for 115.
The Adaptation You Give
I try to avoid (re-) reading a book right before watching its adaptation, so I rely more on whether the essence translated onto the screen, which it definitely did in this case.
The big details stayed the same, but a few smaller ones that I'm glad that they made the cut were the neighbourhood folks, and also the acknowledgement that Iesha protects her children from King's wrath by putting herself in the way. (I've always found that to be so heartbreaking.)
The most notable omission is DeVante, some of whose storylines were repurposed as Seven's instead. Even though I would have loved to see his scenes about dealing and names (as well as his unlikely friendship with Chris), I get why the movie had to scale back on the number of characters.
Speaking of: we couldn't have gotten even ONE 'Plain-Ass Chris'?!?
Another understandable change is Maya's reduced role. I just really wanted her to express minorities solidarity. (Intersectionality!)
Going the other direction, i.e., bigger, is the DRAMZ. The feud between Mav and King is more intense — as one does, when you can get Russell Hornsby and Anthony Mackie in as many scenes together as possible. And the entire thesis of "The Hate U Give Little Infants Fucks Everybody" is really driven home by the invented-for-the-movie scene of Sekani pointing the gun at the cops.
The Carters decide to stay in Garden Heights. I feel like both choices have compelling arguments, but the idea of rebuilding the community from within is a good one to end the movie on.
The Conclusions You Give
Even with the changes, this move is the book. And just like its source material, this movie will break you. (In fact, I might still be a little broken.) But it also lights the path forward, with how powerful speaking up and making your voice heard can be. And that's a bit of courage we all need more of these days.
---
Have y'all watched The Hate U Give yet? Hit me up with your thoughts in the comments!