About the Book
Title:
All the Bright Places 
Cover Story: The Writing's On The Wall
BFF Charm: Natalie Imbruglia
Talky Talk: Hungry Like the Woolf
Bonus Factor: Road Trip
Anti-Bonus Factor:  Awful Grownups
Relationship Status: Concerned Big Sister
Content Warning: This book explores anxiety, grief, mental illness, and suicide.
Cover Story: The Writing's On The Wall
Man, these post-it note covers sure are popular in 2015, huh? I don't love it or hate it, but it sure wouldn't have gotten me to pick it up off the shelf if I hadn't heard the buzz around this book. It does directly correlate to the story, though, so props for that.
The Deal:
Theodore Finch and Violet Markey meet atop a campus bell tower, where Violet is trying to kill herself and Finch is just thinking about it.
On the surface, Violet has it all: she's pretty and popular. But her sister died in a car accident last year, and she's still wracked with guilt. She's just counting down the days until graduation, and a new life somewhere else.
Finch is the resident school weirdo, who is obsessed with the ways he can kill himself. He never does it, because he always finds something small to live for; he just likes to know he can.
Together, the two bond over Virginia Woolf and a silly school assignment, finding comfort in each other's company. But as Violet relaxes in Finch's company, Finch finds himself consumed by his darker thoughts. Both of them struggle with depression; both of them struggle not to be defined by their pain. The question is, can they overcome it together?
BFF Charm: Natalie Imbruglia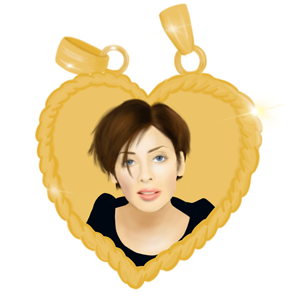 I think that I would really like Violet normally, but I never really got a sense of her personality beyond her interactions with Finch. You get to know her through her struggle in dealing with her sister's death, and her burgeoning closeness with Finch, yet you know she has to have other interests and feelings beyond that situation. It's ironic: neither of them want to be defined by their grief and/or mental illness, but that's exactly what the book does.
So…maybe she gets my BFF charm? She probably would, under more normal circumstances. At least she likes literature!
Swoonworthy Scale: 7
The one thing I did really like about this book was the romance; Niven does an excellent job of writing sweet and sexy moments that feel deliciously inevitable, even if you only know the characters in the context of their own struggles. I absolutely believed that Finch and Violet found what they were lacking in each other.
Talky Talk: Hungry Like the Woolf
Finch and Violet communicate by trading Virginia Woolf quotes—Violet because she likes them, and Finch because he's trying to meet Violet on her level. Niven's writing is outstanding, and her comparisons to Rainbow Rowell and John Green are well-deserved.
"It's my experience that people are a lot more sympathetic if they can see you hurting, and for the millionth time in my life I wish for measles or smallpox or some other easily understood disease just to make it easier on me and also on them."

"Listen, I'm the freak. I'm the weirdo. I'm the troublemaker. I start fights. I let people down. Don't make Finch mad, whatever you do. Oh, there he goes again, in one of his moods. Moody Finch. Angry Finch. Unpredictable Finch. Crazy Finch. But I'm not a compilation of symptoms. Not a casualty of shitty parents and an even shittier chemical makeup. Not a problem. Not a diagnosis. Not an illness. Not something to be rescued. I'm a person."
Those comparisons are a double-edged sword, however. As you read the book, you do get the feeling that you've read this before: insanely clever teens with quirky senses of style bonding over a not-terribly-popular-with-teens tragic author? Two different points of view to describe the same events? It really does read like an amalgamation of The Fault in Our Stars and Eleanor & Park. That's not necessarily a bad thing, but by the time you get to the end, you might feel like you've trod this road before.
Bonus Factor: Road Trip
Finch and Violet are assigned to visit the natural wonders of their state, which ends up taking on a life of its own.
Anti-Bonus Factor: Awful Grownups
Here's where I tell you that while the writing was excellent, by the time we got close to the end, I started raging. Basically every single adult in this book is either abusive, oblivious, or has completely given up on the two kids. I understand why Niven chose to write them this way, but the message it sends, especially by the time you reach the end, is horrible. (I'm struggling not to spoil anything here, but I want to be clear: the message of the ending felt so wrong. If you discuss it in the comments, make sure to tag your spoilers!)
Relationship Status: Concerned Big Sister
Book, our date started off well. I loved your way with words, and you drew me into your story quickly…but then I realized that we might be better off as friends. This isn't the stuff of romantic love, but you have a lot going for you…so let me check in on you from time to time, like the concerned big sister I can be, okay?
FTC Full Disclosure: I checked this book out from the library. I received neither money nor a pet unicorn for writing this review, despite how hard I wished for one. All The Bright Places is available now.