About the Book
Title:
Beauty and the Beast: Lost in a Book
Cover Story: Library Under The Stars
BFF Charm: Single White Female
Talky Talk: Straight From The Mouse
Bonus Factors: Enchanted Books, Bonus Content
Relationship Status: Library Patron
Cover Story: Library Under The Stars
This cover is beautifully fantastical and perfectly reminiscent of both the old cartoon and new live-action Beauty and the Beast movies. The library is drool worthy, though it does seem like there's no ceiling and that the shelves are open to the night sky. Very striking, but not great for the books' longevity. *pets them protectively*

The Deal:
To set the scene: We open on the day after the Beast rescued Belle from the wolves after her escape attempt. The Beast gifted her the use of his library, and while she is beyond grateful, the dust, cobwebs, and grimy windows fail to show the library at its best, so it's up to Belle and the servants of the castle to make it sparkle.
While she cleans, Belle finds a mysterious book called Nevermore. Recalling the Beast's passing mention of there being some enchanted books in his collection, she's intrigued and exhilarated when she is able to step inside the book and emerge at an extravagant party hosted by a beautiful countess. She meets dozens of interesting people from all around the world, and soon she starts using the magic book as a way to escape her current predicament.
But what Belle doesn't realize is that the enchanted book is not from the Beast's collection, but was placed there by Death herself in order to sway Belle away from breaking the Beast's curse. Will she figure out what Nevermore is before she's trapped inside it forever?
BFF Charm: Single White Female
I mean, come on. It's Belle. We all want to be her with unlimited access to that library. Also, I know she despairs that she's a prisoner and hasn't had enough life experiences out in the world, but with my outside perspective I know exactly where her story is going, so heck yes would I hide her body down a well somewhere and take over her soon-to-be-awesome life of living in a beautiful castle with a hot prince (though, really, shouldn't he be a hot king at this point? It's clear his parents are gone; he's the only one running this kingdom).
Swoonworthy Scale: 3
Donnelly's storyline falls into the area of the movies where Belle and the Beast are becoming more friendly with one another, doing things like ice skating and sipping hot chocolate in the snow, but they're also still tiptoeing around each other's feelings, scared of saying too much. It's pretty much the "Something There" montage, and while the overall tone is sweet, their interactions often ended with Belle pushing the Beast to answer her questions about the curse and him getting frustrated and leaving because he's not allowed to. It was the equivalent of Disney blue balls.
Talky Talk: Straight From The Mouse

Part of the reason I wanted to steal Belle's spot in the book is because she fell victim to one of the classic blunders of getting into a land war in Asia being way too trusting of magical strangers. She won't hear a bad word against the countess and her intentions, and keeps things from people like Mrs. Potts, who even she knows just has Belle's best interests at heart. So, really, if I were Belle, this book wouldn't have happened.
Putting aside Belle's naivety grating on my nerves here and there, the book is written in a very straightforward manner, with little frills and a breezy pace. I've enjoyed Jennifer Donnelly's other books in the past, and while I could see her touch every so often, I honestly feel like this could've been written by anyone. That isn't an aspersion on her as an author, but rather on what I assume was most likely a very regimented story outline that she was required to follow—this being is a Disney product—which probably led to her being unable to really add her own flair.
Did this story need to be told? Probably not. But if you are an avid Beauty and the Beast fan, and you crave a few more interactions between the Beast and Belle (because, let's face it, the movie was always way too short to show us everything we really wanted to see from their relationship), then this is a quick, light read that will leave you with a fangirl smile.

Bonus Factor: Enchanted Books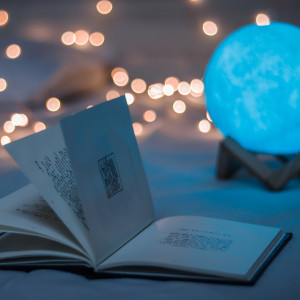 Despite its dubious nature, Nevermore sounds pretty baller. A book where the story is written expressly for you and would allow you to go wherever you wanted? That even gives you a fancy new dress to wear every time you step inside? Yes, please.
Bonus Factor: Bonus Content
It's no secret to anyone who knows me that I love Beauty and the Beast; it was one of my favorite movies as a child and I've read more than my fair share of retellings, hoping to recapture the magic of the original. So I greedily ate up this new content that showed off some quieter times at the castle but yet still felt like it could've been part of either version of the movies.
Relationship Status: Library Patron
So, Book, I know I just live in the village and I'm definitely not a castle servant (I would have NO idea how to polish the silverware), but would it be alright with you if I just stopped by every now and then and hung out in your library? I'd be as quiet as a mouse and only take up some space on a window seat. I'd even help dust if you wanted me to.

FTC Full Disclosure: I received my free review copy from Disney Press. I received neither money nor peanut butter cups in exchange for this review. Beauty and the Beast: Lost in a Book is available now.