About the Book
Title:
Grave Mercy (His Fair Assassin #1)
Cover Story: Premiering Soon On HBOtime
BFF Charm: Heck Yes!
Talky Talk: What A Tangled Web She Weaves
Bonus Factors: Poisons, Old Gods
Relationship Status: Whirlwind Engagement
Cover Story: Premiering Soon On HBOtime
Doesn't it look like a promo poster for The Tudors or The Borgias or the latest historical trash fantasy TV show (and I use "trash" in the absolutely most loving way possible — there's nothing I get into more than bad history dressed up in fancy costumes, illustrated with gratuitous sex and intrigue)? I will absolutely give this fancy dress a pass, since the book takes place in ye olde times, and isn't just an emo girl crying in the rain in her black prom dress. Plus, that crossbow and the super fierce look on the girl's face are pretty badass.
The Deal:
Burn scars from the abortifacient poison her mother took cover Ismae's back — and they're a sign that she's not the daughter of a turnip farmer, but the true daughter of Mortain, the ancient Breton god of Death. When her earthy father (the turnip farmer) sells her in marriage, she barely escapes and ends up in the convent of St. Mortain, where she's trained to serve his will and protect the Duchy of Brittany from the rapacious French. As an assassin. Ismae quickly takes to her calling, and she's placed in the household of the 12-year-old duchess's closest protector. Someone has been passing secrets to the French and will bring the duchy to ruin if he cannot be stopped, and Ismae must find out who in the duchess's inner circle is the traitor — and she desperately hopes it's not the handsome, serious Gavriel Duval, to whom she's been assigned. Oh, and her cover? She's supposed to be Duval's mistress.
BFF Charm: Heck Yes!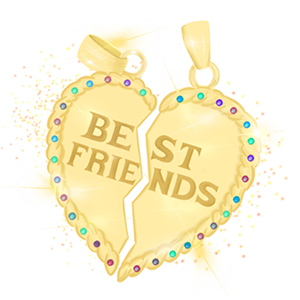 Even though Ismae kiiiind of scares the hell out of me, since she's not only trained to kill, she actually LIKES it, and she knows more ways to poison a man than Flavia de Luce (or Lucretia Borgia), I'd totally give her my BFF charm. She's been through so much hell in her short life, and the sisterhood at the convent is the first place she's really felt like she belongs. I'd like to teach her to take advantage of those classes on womanly charms she's been skipping, because honey, it's REALLY not that bad, but I'd also giggle and roll my eyes at the lusty nun's enthusiasm for low-cut dresses and kissing practice. Ismae is such an innocent, despite being a very good assassin, and even though she'd probably reject any obvious protective overtures, it wouldn't hurt for her to have someone there to watch her back. Also, I think having a BFF who could poison a cheating ex would be much more useful than one who'd bring over pints of Cherry Garcia (not that I'd turn down ice cream AND poison, mind you).
Swoonworthy Scale: 8
Ismae's limited (very bad) experience with and even more limited interest in men means she's extra prickly around Duval — imagine how embarrassing it would be to have to pretend to be a mega hot guy's mistress when you're not only a virgin, you've never even kissed a guy AND the hot guy is someone you're investigating for treason. It's a classic pantypeeler: She distrusts him, he resents her, they have to pretend to be lovers — and keeping up appearances includes visiting her room every night — so OF COURSE there's tons of tension. And? Duval is about as hot as it gets — serious and dedicated to his job, but with dry sense of humor, not a bed hopper but knows his way around, and some other things that I won't go into because they're minorly spoilery, but if you're interested anyway, check out E. Lockhart's opinion of Chime vs. Daughter of Smoke and Bone, which holds true for Duval.
Also, when there finally is some action, it's h-o-t. I just kept the score at an 8 because I was hoping for something less tasteful at the end, because I'm a dirty old lady.
Talky Talk: What A Tangled Web She Weaves
LaFevers skillfully juggles intrigue and historical detail and fantasy in this novel. The world of the convent of assassin nuns (I don't know if I'll ever get tired of saying "assassin nuns") is just as real as the historical setting of Anne of Brittany's court. While I love sartorial digressions as much as the next Phillippa Gregory fan, I appreciate LaFevers' choice of Ismae as a narrator because the girl could really care less about her clothes as long as the scars on her back are covered — in this historical fantasy, politics and gender roles and intrigue are much more prominent than simple set design, and LaFevers manages several narrative threads without dropping any of them. In fact, I'm really looking forward to finding out where a few of those threads lead in the sequels.
Bonus Factor: Poisons
Ismae's talent is for poisons — an unusual consequence of her mother's attempt to abort her. I loved all the detail of the different poisons and how they can be administered.
Bonus Factor: Old Gods
LaFevers tackles the way the Christian church appropriated and subsumed old gods and traditions, making many of them saints, and she comes up with a pretty cool mythology while she's at it.
Relationship Status: Whirlwind Engagement
I know I just met this book, but we spent every waking (and sleeping) minute together and I know I'm in this for the long haul. It's funny, hot, and the chemistry is amazing, but there's more to our relationship than just sex. We talk about serious things like the role of organized religion and women's rights, as well as just joke around — and have hot make out sessions. I'm sure we'll have what it takes to keep the relationship alive for years to come. Good thing there are four more books planned for the series.
FTC Full Disclosure: I received my review copy from Houghton Mifflin. I received neither money nor cocktails for writing this review (dammit!). Grave Mercy is available now.