About the Book
Title:
The Geography of Lost Things
Cover Story: California Dreamin'
BFF Charm: Yay
Talky Talk: The School of Sarah Dessen
Bonus Factors: Road Trips
Relationship Status: On The Road, Again
Cover Story: California Dreamin'
Well if you WEREN'T wishing you could be taking a road trip through the Pacific Northwest, I bet you are now, eh? I love the trees, the glint of sunshine, the little road sign containing the "OF" and even the title treatment is top notch. Makes me want to hit the road.
The Deal:
Ali needs cash, like, stat. The bank is closing in and if she doesn't figure out a solution, they'll take away the house she and her mom have worked so hard to keep. When she finds out that her long-time-absent father has passed away and left her his prized possession – a 1968 Firebird convertible – Ali sees a light at the end of the tunnel. If she can sell her dad's car, she might be able to save her house. After reaching out to a classic car enthusiast on Craigslist, Ali is all set to drive up the Pacific coast after school one Friday, sell the car, and make it back home before her mother gets back from a work trip.
But when Ali's ex-boyfriend Nico catches wind of her plan, he has other ideas. She can't just drive three hundred miles alone to meet a guy she met ON CRAIGSLIST for God's sake. Plus, Nico's a little in love with this Firebird, and will do anything to convince Ali not to sell it. As the pair awkwardly navigate the Pacific highway and their unresolved feelings for one another, Nico teaches Ali the importance of trading up – start with something small, trade it for something a little bit bigger. If they play their cards right, they might just keep trading up until they can save Ali's house.
BFF Charm: Yay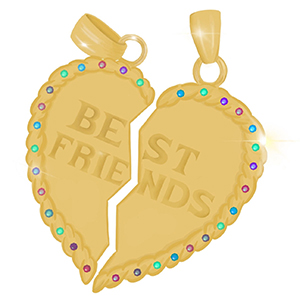 Ali is tough and determined, but not hardened. I liked that she wanted to do whatever it took to save her house, and even if she was a bit stubborn about coming around to Nico's plan, she eventually opened up to the idea of it. She was funny and loving, and I totally related to the mixed emotions she held about her dad.
Swoonworthy Scale: 6
Ali's ex-boyfriend Nico was a total cutie who wanted whatever was best for Ali, and he knew when to push her but also when to back off. Brody slowly gives the reader little bits of Ali and Nico's backstory in an attempt to draw out the tension, but when I finally had all the deets, I found their history to be a bit…blah, and that kept me from really feeling the heat between these two. Plus, I have to deduct at least one swoon point for not properly utilizing my favorite rom-com road trip trope: a hotel with just one bed.
Talky Talk: The School of Sarah Dessen
This book reminded me a lot of a Sarah Dessen book in all the best ways. It's a heartfelt contemporary about family and first love. Ali is a super relatable heroine who alternately struggles with missing her dead father and hating him for leaving her behind to be a roadie for his favorite band. The premise may not be groundbreaking, but it's enjoyable nonetheless. Plus, I thought the "trading up" concept was original and exciting.
Bonus Factor: Road Trips
I'm always down for a road trip with a cute boy, doubly so if said road trip involves the Pacific Coast Highway.
Relationship Status: On The Road, Again
I enjoyed our trip together, Book. You made for good company, and I certainly don't regret heading down that road together. But honestly, I've been on lots of road trips with lots of books, and while ours was fun, it wasn't as memorable as some of the others. No hard feelings, it was tough competition!
Literary Matchmaking
Saving June
In Saving June by Hannah Harrington, Harper steals her sister's ashes and heads cross-country with a cute boy named Jake to take her sister the one place June always wanted to go: California.
In Honor
After her brother Finn dies in Iraq, Honor sets out to achieve his final request, but doesn't expect Finn's best friend Rusty to tag along for the ride, in In Honor by Jessi Kirby.
Someone Else's Summer
Someone Else's Summer by Rachel Bateman is a SUPER swoony road trip story about a girl and the boy next door who set out to complete her late sister's bucket list.
FTC Full Disclosure: I did not receive money or Girl Scout cookies of any kind (not even the gross cranberry ones) for writing this review. The Geography of Lost Things is available now.