About the Book
Title:
My Name is Victoria
Cover Story: Big Face: Historical Edition
BFF Charm: Yay
Talky Talk: Jane Austen Jr.
Bonus Factor: Dash
Relationship Status: LYLAS
Cover Story: Big Face: Historical Edition
I have a lot of feelings (mostly negative) about Big Face covers, but I have to admit, this one is clever. While I can't go into details without getting spoilery, I can say this cover gets a cool nod of approval from me for its ability to capture an integral part of the story with subtlety.
The Deal:
At 11 years old, Miss V Conroy, daughter of royal comptroller Sir John Conroy, is brought to London to live at Kensington Palace and be the companion of Princess Victoria. Miss V (whose name also happens to be Victoria) is quiet, shy, and well-behaved—the exact opposite of Princess Victoria, whose bad behavior is only worsened by the fact that she must abide by the Kensington System. The System is a set of rules developed by Sir John as a means of keeping Victoria safe from any would-be assassins who might hope to usurp her claim on the throne, but is mostly a way for Sir John to control everything that Victoria does.
Over the years, Miss V becomes Victoria's closest friend and confidant, but as Victoria gets closer to the throne, Sir John's hunger for power grows, as does his need to control and oppress Victoria and everyone around him. Miss V must find a way to beat her father's system and protect her friend at all costs—even in ways Miss V never, ever expected.
BFF Charm: Yay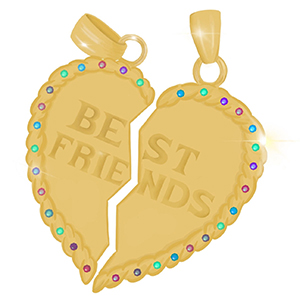 At first, Miss V seems like kind of a dud. She's nice, but incredibly shy and a bit scared of everything around her. Which, I guess, is fair, since she's 11 years old when she is taken from her home and sent to live with a crazy princess in a dingy palace with her mean dad. But as she gets older, she becomes bolder and more assertive, thanks in part to Victoria's influence. By the time the girls are 18, Miss V has grown to be clever and loyal while still keeping a pretty chill persona—my favorite combo! She doesn't need or want to be the center of attention, which makes her exactly the friend that Victoria needs.
Swoonworthy Scale: 4
Victoria and Albert are a love story for the ages, so I was excited to get a new version of this romance, and Worsley certainly delivered. While the first half of the book takes place when Victoria and Miss V are only 11 years old, a certain German prince makes his appearance in the second half of the story, but the swoon doesn't happen at all like you think it will. I'll avoid spoilers and just say that, like any good historical romance, the swoon in this book is restrained and sweet, and a lot of the excitement comes from its uncertainty.
Talky Talk: Jane Austen Jr.
Lucy Worsley's prose captures the feeling of the era without the density of most historical fiction, which makes it a perfect introduction to historical fiction for younger readers. But My Name is Victoria takes a lot of liberties, creating an alternative history of Victoria's rise to the throne, and one that, if you're a Queen Victoria stan like myself, might be a bit hard to swallow. That said, the pacing was quick and the story intriguing, and even if just to find out what the heck Worsley is up to, you'll be turning the pages rapidly to the end.
Bonus Factor: Dash
The royalest good boy that ever good boyed! In Worsley's story, the famous King Charles spaniel belongs to Miss V, and I felt A LOT of anxiety about Sir John's command that she give Dash as a gift to Princess Victoria. Luckily, with Miss V living at the palace, she gets plenty of Dash time, which means we get plenty of Dash time too.
Relationship Status: LYLAS
Book, you were like the little sister I never had, and though your outlook was a bit more innocent than what I'm used to, I enjoyed your ideas and your style.
FTC Full Disclosure: This review was originally posted on Kirkus Reviews in exchange for monetary compensation, which did not affect or influence my opinions. My Name is Victoria will be available May 8, 2018.