Cover Story: Float On
I really dig this cover. The blue pool water reflecting the palm trees gives an immediate sense of the setting, and I like the dreamy quality of it. Even the style of the black bathing suit has a noir vibe about it. But – and this isn't a spoiler – you figure out about three pages in that those legs on the cover do not belong to our protagonist, but rather, they are the legs of her friend who was found dead floating in a swimming pool. So. Ew.
The Deal:
Jude has just flown across the country to visit her father when she gets a call from back home in Pasadena: her best friend Maggie Kim has been found dead in a swimming pool. The Kims are claiming accidental death, while Jude's friends think Maggie committed suicide. But once Jude gets home and finds herself in the flurry of wakes and funerals, she begins to think there was more to Maggie's drowning than meets the eye. Suddenly, everyone is a suspect with a motive, and Jude can't move on until she knows the truth.
BFF Charm: Let Me Love You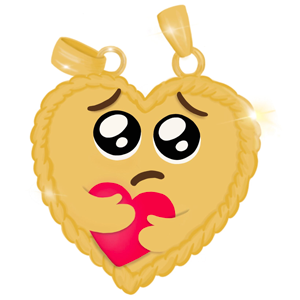 Pasadena takes place over the few days spanning from Maggie's death until the day of her funeral, so our opportunity to get to know Jude is limited to this very terrible moment in her life. And while we do get a few flashbacks to her time with Maggie, those felt more like an opportunity to get to know Maggie more so than Jude, so I'm a little undecided on Jude's BFF charm. The girl is grieving, even if she thinks that she's focused on finding out what happened to Maggie. And on top of that, Jude has not had an easy life. She lives with her mother and puts up with her mother's revolving door of creepy boyfriends, and there's a certain event from her past that has a huge effect on who she is at present. All of these things combine to give us a girl who's a little hardened, very guarded, and makes people jump through hoops to get to know her. She also has no problem putting people in their place and telling it like it is, which can be honorable at times, but felt pretty stone cold throughout the majority of Pasadena.
Swoonworthy Scale: 2
Before she took off for the summer, things with Jude and Joey were headed to Swoonville, or at least everyone thought so – Joey included. So when Jude has to rush back to Pasadena because of Maggie's death, things are a little shaky between the two. Clearly, neither of them are sure where they stand, but it's obvious that Joey wants more. Obvious-bordering-on-puppy-dog at times. He shows up at her house to drive her around whenever she needs him to, and he always shows up with coffee for her. He's 100% patient and understanding and supportive of her need to explore Maggie's death further, and never hesistates to do Jude's bidding. But Jude has a LOT of her own issues to deal with, and Joey just isn't her priority. Ugh, poor Joey.
Talky Talk: California Noir
Sherri L. Smith's writing is incredibly beautiful in its simplicity, and she invokes a classic LA noir style that elevates California's beauty while simultaneously exposing its dark underbelly. Things aren't all great in the Golden State, and Pasadena is a perfect example of that. Smith manages to make you wish you were there while also making you want to stay far away. Overall, the best way I can describe the writing is…Californian. Descriptions of roads and highways, the Santa Ana winds, and the ever present wildfires. There were a few parts that I could almost hear in a Californians voice – things like "When the 101 Freeway gives way to the 134" and Jude visiting the "Coffee Bean on Fair Oaks." But Smith's writing is so dark and gorgeous, I wanted to swim in it.
"We drive down along the arroyo, big houses looking confused at the passing of the century. Craftsman mansions and stone monoliths that look like scattered university buildings rather than private homes. Oaks and magnolias shade the curving boulevards with names like characters from Fitzgerald novels."
Bonus Factor: Veronica Mars
California noir in which a girl's best friend turns up dead and said girl needs to figure out whodunnit? Sound familiar? Fans of Veronica Mars should definitely check this book out, though I will admit that Jude lacks Veronica's sense of humor and snark.
Relationship Status: I Will Remember You
Book, I like your style and your pretty words and your secrets. Our time together was brief but meaningful, and I promise to always remember you.
FTC Full Disclosure: I received a review copy from Penguin, but I did not receive money or Girl Scout cookies of any kind (not even the gross cranberry ones) for writing this review. Pasadena is available now.