About the Book
Title:
The Girl Who Fell Beneath Fairyland and Led the Revels There (Fairyland #2)
Cover Story: Two For Two
BFF Charm: Yes, Again
Talky Talk: Highlighter Handy
Bonus Factors: Shadow Twins, Quests
Relationship Status: Joyful Reunion
Cover Story: Two For Two
Much like the original Fairyland novel, this cover is attractive and classy. The overall look matches the original, which is always a plus for collecting/bookshelf displaying purposes. And the cover illustration is completely faithful to the books descriptions, clothes and all. The chapter headings contain lovely illustrations as well and you can almost tell the artist appreciates the story as much as the readers do. It seems the publishers put a lot of time and care into the aesthetics of this book and it really pays off.
The Deal:
September has a secret. And if you've read The Girl Who Circumnavigated Fairyland in a Ship of Her Own Making, you'd know the secret was that September has been to Fairyland, where she embarked on important adventures and made some wonderful friends. But after over a year back home in Nebraska, September begins to wonder if she will ever return. On her thirteenth birthday she is given another chance as September manages to literally fall back into Fairyland. But not all is the same as she left it. Shadows all over Fairyland have disappeared down into Fairyland-Below and magic is being rationed. And worse, the culprit behind it is September's own shadow that she lost last book in a reluctant bargain. September's shadow has fashioned the Hollow Queen of Fairyland-Below, where nightly revels take place. The shadows love their new found freedom, but what affect will it have on Fairyland-Above? September sets out to right the wrong she caused and to reunite herself with her shadow.
Or you could just skip my description and watch the book trailer below:
BFF Charm: Yes, Again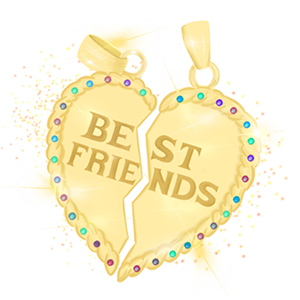 Since September is receiving my BFF charm for a second time, I've upgraded it to an especially shiny version. Plus, I have to say I like September even more this time around. She's gotten older and maybe even a little bit wiser. And because she's growing up, she isgrowing a heart (because as we learned in the last book, children areheartless). She continues to be brave and good hearted and is proving herself to be quite the talented heroine.
Swoonworthy Scale: 2
Slightly spoilery quote below, so skip to the next section if you must. Much like the first Fairyland book, September is a bit too young and most certainly much too busy to be thinking about boyfriends. And while it's implied that September may have a future romance with her marid friend Saturday, we don't get to witness anything for ourselves. But unlike the first book, this sequel had a couple of little surprises. I won't tell you the context of the following quote, but it was so charming that I had to include it:
He leapt nimbly across the room, laughing, and spilled September's tea onto the couch when he clapped her up into his arms and kissed her right on the lips. September felt as though she had suddenly fallen off a great cliff, and at the same time, just as she had when she tasted Fairy food for the first time. Some sweet and frightening and mysterious had happened, and she could not take it back even if she wanted to.
Talky Talk: Highlighter Handy
I have some pretty unbreakable rules when it comes to books. One of those is that you never, ever dog-ear a book. It's sacrilege. Highlighting is right out. Unfortunately for me, this was one of those books where it almost pained me not to have a way to mark certain passages. The writing of this series has a certain combination of silliness and loveliness that I continue to find myself delighted by. As for the silliness:
A Wyvern's body is different from the body of a young girl's in several major respects. First, it has wings, which most young girls do not (there are exceptions). Second, it has a very long, thick tail, which some young girls may have, but those who find themselves so lucky keep them well hidden. Let us just say, there is a reason some ladies wore bustles in times gone by! Third, it weighs about as much as a tugboat carrying several horses and at least one boulder. There are girls who weigh that much, but as a rule, they are likely to be frost giants. Do not trouble such folk with asking after the time or why their shoes do not fit so well.
And as for the loveliness:
September thought frantically, and her heart squeezed. For though, as we have said, all children are heartless, this is not precisely true of teenagers. Teenagers hearts are raw and new, fast and fierce, and they do not know their own strength. Neither do they know reason or restraint, and if you want to know the truth, a goodly number of grown-up hearts never learn it.
And there are so many lines that surprise you with their unexpected poignancy. I suppose I shouldn't actually be surprised anymore, but these books always placate me with their whimsical characters and settings and then (BAM!) knock me in the gut with something so universally true. For example:
September had never been betrayed before. She did not even know what to call the feeling in her chest, so bitter and sour.

Poor child. There is always a first time, and it is never the last time.
Bonus Factor: Shadow Twins
Spending time with people's shadow twins was really interesting – they aren't evil twins, per say, they just embody the parts of ourselves that stay hidden. September's shadow Halloween is especially wild and selfish and full of want – basically all the things September doesn't get a chance to be. And September spends most of her journey with the shadows of those she met on her last trip to Fairyland, which gives us a new perspective on characters we already knew.
Bonus Factor: Quests
September finds herself embarking on a quest, though not an entirely straightforward one. But as we learn from an expert in Questing Physicks, questing is quite a complicated business.
Relationship Status: Joyful Reunion
Much like September, it had been a while since I last spent time in Fairyland. So I was extremely excited to get my hands on this sequel. And it absolutely did NOT disappoint. Those who read and loved the original should find themselves equally as pleased this time around. In fact, I would dare say I loved it a bit more. As September was older, the sequel felt a little older too. The book had a complete ending, but it definitely leaves the door open for more adventures and I certainly hope we get them. Did someone say trilogy? (I sure hope so!)
FTC Full Disclosure: I received my review copy from Macmillan. I received neither money nor cocktails for writing this review (dammit!). The Girl Who Fell Beneath Fairyland and Led the Revels There is available now.