About the Book
Title:
Rules of Summer (Rules of Summer #1)
Cover Story: Baby Got Back
BFF Charm: Let Me Love You and Yay!
Talky Talk: Easy Breezy Senses Working Overtime
Bonus Factors: Odd Couple, Friendship, Obscenely Rich People
Relationship Status: This Just Can't Be Summer Love
Cover Story: Baby Got Back
That is… quite the flourish on that title. And I guess that's supposed to be Rory, though I don't recall her ever just lounging on the beach. But is this a thing now? Messy haired reverse big face? Anyway, this cover is pretty boring and not at all indicative of the story inside, other than the summer part.
The Deal:
Seventeen-year-old Rory McShane gets a summer job as an errand girl for her housekeeper aunt's employers, the wealthy Rule* family in East Hampton. She's instantly enamoured by the Rules and their extravagant world. Now all she has to do is stay on their good side.
Especially with Isabel, the member of the Rules that Rory has to spend the most time with. Despite being the same age, glamourous and gorgeous Isabel couldn't be more different than reserved and responsible Rory. But new unlikely relationships are encouraging Isabel's already growing weariness for the country club scene.
It's a summer of chance, love and friendship that neither girl will soon forget.
*And yes, the book title is an egregious pun that even I cannot endorse.
BFF Charm: Let Me Love You and Yay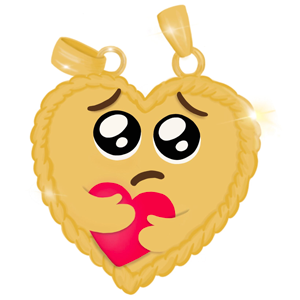 Oh, Rory—you're kind of a sad sack. But who could blame her? Her dad's preoccupied with his new family, and she's the only one who takes care of both herself and her party-girl mom (who, despite being a single mom with a daughter named Rory, isn't unworthy of comparisons to that other gal). Not to mention Rory's insecurities about not having the right look, shape or bank account for the Hamptons. That lack of confidence came precariously close to wearing thin, so I'm nominating myself to be her personal cheerleader. Because, Rory? You're good enough, you're smart enough, and doggone it—people like you!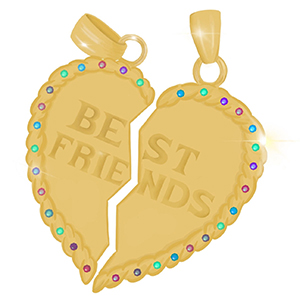 I'm hesitant to give Isabel a BFF charm. Her icy (and sometimes downright jerky) initial apathy towards Rory didn't do her any favors, but the rest of her personality (and the brevity of said jerkiness) bumped her up from an Eventually. She's outspoken and increasingly self-aware, which sometimes results in delightful verbal smackdowns on thoroughly deserving people.
Plus, a character who's turned over a new leaf but still trapped in that toxic environment is a long-worded dealmaker of mine! OK, so Isabel's a bit of a poor little rich girl, but aspiring to be more than a socialite-in-training with superficial friends is a good start.
Swoonworthy Scale: 6
Joanna Philbin is hereby on notice for making me grin like a lunatic in public. And by "notice," I mean "my future to-read lists," 'cause DANG the lady knows swoon! And the swoon was further intensified by the painfully real insecurities that both girls had: the second-guessing, the speculating, the obsessing. This vulnerability makes the pay-off that much better (and it gets much, much better).
There's surfer and college guy Mike, who basically gets to second base with Isabel during their first meeting. And Connor, swimmer extraordinaire and Isabel's older brother (and obvs Rory's love interest, because there are no flowers in the Rules' attic). Between these two relationships, there's a whole lot of sweet* and a bit of heat—sometimes even between the sheets. Even though this book has already reduced me into a rhyming fool, I could have used even more swoon. But then again, any more and I'd develop carpal tunnel from constantly fanning myself off. (A RISK I'D GLADLY TAKE. Ahem.)
*Including a couple of AWESOME simple-yet-super-romantic dates. Like, seriously, Joanna—plan all my future dates for me, mmmk?
Talky Talk: Easy Breezy Senses Working Overtime
Philbin's knack for descriptions isn't limited to swoon. Her words vividly illustrate each scene in detail, enhancing but not distracting from the plot. The narration seamlessly switches between following Rory and Isabel, even when the shift takes place from one sentence to the next. While the girls are well-developed characters, the guys—hot as they are—could have used more attention. (But I'm not too cut up about that; see the bonus factors.)
My only other gripe is the usage of the dreaded "F word." But Philbin gets a pass because 1) It's a one-time occurrence, 2) Her characters don't cuss that often and 3) I actually like her book.
Bonus Factor: Odd Couple
A burgeoning friendship between two seemingly polar opposites? Call me Smuckers, 'cause THAT'S MY JAM! Sure, they get off to a rocky start, but the friendship between Rory and Isabel unfolds so organically. Knowing that they'll become friends makes the path to get there that much sweeter. And now I'm craving toast.
Bonus Factor: Friendship
As much as I enjoy swoon in YA, I can't fully silence my skepticism towards these fictional characters who find their Tru Wuv 4Eva when they're still teenagers. I swear I'm not just being a cynical single; it's just that my significant and enduring relationships from high school are all friendships.* So I appreciate that the main love story of this book is really between Rory and Isabel.
*Not like I had much say in the matter re: boys. But still.
Bonus Factor: Obscenely Rich People
Do rich people ever get offended by their portrayal in pop culture? Or are they just like, "Bish please, you don't have enough bank to offend us"? But the twisted rich people logic and social politics seem just outrageous enough to be plausible.
Relationship Status: This Just Can't Be Summer Love
When I hooked up with this book, I was just looking to have some fun. But I never thought this summer fling would sweep me off my feet. I really hope we keep dating when the season's over.
FTC Full Disclosure: I received my free review copy from Poppy. This review was originally posted on Kirkus Reviews in exchange for monetary compensation, which did not affect or influence my opinions. Rules of Summer is available now.