About the Book
Title:
Siren's Song (Storm Siren #3)
Cover Story: Turn Arrrrroooooound
BFF Charm: Yay to Platinum
Talky Talk: To Hull and Back
Bonus Factor: Fake-Outs
Relationship Status: Happily Ever Entranced
Spoiler Alert: Danger, Will Robinson! Siren's Song is the third (and final) book in the Storm Siren trilogy. If you have not read the other books—Storm Siren and Siren's Fury—turn away now. Do not pass go, do not collect $200. If you have read the first book, however, feel free to continue below. I will refrain from major spoilers in my review, but there might be hints at plot points and details about the story.
Cover Story: Turn Arrrrroooooound
Nym has finally finished the twirl she started on the cover of Storm Siren and is ready to head off into the sunset water ripple—wholly appropriate for this final book in the trilogy.
The Deal:
After escaping from Draewulf, Nym finds herself (and her loved ones) in a precarious position: uniting the nations and people of the Hidden Lands against the dire threat, which involves overcoming decades of mistrust, stubborn ideals of "everyone fends for themselves," and the fact that until very recently she was both a slave and an outcast.
There's also the looming notion that she—and she alone—could be the savior of her world … or the reason for its complete downfall.
BFF Charm: Yay to Platinum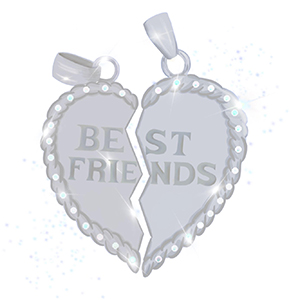 Over the course of this series, Nym has grown a lot. She started as an angry, uncontrolled young woman—and rightly so—with a passion that brought others to her aid. In learning how to control herself and her powers, she realized that she had so much more to offer than any of her "owners" ever dared to let her believe. She also becomes a true leader, willing to sacrifice for those she loves and leads, and willing to make tough decisions.
Through it all, however, she never let the situations and choices completely wipe away her personality, which remained both sassy and caring. One moment in particular sticks in my mind as an example of this growth: At one point, Nym has a run-in with one of the, if not the, worst of her previous owners. And instead of taking him out murdery-like, which she totally could have done (and might have done earlier in the series), she shuts him down and shows him that she's so much better than he could ever dream to be. It's a definite fist-pumping moment.
Nym is certainly someone I'd like to have in my life.
Swoonworthy Scale: 5
After the events of Siren's Fury, it's understandably a bit of a struggle for Nym and Eogan to get back to where they were (or where they might have been headed). The fact that they're fighting for their lives/the lives of an entire world also puts a damper on romantic times. And, even when they tried to make time for each other in Siren's Song, they were often interrupted. That said, there are some seriously swoony moments that make me think that there's hope for these two yet.
Talky Talk: To Hull and Back
I've mentioned this in previous reviews for this series, but Mary Weber continues to impress with her characters and world-building. I appreciate that I can easily connect with Nym and the rest of the characters in the Storm Siren series, even though we're so different—from our cultures to our speech*—and as they experience things that I could never fathom experiencing. Weber's writing makes me want to join the fight, and that's somewhat surprising, as I'm very much a "content to stay at home and avoid possible death" kind of girl.
*It again took me a bit to get into the language of Siren's Song, but as soon as I remembered what all the various unusual curse words meant, things got much smoother.
Bonus Factor: Fake-Outs
The ending of Storm Siren remains one of the best/worst cliffhangers I've ever read. So, I knew from experience that Weber has a bit of a devious streak when it comes to plot points, and there are a few moments throughout Siren's Song when that deviousness comes into play. I both appreciate this, as it makes for an overall better story, and shake my fist at it, because I don't have to like it, darn it. Thankfully, this book doesn't leave readers dangling from a ledge.
Relationship Status: Happily Ever Entranced
It's been a terrific ride, Book, and even though I'm sad to see our time together come to an end, I'm satisfied at the way everything worked out. I wish you all the best, and hope that we can meet up in the future to update each other on what's been going on since we last met.
FTC Full Disclosure: I received a review copy of this book from Thomas Nelson/the author. I received neither a private dance party with Tom Hiddleston nor money in exchange for this review. Siren's Song is available now.