About the Book
Title:
The Steep and Thorny Way
Cover Story: Not So Fancy Dress
BFF Charm: Platinum Edition
Talky Talk: Something Rotten Is In The State of Oregon
Bonus Factors: Shakespearean Retelling, Post-WWI History, Future Lawyer
Relationship Status: The Very Ecstasy Of Love
Cover Story: Not So Fancy Dress
I'm not wild about this cover: the girl portraying Hanalee looks like she's more likely to be at a 2016 music festival than in 1920s Oregon. (On the other hand, I'm glad her character wasn't whitewashed for the cover.) Luckily, this is the only part of the book I'm not wild about.
The Deal:
Hannalee Denney is a biracial teenager living in post-WWI Oregon. After her African-American father was killed by a drunk driver last year, his killer went to jail, yet her father still haunts the town roads restlessly. When his accused killer is released, Hanalee is shocked to find out that her father's ghost and her father's supposed murderer tell the same story: they convicted the wrong man.
In a town that is increasingly hostile to Hanalee and her white mother, along with anyone else who isn't white, straight, and Protestant, Hanalee is determined to find out what really happened to her father. But who can she trust, when the KKK is taking over, and even the legal system barely considers her a person.
BFF Charm: Platinum Edition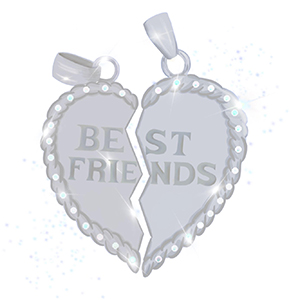 I would gladly give my BFF charm to Hanalee, who is determined, smart, and stubborn, with a heart of gold. (She's also a crack shot with a derringer!) Being an "othered" person herself, she's also significantly more open-minded and accepting than the average person in the 1920s, yet it doesn't seem anachronistic or out-of-character. I found myself wanting her to go to law school and start defending the disadvantaged so we can talk about it over cocktails.
Swoonworthy Scale: 3
This book, understandably, isn't about romance, but there is one very sweet moment between friends which will melt your heart.
Talky Talk: Something Rotten Is In The State of Oregon
Winters writes eminently readable prose that feels like it's straight out of '20s rural Oregon, without getting bogged down in slang and dialect. (Side note: Winters' author's note describes why she chose to avoid certain epithets that may have been used at that time, but she felt were not necessary to the story.) Although the book deals with ghosts as well as all-too-real horrors, they fit seamlessly together in Winters' world-building.
Bonus Factor: Shakespearean Retelling
This is a clever Hamlet retelling, which manages to balance ghosts with extensive historical detail.
Bonus Factor: Post-WWI History
The 1920s weren't all beaded, fringed dresses, illicit liquor, and jazz: for a biracial girl like Hanalee, they were also a time of injustice, including persecution by the Ku Klux Klan, forced sterilization, and anti-miscegenation laws. It's a terrifying part of the decade that gets overlooked in favor of the more glamourous, whitewashed narrative.
Winters explains in her author's notes the significant amount of research she did for this book, and lists numerous sources (always appreciated). Bonus: the book is full of historical pictures from the region, including an incredibly eerie photo of the local KKK marches.
Bonus Factor: Future Lawyer
I love that Hanalee wants to be a black female lawyer, specifically to protect anyone else from suffering the same injustices—or worse—that her family bore. As a child, a family friend gave her a book of successful black women, and she clings to that hope even throughout her most trying ordeal.
Relationship Status: The Very Ecstasy Of Love
Book, I thought your premise sounded promising, and I liked your author's other books—but you far exceeded my expectations. Our date was full of creeping dread and righteous indignation, historical detail and a lot of heart. You didn't pull any punches, and our date ended on a hopeful note. I think this is love!
FTC Full Disclosure: I received my free review copy from Amulet Books. This review was originally posted on Kirkus Reviews in exchange for monetary compensation, which did not affect or influence my opinions. The Steep and Thorny Way is available now.