About the Book
Title:
Tell Me Again How a Crush Should Feel
Cover Story: Obscure Big Faces
BFF Charm: Heck Yes!
Talky Talk: Manual for LOLZ and Teenage Confusion
Bonus Factors: Private School, Drama Kids, Janine and Claudia, Diversity
Relationship Status: Incurable Crush
Cover Story: Obscure Big Faces
Are rando body parts going to be the recurring theme of Sara Farizan covers? Hands, faces — these are basically the building blocks for Frankensteining a lady. (Insert side-eye for gravity-defying hair, lack of LGBTQ PDA on YA covers, and excessive acronym usage. But also fist pump for that Sarah Dessen quote!)
The Deal
Leila Azadi has made it to her junior year at Armstead Academy without crushing on anyone. Good thing, too — she already feels enough like an outsider because she's Persian, she doesn't need her classmates to know she likes girls as well. But when she becomes friends with the beautiful new girl at school — and maybe becoming more than friends?! — Leila finds herself taking risks that she never would otherwise.
BFF Charm: Heck Yes!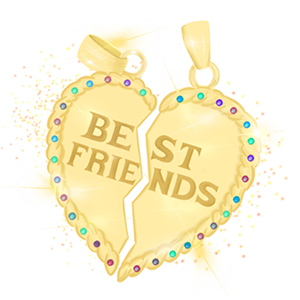 Leila is a bit awkward and a lot hilarious, so obvs I love her. And even though I'm so over zombies (I may have been under them but once), I'd gladly binge-watch the entire Zombie Killers movie franchise if it means I get to hang out with her.
I'd also like to friend-match Leila with Ryan Dean West from Winger, 'cause I feel like they'd get along. Or at least, commiserate over the mystery that is the teenage girl.
Swoonworthy Scale: 7
While this book deffo delivers with the swoon, it's hindered by something completely beyond its control. You know how there are just some names that just evoke fiery hatred v. strong feelings within you? Well, Leila's crush — the breathtakingly gorgeous new girl? Her name is SASKIA. Name bias aside, it's easy to understand why Leila — along with the rest of the school — would fall under Saskia's spell.
Talky Talk: Manual for LOLZ and Teenage Confusion
One of Leila's main source of angst is just not knowing what to do: when you unexpectedly fall for someone, when you can't talk about it to anyone — when you're just so completely out of your depth, and you're bursting with more questions than there possibly could be answers. Sara Farizan bottles those confusing feelings into fuel for Leila's unique voice. It's sharp, strong, and satisfying; I pretty much just described cheese (aka HIGHEST FORM OF COMPLIMENT), except no dairy product has ever been as witty as Farizan's writing. (That includes you, Laughing Cow.)
Bonus Factor: Private School
I knew I had fallen in love with the smartypants Armstead Academy when Leila recounted a heartbreak that forced her model UN allies to economically appease the other countries. But Leila's academic life is grounded enough so that it's not just Wacky Hijinks High School. (Although I'd totally be down for Wacky Hijinks High School, too.)
Bonus Factor: Drama Kids
Athletically challenged Leila switches her mandatory extracurricular from sports to drama. She gets to know the tech crew, all of whom are real — *puts on sunglasses* — characters. YEEEEAAAH!
Bonus Factor: Janine and Claudia
Leila and her older sister, Nahal, remind me of the Kishi girls, with Nahal as the obnoxious golden child that casts a big shadow over Leila, the family baby that marches to the beat of her own drum. Although for Leila's sake, I hope she's a better speller than Claudia. (Claud really missed out on the autocorrect era, didn't she?)
Bonus Factor: Diversity
The Azadi family has tons of friends in the Persian community, and I loved joining them for Persian Party Time (™ Leila). Esp. Nahal and her frenemy casually trying to one-up each other in a duel FOR THE AGES. I actually found a lot of similarities to my own upbringing, probably because Leila and I both come from traditional and conservative cultures. And also because we both ditched our Saturday-morning language lessons for Saturday-morning cartoons. (Sadly, fluency in Pokémon doesn't have the same cachet on a résumé.)
Relationship Status: Incurable Crush
I've got it bad for this book: it's fun and cute, it makes me laugh, and it's a great kisser. I can't get enough of it, and I totally use any excuse I can to run into it at school. Not that I have its sched memorized or anything! We just happen to be going the same way since I'm taking the extremely scenic route to my next class.
FTC Full Disclosure: I received my free review copy from Algonquin Young Readers. I received neither money nor froyo for writing this review (dammit!). Tell Me Again How a Crush Should Feel is available now.