About the Book
Title:
The Belles (The Belles #1)
Cover Story: Fancy Dress
BFF Charm: Yay
Talky Talk: Magnifique!
Bonus Factor: Orleans
Relationship Status: Mon Petit Chou
Cover Story: Fancy Dress
It's been awhile since I read a book with a good old fashioned (i.e. 2012) Fancy Dress cover. Remember when EVERY cover was a pretty girl in a fancy dress? The Belles was published in 2018, well after the rise and fall of the fancy dress, so it no longer really feels overdone the way it once did. Plus, I like the color palette, the flowers in her hair, the bokeh – not to mention the girl herself, who is absolutely gorgeous! This cover isn't exacty reinventing the wheel, but I'm still digging it.
The Deal:
Orleans is like if a French patisserie were a country: an opulent, frothy confection filled with gilded details. The only thing about it that isn't beautiful are its citizens. Born gray and ugly, the people of Orleans depend on the magic power of the Belles to make them beautiful. Beauty is a precious commodity, and each generation, a new group of Belles are born and trained to use their magic to give Orleanites the features, hair, coloring, and bodies they desire. When their training is complete, the Belles compete against one another to become the Favorite, chosen by the Queen of Orleans to live in the royal palace and keep her and her daughters extra gorgeous at all times.
Camilla Beauregard wants desperately to be the Favorite. She has ambition to be more than just a tool. She wants to help rewrite the book on beauty, but the closer she gets to the royal palace and the Queen's daughter Sophia, the more she realizes that Orleans has a dark, dangerous underbelly that is threatening the lives of her and her sisters.
BFF Charm: Yay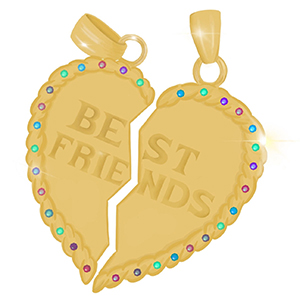 Camilla walks a fine line between appreciating the natural beauty in things and working to enhance them (rather than cover them up) and having the ambition it takes to work the system and achieve her dreams. I liked that she wasn't this angelic, perfect girl who never screwed up or did anything bad. She knew what she wanted, and she took advantage of the resources that were available to her in order to get it, but that didn't mean that she didn't care about her sisters.
Swoonworthy Scale: 4
Camilla meets a handsome, charming stranger who instantly catches her attention, and vice versa. But Auguste is in the running to be married to Princess Sophia, which makes a crush on him both messy and potentially dangerous for Camilla. She's so caught up in Auguste that she hardly registers what a cutie her new bodyguard Remy is. With all the action and drama happening in the book, the romance takes a backseat. But it feels like Clayton was laying the groundwork for more romance between Camilla and Remy in the second book – fingers crossed!
Talky Talk: Magnifique!
Clayton's world-building is decadent and lavish, and her attention to detail saturates and brings to life the story she's telling. The darker parts of Orleans, such as Princess Sophia and some of the people who go overboard with their Beauty work, seem spine-tingly creepy when juxtaposed against the sickly sweet shell of Orleans. It's cotton candy fluffy storytelling with stakes just high enough to keep you turning the pages. The Belles is an entertaining read, and Clayton's writing makes it stand out in a sea of fantasy stories, even if the twists and turns aren't exactly jaw-dropping.
Bonus Factor: Orleans
The details of Orleans were some of my favorite aspects of the story. The whole world feels like an opulent Candy Crush level. The Belles work in teahouses and everyone eats sugary pastry treats. People receive mail via post balloons, and everyone has teacup animal pets – imagine it, a tiny hand-held elephant!
Relationship Status: Mon Petit Chou
I'm not a huge fantasy reader. I can only read so many books with fae and sword fights before they all start to mesh together in my mind. But what I really liked about The Belles was that it felt nothing like most of the other fantasy books I've read. The world of Orleans was truly an unforgettable place and Clayton has a talent for incorporating imaginative details. And even though the world of The Belles was super fantastical, Orleans' obsession with beauty managed to feel more than relatable on a real-world level.
FTC Full Disclosure: I did not receive money or Girl Scout cookies of any kind (not even the gross cranberry ones) for writing this review. The Belles is available now.