About the Book
Title:
The Best Possible Answer
Cover Story: I <3 It
BFF Charm: Yay
Talky Talk: All of the Above
Bonus Factor: Lifeguards
Relationship Status: Study Buddies
Cover Story: I <3 It
No stock photos here, folks! That's automatic bonus points from me. This cover keeps it simple with little cut-out hearts, and the overall feel is cute and graphic. Unfortch, if the cut-out hearts have any connection whatsoever to the story, it's completely lost on me. And while the heart shapes are cute, they imply that this book is a romance. There's certainly a romantic plotline, but it takes a backseat to the bigger story.
The Deal:
Viviana Rabinovich-Lowe is the ultimate high achiever. She pushes herself to the limit to be perfect, until the day she pushes herself too far and everything starts to unravel. When Viviana falls asleep on her bicycle riding home from taking her SATs, she gets a concussion and her mom refuses to let her go to the design camp she'd planned to attend over the summer. Viviana finds herself without a plan for the first time in her life. When she takes a job at the community pool, she meets a new group of people who don't know about her past – a past that involves an ex-boyfriend posting a nude photo of her on the internet – and hopes she can reinvent herself. But old flames and family secrets rear their ugly heads, and Viviana's quest for perfection begins to feel more impossible than ever.
BFF Charm: Yay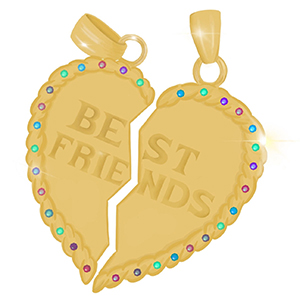 As a lifelong overachiever, and someone who has struggled with anxiety, I connected with Viviana on all the levels. She's smart, she works hard, and she has this constant need to please her family and her friends, to the point that her personal mental health and happiness have been placed on the backburner. But I never felt like Viviana's struggles made her unlikable. She was relatable and kind throughout everything. Also: incredibly patient and accommodating of her melodramatic, boy-crazy best friend who drove me nuts through most of the book, if we're being totally honest.
Swoonworthy Scale: 4
Evan is the cute lifeguard at the pool where Viviana works, and from the beginning, he only has eyes for her. Which actually turns out to be super unfortunate, because Viviana's best friend Sammie only has eyes for Evan. Despite this, Viviana can't deny that Evan is nice. And supportive. And pretty much everything her ex-boyfriend wasn't. These two had a handful of sweet moments, but there wasn't a whole lot of sizzle for me.
Talky Talk: All of the Above
The Best Possible Answer is a contemporary novel with fun little test-taking tips at the beginning of every chapter, plus the occasional college prep essay thrown in. I appreciated the play on format and how it related to Viviana's former self. My only issue with the story was the inclusion of a lot of really heavy topics in one book: anxiety, depression, cancer, schizophrenia, extramarital affairs, cyber-bulling. Many of these issues felt touched on or glossed over without being truly dealt with, and sometimes Viviana's story lost its focus because of that.
Bonus Factor: Lifeguards
I never had a summer job as a lifeguard, but I was always jealous of my friends who did. They seemed to have the most fun – and the best tans – and there were so many cute boys to crush on. Reading YA novels has done nothing to squelch this theory.
Relationship Status: Study Buddies
Book, you may not be my soul mate, but you were a fun companion that I could totally relate to. If we were paired up for a group project, I know you'd pull your weight. And afterward, we'd pass each other in the halls, share a knowing nod, and remember our time together fondly.
FTC Full Disclosure: I received a review copy from St. Martin's Press, but I did not receive money or Girl Scout cookies of any kind (not even the gross cranberry ones) for writing this review. The Best Possible Answer is available now.