About the Book
Title:
The Carnival at Bray
Cover Story: Montell Jordan
BFF Charm: Heck Yes!
Talky Talk: Straight Up With a Twist
Bonus Factors: Grunge, Ireland
Relationship Status: First Love
Cover Story: Montell Jordan
This is a pretty clever cover—a denim patch in the shape of Ireland is safety pinned to a sea of darker denim. It evokes the main themes (moving to Ireland, grunge, identity, rebelliousness) without being too twee or condescending. This is exactly the sort of cover that would intrigue me if I saw it on the shelf.
The Deal:
Sixteen-year-old Maggie has a life in early-1990s Chicago—full of friends, family and especially her 26-year-old Uncle Kevin, who introduces her to grunge and takes her to see epic concerts. So when her unstable mother announces that they'll be moving to Ireland to be with her new husband, Maggie is utterly dismayed.
Ireland is cold and rainy, and the girls at Maggie's new school aren't exactly friendly. But she manages to strike up friendships with Dan Sean, the town's good-humored, 99-year-old port-pouring curmudgeon, and crushworthy young Eoin. Her family life is unraveling, from her mother's drunken ranting at the local pub to Uncle Kevin wasting away, but it's not until a family tragedy strikes that Maggie decides to face fate head-on and make a pilgrimage to Rome, to see Nirvana.
Immersed in the world of '90s grunge, The Carnival at Bray is nostalgic for those of us who grew up in that time period, and romantic to anyone who remembers what it's like to fall in love for the first time, whether with music or with someone else.
BFF Charm: Heck Yes!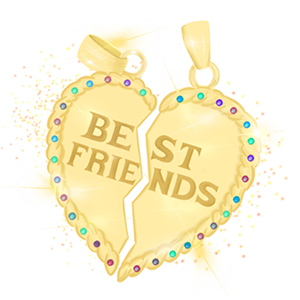 Poor Maggie. She deals with being uprooted and separated from two of her closest family members pretty swimmingly, only to have tragedy strike and spur her into living a little larger. I spent most of the book wanting to give her a hug (when I wasn't busy being insanely envious of her making out with a cute Irish boy). I absolutely loved her friendship with Dan Sean, who is a treasure, and although she has her moments of teenage snarkiness and makes some poor decisions, she's a good kid at heart.
Swoonworthy Scale: 8
Sign me up for the version of age 16 where I get to go to epic, ultimately historic concerts with cute Irish boys and make out with them all over Europe. I'm pretty sure that if this had been my actual experience, I would have died of sheer joy.
Talky Talk: Straight Up With a Twist
Foley's prose is eminently readable—it was easy to blaze through this book in one sitting. Although I couldn't physically picture many of her characters, their personalities and actions shone through.
Bonus Factor: Grunge
I was a little late to the '90s grunge party, being born a few years after the fictional Maggie, but I will never forget the first time I heard Nirvana, the Smashing Pumpkins, Soundgarden, Alice in Chains, and Nine Inch Nails. It's hard to disentangle my own feelings about the music and the scene from the book, but sometimes the memories and descriptions were like a punch in the gut. Maggie and I both had a lot of firsts to that soundtrack (including first attempted rebellion), and it's delightfully nostalgic.
Bonus Factor: Ireland
I went through a very long phase in which I was obsessed with Ireland, castles and U2. (I still am.) If my parents had said, "Surprise! We're moving to Ireland and there will be limited parental supervision, leaving you to get into all sorts of mischief because you won't have a cellphone until you're well past 18," I would have had to drop my sullen teenager act for three whole seconds. In a sense, Maggie's character lives the dream…without all that pesky family upheaval and lack of close female friends, anyway.
Relationship Status: First Love
Book, you are as bittersweet as a first love and just as unforgettable. Wherever life takes us, you're going to stick with me in some way.
FTC Full Disclosure: I received my free review copy from Elephant Rock Books. This review was originally posted on Kirkus Reviews in exchange for monetary compensation, which did not affect or influence my opinions. The Carnival at Bray is available now.