About the Book
Title:
The Geography of You and Me
Cover Story: The Geography of Jennifer E. Smith
BFF Charm: Natalie Imbruglia x2
Talky Talk: The School of Sarah Dessen
Bonus Factors: Globetrotting, Postcards
Relationship Status: Vacation Hook-up
Cover Story: The Geography of Jennifer E. Smith

This is Jennifer E. Smith's third book, and the artwork matches the map laid out by her first novel and replicated by her second:
The romantic silhouette of a couple against a background specific to the story
Black and white with a bright color accent
Title in the same fun, slightly hip typeface
While I can't give points for originality, I have no problem with these covers beyond the fact that they're a little bit twee. But, judging from the amount of copycats out there, apparently twee is the new big face. Out with the angst, in with the cute!
The Deal:
When I was in high school, I used to dream of getting stuck in an elevator only so Keanu Reeves, with his buzz cut and swollen biceps, could swoop in and rescue me. (Why yes, I did wear out my VHS copy of Speed. How'd you know?) But in real life, being trapped in an elevator is definitely a mixed bag. You could end up surrounded by strangers with terrible b.o., you could suddenly realize that you need to break up with your girlfriend after she whines, "I can't find my Tic-Tacs!", or you could luck out like Lucy and Owen and, in the span of half an hour, find your soulmate. Brought together by a massive city blackout, the two eventually escape their confines and spend the night marveling at the strange darkness of New York and the sky suddenly bright with stars.
Unfortunately, their encounter in the elevator of a Manhattan apartment building is the only thing charmed about their relationship. Lucy's family, which is more like a loose collection of acquaintances, is suddenly moving to Europe, while Owen and his father jump in the car and drive west, fueled by mutual grief over the death of Owen's mother a few months prior. As they head further and further away from each other, Lucy and Owen attempt to stay in touch, but with the growing distance comes a blackout of a different sort, and it threatens to snuff out the light of their connection.
BFF Charm: Natalie Imbruglia x2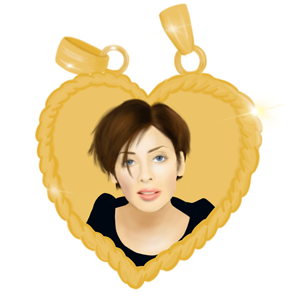 The fact that Lucy is a bookworm made me automatically inclined to like her, but she's also a self-described loner, so there wasn't exactly a Help Wanted sign in her bestie window. Reflective and slightly reserved, she takes a while to warm up, and it doesn't help that her absentee parents have forced her to be incredibly self-reliant. She's a good egg, though, with a wanderlust that spices up her spirit. By the end of the book, I still wasn't sure about handing over my charm, but I would be more than happy to traipse around Paris with her and lose ourselves in bookstores and cafes. (Especially if her parents are paying. Can you say LOADED?)
Initially, Owen just bummed me out. His dad, still reeling over the loss of his wife, is a total mess, which means Owen has to constantly put on a brave face. I wouldn't want to be his friend out of pity, so fortunately for both of us, he becomes more than just a son with a sad sack of a father. He's incredibly sweet and awesomely resilient, and while I didn't feel the same sparks with him that Lucy did, I was definitely rooting for him (and his dad) to find a place that felt like home.
Swoonworthy Scale: 4
Jennifer E. Smith excels at the meet cute, but the stuff that comes after still seems to give her some trouble. The NYC blackout offers a giddy backdrop to Lucy and Owen's first night together, and I could certainly sense the chemistry brewing, but once they were separated, the ache that took up residence in both of their hearts failed to make its way into mine. I felt neither the depth nor the intensity of their pull toward each other, and when other romantic interests were introduced, I wasn't upset. In fact, I'm still a little hung up on Liam, the hunky rugby player whom Lucy meets in Scotland. Which means he had a SCOTTISH ACCENT, YOU GUYS. I'm sorry, Owen, but it's tough to compete with that.
Talky Talk: The School of Sarah Dessen
Lightly treading the line between serious and frothy, Smith's style certainly follows in the footsteps of HRH Sarah Dessen. This isn't just a straight up romance, neither is it a gripping emotional read. It's quietly thoughtful and breezily charming, with just a tad too much whimsicality. While Smith hasn't reached the depth of Dessen's novels, she can certainly paint a picture that goes down easy, and I had no trouble sailing through this book in one sitting.
Bonus Factor: Globetrotting
Given Owen's nomadic adventures with his dad and Lucy's international lifestyle, this novel could easily double as a travel guide. New York City! San Francisco! Portland! London! Paris! Scotland! Whether you're on a budget (Owen) or have a trust fund (Lucy), this book can help you find your dream destination. (Then you can hire me for advice on the one thing not covered—excellent bars.)
Bonus Factor: Postcards
Nowadays, snail mail is basically lost art, so I loved the fact that Owen communicated with Lucy solely via postcards. It's a very Marcus Flutie thing to do, which makes it both frustrating and incredibly romantic.
Relationship Status: Vacation Hook-up
This book offered a pleasant escape from my typical scenery, and our flirtation was light-hearted and sweet. It didn't ask much of me, so I was able to enjoy our travels together without getting too invested. It waltzed out of my life just as easily as it waltzed in, leaving behind only a lingering desire to have rich parents hop on a plane and see the world.
FTC Full Disclosure: I received my free review copy from Poppy. This review was originally posted on Kirkus Reviews in exchange for monetary compensation, which did not affect or influence my opinions. The Geography of You and Me is available now.