About the Book
Title:
Runaways: The Complete Collection, Volume 1 (Runaways: The Complete Collection #1)
Cover Story: No Shame, As Long As You're Not Weird About Graphic Novels
BFF Charm: Make It Rain
Talky Talk: Straight Up with a Twist of Supernatural
Arty Art: Cinematic
Bonus Factors: Super Powers, Loyal Pet
Relationship Status: I'll Be Your Mary Jane
Cover Story: No Shame, As Long As You're Not Weird About Graphic Novels
I don't like this cover as much as that of Volume 2, but I wouldn't be embarrassed to be seen in public with it. It does say, "hey, I'm reading a graphic novel!" so if that bothers you, you should probably look at your life, look at your choices and re-evaluate why you're so judgy about comic books.
The Deal:
All kids go through a phase when they think their parents are secretly evil. Most of us, however, don't accidentally witness our parents ritually sacrificing a prostitute at their "annual charity meeting."
When the six children of the secret society known as "The Pride" discover that their parents are actually supervillains, they decide to make a run for it. As these kids try to navigate the streets of LA without getting picked up by the local law enforcement, or worse, their parents, they discover things about themselves and their parents that they never knew. But they can't keep running forever. What will happen when their parents find them? And how will they ever know if they can trust one another?
BFF Charm: Make it Rain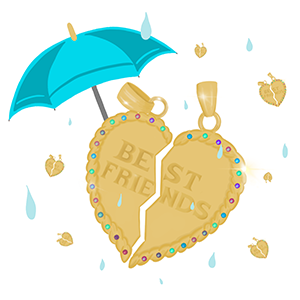 Alex, Chase, Gert, Karolina, Molly, and Nico are like the Breakfast Club of runaways. They didn't even like each other before running away, and now they are forever bonded by a shared horrific experience, and also, the fact that they are on the lam together. I really appreciated what each brought to the table. Even Molly, who is pretty much the annoying little sister at first, managed to sneak up to the top of my BFF list.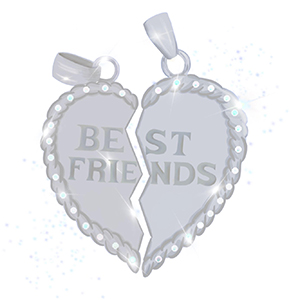 But I'm saving my platinum, diamond encrusted BFF charm for Gert aka Arsenic, who is not only a total BAMF, but has a pet velociraptor named Old Lace that she can telepathically sic on people. I mean, would you want to not be her friend?
Swoonworthy Scale: 5
Five teens locked in a cave, hiding out after a traumatic experience? Obviously some romance is going to go down. Vaughan keeps it surprisingly PG, though. I guess having 11 year old Molly around all the time kind of kills the sexytime mood.
Talky Talk: Straight Up with a Twist of Supernatural
The Runaways talk pretty much like you would expect teenagers to talk, and each has their own voice. For instance, Chase is super brotastic, whereas Gert is snarky and cynical. Every so often, though, it goes off into comic book geek territory with dialogue like:
As far as I know, Dale and I are the only time travelers to have pierced the fourth dimension within the last temporal phase.
This doesn't bother me, though. It's a graphic novel about kids with supervillain parents. I think this comes with the territory.
Arty Art: Cinematic
The art in Runaways feels very comic booky, but it has movement that makes me feel like I'm watching an animated film at times. Adrian Alphona, the primary illustrator for this run of issues, chooses dynamic angles that make the art more interesting than your average graphic novel.
My main complaint is that about halfway through the book, we get a different artist for a couple of issues–Takeshi Miyazawa–and I do not care for his style. Nico's hair is straight up crazy.
Bonus Factor: Super Powers
Several of the kids have super powers inherited from their supervillain parents. Additionally, Runaways takes place in the Marvel universe, so we get to see all sorts of fun mutants, aliens, time travelers, and other supernatural beings. We even get cameos from famous superheroes like Cloak and Dagger and The Avengers.
Bonus Factor: Loyal Pet
I mentioned before that Gert has a genetically engineered pet velociraptor named Old Lace, to whom she is telepathically connected. Need I say more?
Relationship Status: I'll Be Your Mary Jane
This book and I have been going steady for a while now, and I want to introduce it to everyone I know. I even took it home to meet my parents last Christmas! But I'm also kind of afraid people will get turned off by its superpowers and write it off as some crazy mutated freak, and there is so much more to this book than radioactive spider bites or aliens. So sometimes I try to play it off as more of a Peter Parker than a Spiderman, but it's only because I want everyone to love it, even though I know comic books aren't everyone's thing.
FTC Full Disclosure: I received neither money nor cocktails for writing this review (dammit!). Runaways: The Complete Collection, Volume 1 is available now.