Netflix Summary:
A group of friends from Harvard are facing down their forties. With interwoven and oftentimes complicated relationships with one another. Friends from College is a comedic exploration of old friendships, former romantic entanglements and balancing adult life with nostalgia for the past.
FYA Summary:
Hmm. "A group of friends," she reads aloud, dubiously. I'm not sure why these friends continue to force the issue except that they feel they should. So allow me the dubious honor of introducting you to my, uh, aquaintances: on your left we've got Lisa and Ethan, a lawyer and writer, respectively, the only two who married within the friend group and newly settled in NYC…on a friend's couch; Nick, everyone's worst fear of what happens to a trust-fund baby who got everything in life handed to him; Marianne, a confusing mix of hippie and lay-about who somehow…isn't a trust-fund baby (IDGI), yet has the ability to rent/own a giant apartment and "work" as an "actress" in no-budget plays that perform in a high school gymnasium; Max, a book agent who may or may not have a crush on Ethan; and, finally, Sam, a married interior designer who has been secretly carrying on an affair with Ethan for twenty freaking years. Apparently all that fooling around was easy when Ethan was constantly traveling, but when Sam realizes Ethan and Lisa are in New York to stay she breaks it off, lest word gets out and destroys her marriage. The writers certainly aren't afraid to make these people unlikeable, but is their banter/connection enough to transcend their flaws?
I think FYAers are going to have a harder time than most overlooking some of the assholery we see from this band of buttheads, namely because they love to shit all over the Young Adult genre, like, hardcore. (All I'm sayin' is I have to wonder if some of the writers of the show don't have some rejected YA manuscripts hiding under their beds.) Ethan writes literary fiction, but according to Max's coworkers, the latest book is a stinker and no one will publish it. Max then suggests that Ethan get into the hottest book market out there, Young Adult. Ethan is indignant and offended when Max suggests a book about "Vampires with cancer! They live forever and die forever!" If the writers wanted to fully cement my dislike for Ethan (aside from the whole cheating thing, because what the actual crap, dude?), they could've done no better than when he goes on this rant about the genre: "It's destructive! It's all about adults who are refusing to grow up and instead they read books that are for kids. It prevents you from moving forward and living your life and is destroying our culture!" And then promptly agrees to write a YA novel because he's a sell-out who needs money. It makes what happens to him later in the series that much sweeter to me.
I've got mixed feelings about this show, even if it looks like I hate it. I wanted it to be better, especially because, for the most part, I liked all the actors and actresses. When they were simply hanging out, like at Marianne's play or on the winery tour of Long Island, I thought their banter was fun. But then everything else happened. It's only 8 half-hour episodes, however, so if you do want to give it a try it's not much of a time investment.
Familiar Faces:
Despite this show's flaws, it has some good gifs, so allow me to regal you with each character's best.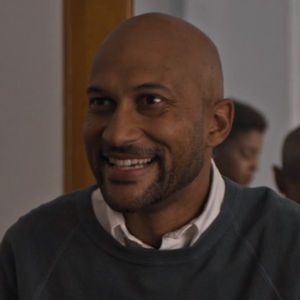 You've probably been living under a rock if you haven't seen Key in something. When he's playing it straight, it's not hard to see why three of the five other friends are attracted to him; he's funny and charismatic and not hard to look at…at least, until, he breaks out with those weird-ass voices when Ethan is uncomfortable. It was mildly funny in the first episode, less going forward, and I think someone needs to remind Key this is not a sketch comedy; it's a dramedy. (It's played in the show as super annoying, too, with all the other characters telling him to stop, seriously, stop.) As sweet as he can be to Lisa, I just can't get over the fact that he's a cheating bastard. If you love Sam so much, why didn't you marry her!?
Best gif:
Friends From College brings Cobie back to New York in a much different role than Robin Scherbatsky from How I Met Your Mother. Lisa was an attorney for the ACLU who now works for the worst hedge fund in the world (peppered with the worst bros). She's arguably one of the most sympathetic characters for many reasons, but she's got her own brand of messed-up-ness as the series goes on.
Best gif:
Annie has one of those faces that I KNOW I know but until I look at her IMDB I couldn't tell you where I saw her before if my life depended on it. But now I can tell you at least a few: How to Lose a Guy in 10 Days; Definitely, Maybe; The Following; Person of Interest; Law & Order. Get it, Annie. I started out hating on Sam in the first few episodes and kind of mellowed out as time went on, though she's (say it with me) quite a messed up individual. She and Ethan do have really good on-screen chemistry, but there's a lack of backstory to help me understand why these two people in seemingly decent marriages can't keep it in their pants.
Best gif:
Greg is playing a similarly confident but way more cocky role on Grey's Anatomy right now, so he's "oh, that guy!" for me currently, but you Ally McBeal fans probably know him better as Richard Fish. John is Sam's husband and is too good for this group. He might make some questionable music choices for his four-year-old, but, mostly, I feel bad for him.
Best gif:
Fred will always be that little boy from The Wonder Years and The Princess Bride. He still has a baby face, and it's hard not to like him even when his character does stupid things. He helps Ethan get a book deal with a YA writer starting her own imprint about "sexy monsters and bathtub moments", played by Kate McKinnon in a great cameo. Max is the one who gets everybody to put on the wine shirts, and I thank him for that.
Best gifs (because I couldn't choose just one):
Billy is Max's boyfriend and Lisa and Ethan's fertility doctor (oh, yeah, these two want to procreate). He's quite a subdued Billy in this role and the person I most relate to as the outsider who just doesn't get (or want to deal with) these peoples' weird shit. He'll be your favorite person on the show, I guarantee it.
Best gif:
Park has been in plenty of one-off tv show episodes and made-for-TV movies, but nothing really stands out to me except for The Mindy Project and The Big Short. Marianne gets the least depth of the group, and I wonder why they even hung out with her, but I guess every group needs a Phoebe. She's the only one who knows about the affair, thanks to Sam, and she doesn't approve, but she never actually tells Lisa, who's also supposedly her friend, so…
Best gif:
He's unfamiliar to me but he's been in enough TV shows (like Reno 911, Ben & Kate, and The Cleveland Show) that many of you probably know of him. I went through the entire first episode thinking he and Marianne were married, because they had so few moments on their own. He's a pill-popping, lazy, sleeps with anything in a skirt cardboard cutout, though I did enjoy his moments with Lisa.
Best gif:
Couch-Sharing Capability: Your REAL Friends From College
You'll probably want one of your besties that you still know from college watching with you so you can turn to each other periodically and communicate with just a look that says you would NEVER do each other this dirty.
Recommended Level of Inebriation: A Six-Pack Of The Cheap Stuff
Remember when college parties were a sea of unrefined taste: Bud, Natty Light, wine coolers, and Smirnoff Ices (green apple was my jam) as far as the eye could see? Go full out and hit the cheap stuff if you want to commit to the show's tone. Yeah, maybe later you'll get a bit of a headache, but that might actually be because you furrowed your brow in judgment of the characters for too long, so drink up!
Use of Your Streaming Subscription: Excellent To Make Yourself Feel Better
"Wow," you think. "My life, and friend group, is so much better than theirs. Thank GOD." We all need to see others crash and burn to make ourselves feel better sometimes. Let this be that thing.