About:
Title:
Gilmore Girls S1.E01 "Pilot"
Gilmore Girls S1.E02 "The Lorelais' First Day At Chilton"
Gilmore Girls S1.E03 "Kill Me Now"
Drinks Taken: 70
Cups of Coffee: 21
Last week, I finished the entire series of Gilmore Girls for the very first time. I'd already seen the first few seasons, but I never made it all the way to the end, always assuming that the show must get worse, as all shows do. But I am here to tell you, ladies and other ladies, that Gilmore Girls does not get worse. Like a gay kid in junior high, it gets better. I became wholly obsessed, and now that it's over, I feel a cold, bleak vacuum where Rory, Lorelai and Emily used to live. Clearly, I need an excuse to start the entire series over again, and FYA has provided me with that excuse!
So here it is, my friends: the Gilmore Girls Rewatch Project. Every Wednesday I'll write up three episodes at a time until we see our little Rory graduate from [UNIVERSITY REDACTED FOR SPOILERPHOBES] and go on to get her first real job, while Lorelai finally makes it work with [BOYFRIEND REDACTED FOR SPOILERPHOBES]. Watch along with me, or simply enjoy refreshing yourself on your favorite episodes of one of the most charming and delightfully wacky shows of all time.
And I made a drinking game, because obviously.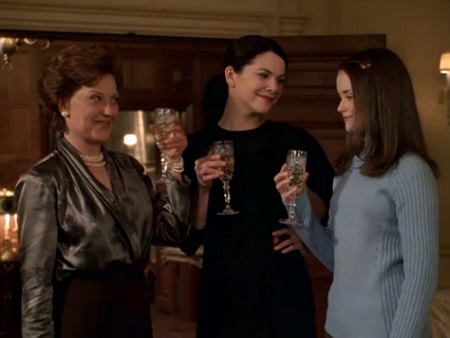 The Gilmore Girls Drinking Game Rules
Drink once every time:
Lorelai or Rory drinks coffee.
Emily gets flustered by Lorelai's bizarre sense of humor.
Sookie is controlling about food.
Paris is controlling about anything.
Michel snubs a customer.
Luke is crotchety.
Taylor has an absurd scheme for Stars Hollow.
The girls acquire massive amounts of food and then fail to take even one bite.
Drink twice every time:
Kirk has a new job.
You see a town troubadour.
You see a moment from the credits.
Mrs. Kim says "We appreciate your business."
On to the episodes!
1.1 "Pilot"
Meet Lorelai and Rory Gilmore, who live in the impossibly idyllic town of Stars Hollow, Connecticut. Lorelai became pregnant when she was only 16, and she left the home of her wealthy parents Emily (Kelly Bishop, Baby's mom from Dirty Dancing!) and Richard (Edward Herrmann) to raise Rory on her own terms, and now she and Rory are more like best friends than mother and daughter. Lorelai runs The Independence Inn with her best friend, klutzy chef Sookie (an adorable Melissa McCarthy, way before she started overdoing the super raunchy shtick) and snooty French concierge Michel. Lorelai and Sookie want to open their own inn one day when they can save up enough money. Rory goes to Stars Hollow High with her best friend, rock music-obsessed Lane, whose mother, Mrs. Kim, is super strict. Stars Hollow is peopled with zany townies like Miss Patty, the horny dance instructor, and Drella, the grouchy harpist. It's also the home of cutely crotchety Luke, who owns the diner where Rory and Lorelai get all of their many, many cups of coffee and cheeseburgers.
Rory is a major brainiac, and she is accepted into the elite private school Chilton, but Lorelai can't afford her tuition. So she goes to see her long-estranged parents in Hartford and they agree to pay if Rory and Lorelai start attending Friday night dinners at their house every week. The first dinner devolves into a fight about how Lorelai didn't marry Rory's father Christopher when he knocked her up in high school, and it's the first of hundreds of knock-down-drag-outs between the elder and younger Gilmores on this show.
Rory meets a boy, Dean (Jared Padalecki, so young and floppy-haired!), and he flirts very cutely with her, telling her that he's noticed what a precious little nerd she is, always absorbed in her books. She decides she doesn't want to go to Chilton and leave Dean at Stars Hollow High, and she and Lorelai have their first big fight about it, but after learning that Lorelai sacrificed her hard-won freedom and independence from Richard and Emily to pay her tuition, Rory agrees to go.
How many times do I have to drink?
29 drinking game rules in this episode! Many of those were shots from the credits, since this is the pilot, after all.
How many cups of coffee do the Gilmore girls drink?
12.
Flirtation quota
Lorelai flirts with Luke (!), who flirts right back as they share a general "You look good" exchange. There's also this creepy guy in the diner who hits on her and Rory, and Marco, the Independence Inn's plumber, but only because Lorelai's trying to coax him into doing some emergency plumbing. (Not a euphemism.) Rory flirts oh-so-badly with Dean, but he doesn't seem to mind. And can you blame her? I'd be an idiotic, stuttering mess too, if this boy told me "You're nice to look at."
Most dated pop culture reference
Lorelai and Rory both play Macy Gray's "I Try" in different rooms when they're mad at each other.
Sookie's best meal of the episode
Waffles and peach sauce, mmm.
Lorelai's craziest outfit
This tiger sweater, jeezy chreezy.
Kirk insanity
No Kirk in this episode! That, in and of itself, is insanity, people.
Best Gilmore Gal witticism
Lorelai to Rory about Dean: "Don't get me wrong, guys are great. I'm a huge fan of guys. You don't get knocked up at sixteen being indifferent to guys."
Random observation
Lane mentions her "parents" (plural), but later she only has Mrs. Kim and no dad to speak of.
1.2 "The Lorelais' First Day At Chilton"
It's Rory's first day at Chilton, and Lorelai has overslept, which means she doesn't have time to pick up her clothes at the cleaners. And ALL of her clothes must be at the cleaners because she heads to Chilton dressed like she's going to the rodeo, as poor mortified Rory so aptly puts it. There she runs into Emily, who's trying her damnedest to needle her way into every aspect of the younger Gilmore girls' lives, but Lorelai's still standing firm and independent (despite all of the flack she catches for her terrible outfit).
Rory has a crap day. She instantly gets on the wrong side of Paris, the Machiavellian school overachiever, and by proxy, Paris' two minions, Madeline and Louise. She's also on the radar of Chilton bad boy Tristin, played by the execrable Chad Michael Murray, who will heretofore be referred to as ChaMM. ChaMM calls her Mary, as in virgin, and assaults her with sleaze-eyes all day. Rory's way behind at school, coming from public school and starting at Chilton a month late, and she's made to feel extra-terrified by an unfriendly Headmaster Charleston, who doesn't think she can handle the pressure.
We meet a few new characters who will become beloved: Jackson, the vegetable distributor for the Independence Inn, and Lorelai's neighbors, screechy Babette (Sally Struthers) and jazz-playing Maurie.
How many times do I have to drink?
20 drinks!
How many cups of coffee do the Gilmore girls drink?
Only 5! No wonder they both had such a bad day.
Flirtation quota
Lorelai flirts with a dad she meets at Chilton, who immediately asks her out in spite of (because of?) her jorts. She turns him down because she doesn't want Rory to start off on a bad foot. She flirts with Luke again, who seems relieved when he learns that she turned down Chilton Dad. I guess it's time for a pic of old Luke, huh?
Not bad! Poor Rory is flirted with, excessively, by ChaMM.
Most dated pop culture reference
Lane, Lorelai and Rory all geek out over XTC's latest album, Apple Venus Volume 2.
Sookie's best meal of the episode
She spends most of the episode bitching at Jackson for the poor quality of his peaches, but we do hear something about her terrific homemade ice cream.
Lorelai's craziest outfit
Well, that's easy! I present to you…Lorelai's Rodeo Outfit:
Kirk insanity
We meet Kirk (Sean Gunn), but he's not exactly Kirk yet. Today he's a DSL installer (drink twice for Kirk's new job!) named Mick. Insanity!
Best Gilmore Gal witticism
Emily to Lorelai regarding her outfit: "Do you want a ride or is your horse parked outside?"
Random observation
Unlike most shows about high school students, this show actually makes a point to feature classes, teachers and schoolwork. It's a big part of Rory's life, and therefore, it's a big part of Gilmore Girls.
1.3 "Kill Me Now"
Rory goes golfing with Richard at Emily's insistence, and to everyone's surprise except Emily's, they both really enjoy themselves. As they bond over a love of books, traveling to Fez and country club gossip, we witness the birth of a grandpa-granddaughter relationship for the ages. Lorelai gets a little crazy jealous, as she expects Rory to hate the elder Gilmores' elite universe as much as she does, and Emily's very smug that Rory fits into the country club world much better than Lorelai ever did. But Rory and Lorelai make up after a nutso bra size-related fight with a really sweet reunion, as they always do. Credits moment! (drink twice)
Meanwhile, Lorelai's organizing a wedding between two sets of twins at the inn, where every relevant employee is duly freaked out by the Doublemint action. Michel tells the twins apart with a very concise post-it-on-the-back system, because he is the best. We also learn that Michel is afraid of swans after an attack by a band of them in the Luxembourg gardens when he was a child because, I repeat, he is the best. And as long as I'm GIFin':
How many times do I have to drink?
21 drinks.
How many cups of coffee do the Gilmore girls drink?
4! These gals never learn that they have to keep their caffeine levels high if they want to get along.
Flirtation quota
Zero flirty action this week! Booooring.
Most dated pop culture reference
Lorelai: "Do you know what I'm thinking?" Rory: "That Madonna and Sean Penn should get remarried?"
Sookie's best meal of the episode
Blueberry shortcake, because Jackson's strawberry crop is puny. Blueberry shortcake sounds delicious.
Lorelai's craziest outfit
This hardly compares with her rodeo outfit, but I'm not crazy about this head scarf/printed tee/cropped leather jacket combo. Sookie's outfit is also questionable.
Kirk insanity
Kirk still isn't Kirk. He's the swan peddler for the wedding (drink twice for new job!), but he's pretty un-Kirk levels of surly, and Lorelai just refers to him as "this guy."
Best Gilmore Gal witticism
Referring to the crazy golf beanie (above) she buys Rory, Emily: "Now you look just like Tiger Woods!" Rory: "Wow, that's some hat."
Random observation
Richard talks about Lorelai the First, his mother, as if she's dead, but we totally meet the most formidable Lorelai later in the series.
---
So those are your first three episodes of Gilmore Girls! Speak up in the comments with any suggestions for drinking game rules or additions to my weekly write-up. I'm going to end each week with a question for you, the FYA readers.
So this week, lay it on me…who is your favorite Stars Hollow townie?