About the Book
Title:
Everything, Everything
Cover Story: Everything
BFF Charm: Big Sister
Talky Talk: Whimsical
Bonus Factors: Illustrations, Phonetic Scrabble
Relationship Status: Flirtation
Cover Story: Everything
Like one of Stefon's favorite clubs, this cover has everything: vibrant colors, imaginative design and lovely illustrations of ideas and objects from the story. It's tough to look at this artwork and not play a game of Where's Waldo, and it's even more difficult to look at it without wanting to read its contents. Well played, designer. (But seriously, where is Waldo?)
The Deal:
Madeline lives in a bubble. And I don't mean she figuratively lives in a bubble–she literally lives in a bubble. Well, okay, it's not an actual bubble, it's a house, but she's confined inside by an immunodeficiency that renders her allergic to the entire world. Instead of going to school, she takes online classes. Instead of hanging out with friends, she spends time with her mom and her nurse, Clara. Instead of experiencing the highs and lows of adolescence, she dives into the pages of books. Her heart is kept safe from the dangers lurking outside… until the day Olly moves in next door.
Immediately curious about this boy and his turbulent family, Madeline finds herself drawn beyond the borders of her house and into an online friendship with Olly, who makes her feel, for the first time, like she's not just alive, she's living. But when you can't walk out the front door, there's only so much living you can do, and soon Madeline must decide if she's willing to risk her life in order to have one.
BFF Charm: Big Sister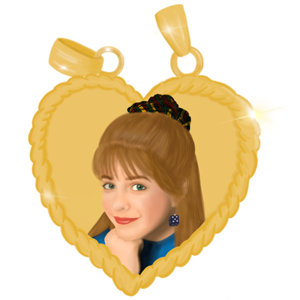 Madeline is a bookworm, so of course I dig her. But due to the nature of her upbringing, she hasn't had the chance to develop much of a personality–she's defined more by her isolation than anything else. She's also ridiculously sheltered, and I didn't want to pal around with her so much as expose her to the big wide world… in a responsible way. Girl gets pretty reckless and impulsive, and while I understand her motivation, she made me VERY nervous.
Bonus charm goes to Carla, Madeline's nurse and the closest thing she has to a friend, who emanates warmth and dispenses wisdom like, "You're not living if you're not regretting." Damn straight, Carla. Damn straight.
Swoonworthy Scale: 6
I always enjoy the correspondence that comes with online romance (You've Got Mail is my favorite movie, after all), and the current of emotion in Olly and Madeline's communication is heightened by the fact that they can't meet in real life. From the sparks of early flirtation to the sharing of innermost secrets, their emails and chats tingle with chemistry, and though the intensity of their relationship never quite hit me, I appreciated its poignancy.
Talky Talk: Whimsical
You gotta admit, the premise of this novel is a little bit twee, but Nicola Yoon cuts the sweetness with her protagonist's honest voice and considerable emotional turmoil. The structure of her storytelling is playful, with the insertion of emails, drawings and other items, so this is not a book that takes itself too seriously, even while characters say things like, "Maybe growing up means disappointing the people we love." Light one minute and heavy the next, Yoon's words dance across the page in an enchanting fashion until a sudden shift in weight and tone causes them to stumble in the climax.
Bonus Factor: Illustrations
Sprinkled throughout the book are delightful illustrations by Nicola Yoon's husband, David. Sometimes it's a half page drawing, other times it's a chart or a tiny sketch, and each piece adds to the charm of the story.
Bonus Factor: Phonetic Scrabble
Madeline and her mom play a special form of Scrabble in which they have to spell words phonetically, like "jeenz" and, my personal favorite, "pokalips" (apocalypse). Um, who's up for a game night because that sounds like a RIOT. (Or should I say, "ryet"?)
Relationship Status: Flirtation
Book, you're lovely, and you certainly proved to be a unique, if temporary, distraction. We had a pleasant time together, but I saw the end of your story coming from a mile away, and it didn't quite line up with the book I thought you were. You're cute, to be sure, but your lack of impact means that, for me, you're just a passing fancy.
FTC Full Disclosure: Random House sent me a free review copy of this book. I received neither money nor cocktails for writing this review (dammit).