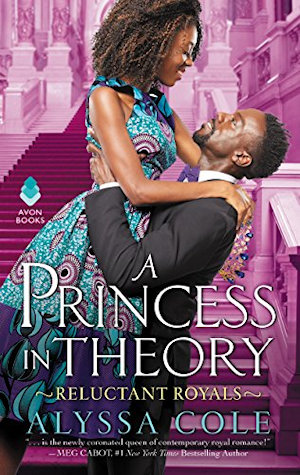 About the Book
Title:
A Princess in Theory (Reluctant Royals #1)A Duke by Default (Reluctant Royals #2)Once Ghosted, Twice Shy (Reluctant Royals #2.5)
Friends, lovers, dukes and duchesses, welcome back to FYA's Grown-Up Guide to Romance Novels, a four-week series during the horniest month, in which we're exploring bodies…of work of some of our favorite romance authors. From modern day to historical, we'll get down and dirty with one series each week, and we hope you'll join us for the ride.
Reluctant Royals series by Alyssa Cole
Sub-genre: Contemporary
What to Expect: Hidden identities; royals with hearts of gold; "I really wish I were in her shoes" Princess Diaries moments; smart, feminist protagonists; real-life topics tackled with finesse
The Deal:
Well-meaning and sexy royals meet passionate, intelligent working women who know what these guys need: sound advice and some hot lovin'.
From Fancy Dress to Fabio:
I. Love. These. Covers! I adore the bold colors, and the models are perfect. Those brightly patterned dresses (that aren't the standard fancy romance dress we typically see) are what first made me stop and read the synopses for the first two books.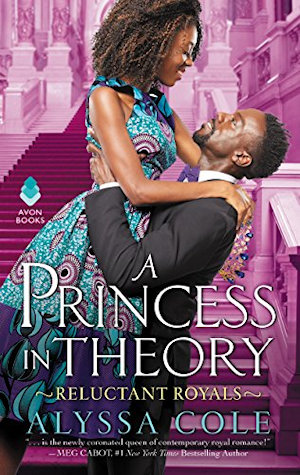 A Princess in Theory (Reluctant Royals #1)
Meet Cute:
Naledi isn't overly impressed with Jamal when he shows up as a new banquet waiter and promptly effs everything up. The two hit it off later thanks to his adorable face and persistent nature, but then it all goes sour when Jamal reveals he's actually His Royal Highness, Prince Thabiso from Thesolo–and Ledi is his long-lost fiancée. Talk about a new twist on the Nigerian prince email scam.
The Leading Lady: Orphan-Turned-Princess
Naledi is such a good, well-rounded character. She's working on her master's in epidemiology and moonlighting as a waitress to be able to survive-not-thrive in NYC. As a child she was orphaned and bounced around from foster home to foster home, so she's got a complex about letting people in. When Thabiso reveals that she's actually from his country and her parents had arranged their marriage when she was a baby, her entire world implodes.
The Leading Man: His Royal Deceitfulness
Thabiso didn't mean to lie to Ledi when he first met her, but when she mistook him for a waiter he realized it was a good opportunity for them to get to know each other as they were instead of with all this history between them. He's not quite as well-defined a character as Naledi; his concerns for his country and ability to rule are similar to many other made-up royals, but it's not a huge concern.
Risque Ranking: 10
Cole knows her way around a good sex scene; that first interaction between Thabiso and Ledi is a panty-melting ten out of ten. There's also plenty of tension stemming from the situation they find themselves in that makes for some good tortured looks and feelings.
Ms. Perky's Prize for Purplest Prose:
His gaze was locked on hers as he brushed and squeezed and twisted, like he was calibrating her to the right frequency, one that left her gasping and trembling for him. Waves of pleasure rolled through her as he alternated soft brushes with hard pinches.
He wasn't driving her crazy because of lack of technique; that was the technique.
Was It Good For You?
Stephanie: Absolutely. This was one of those romance novels that is about so much more than the romance. Naledi has a lot to work through emotionally, and she's got a fully realized life in NYC with great friends (who will become the stars of future books) and a frustrating but rewarding job. Then there's the wish-fulfillment fantasy part because who hasn't wanted to secretly find out they're a princess with all the perks that come with it? There's even a few mysteries to be solved. I enjoyed the heck out of this book.
Kate: Totally. Not only does the book hit all the best tropes (mistaken identity, secret princess—I'm ignoring the part where he moves into the apartment next door), but it does a great job of building anticipation between Naledi and Thabiso. I also love that Naledi's so driven in her epidemiology research, and that Thabiso fully celebrates that, going so far as to have her a cape designed with cellular gonorrhea print (inside joke!). Two thumbs way up.
Kandis: This reminded me of my beloved Hallmark Christmas movies. Except this chick who's destined to be a princess has a real job and student debt, and no plans to leave her big city life. And since it's not basic cable, she doesn't have to settle for a chaste kiss at the end. YAY! I liked Naledi and her totally believable baggage, and I'm glad she was not immune to her super hot "neighbor" despite his obvious trust fund trappings.
A Duke by Default (Reluctant Royals #2)
Meet Cute:
Portia Hobbs, BFF of Naledi, NYC Socialite, and Hot Mess™ Extreme, is finally trying to get her act together. She earns an apprenticeship in Scotland with a renowned sword maker in exchange for her expertise in making over their social media presence, but when she gets there, she realizes the brother of the swordsmith is the one who set up the whole enterprise. Tavish isn't too keen on this bubbly American know-it-all coming in to change any aspect of his business.
The Leading Lady: Reformed Party Girl
Portia has so many negative tapes she needs to eliminate from her mental library. Yes, she's been the loud drunk, the neglectful friend who goes overboard trying to right her wrongs, and a casual bed-hopper. But she's trying to change all that and figure out what's at the root of her unhappiness. I appreciated Portia's can-do personality and how she strived for self-improvement.
The Leading Man: Brooding McScotsman
I think this is my first romance featuring a swordsmith. Tavish is struggling to hold on to the business he absolutely loves in a town where he is beloved for his charity work and open heart. He puts on a gruff exterior around Portia, but he has to start to rely on her when she accidentally outs him as the heir of a duke (he was never sure who his birth father was before Portia began doing history homework on the armory).
Risque Ranking: 9
Tav and Portia resist as long as they can to put up a pretense of remaining professional, but then it's all sneaking around and getting down and dirty on his office desk.
Ms. Perky's Prize for Purplest Prose:
Then he was kissing her as he rubbed, and though they'd been at it off and on for the last half hour, he kissed her like a lover who hadn't seen his beloved in months. She wasn't one for romanticizing, but he kissed with the lush, seductive artistry of Klimt, dark passion hidden beneath rich, solid strokes.
Was It Good For You?
Stephanie: I do love a good grumpy guy who learns to love, although Tav teetered on the edge of total jerk during some points. The lady definitely outshined her love interest once again. Portia explores a possible diagnosis of ADHD, which finally makes clear for her a lot of where her perceived "issues" come from, and as someone who is married to a guy with ADHD, much of it felt spot-on. She's got parental problems and a sibling sitch that resolve themselves in a satisfying way. Plus it's set in Edinburgh, which seems to be everyone on the internet's favorite European city. (I will be there in just a few days(!!!), so I will report back in the comments if I run into any hot swordsmiths wandering about).
Kate: As a lover of all things Outlander I was bound to fall for a story about a Scottish swordsman, but I found myself adoring this book for so many other reasons. Portia is multidimensional, flawed, and totally relatable. At one point I found myself saying, "Did this book just teach me coping mechanisms?" Not to mention, the chemistry between her and Tavish is crazy hot. Multiple opportunities for swordplay innuendo don't hurt. I was really invested in the characters as they went down their paths of discovery and self-acceptance. My takeaway: at the end of the day, what good is the love of another if you don't have (ahem) self-love?
Once Ghosted, Twice Shy (Reluctant Royals #2.5)
Re-Meet Cute:
Likotsi, whom you may remember is Thabiso's personal assistant, is relishing in her rare time off when her subway train gets stuck. The delay causes her to see a face she never thought she'd see again: Fabiola, the gorgeous girl she met on a dating app months ago; the girl Likotsi had a few hot and heavy dates with; the girl who broke her heart in a few short text messages. Fab is as shocked as Likotsi to see her in NYC again. She immediately invites Likotsi to dim sum so she can keep talking to her. Maybe this time will be different…
The Leading Lady: The Joanne
Likotsi's superpower is being super capable. She's smart, a snazzy dresser, and always in control. She's also very comfortable with herself and her desires, and when she met Fab back in the Spring she knew she could fall head over heels in just a few days. But now she's hurting from Fab's rejection and guarding her heart.
The Leading Lady: The Maureen
Fab was ready to quit her accounting job and run her jewelry-making business full time, but circumstances have changed since she last saw Likotsi. Her change of heart is the main mystery of the novella; why did this vibrant, confident, pin-up girl with a lot of heart suddenly cut Likotsi out of her life and become something of a recluse?
Risque Ranking: 7
Because of the page constraints and the storyline we don't have a ton of time to linger between the sheets, but there's two sweet but sexy bits that will get your blood pumping.
Ms. Perky's Prize for Purplest Prose:
She smiled because she'd discovered something that first night together—seeing Likotsi climax with abandon, without the strictures of her tailored suits and ties and waistcoats, was really fucking hot.
Was It Good For You?
Stephanie: Likotsi has been a small but important role in the first two Reluctant Royals books, so it's nice that she gets her happy ending even if she isn't a "royal" by the series definition. It's also great to see some Black queer representation. I think this was the perfect length for the plot and it made me want to visit NYC for the millionth time! It wasn't my favorite of the series, but it was cute.
Kate: This book was cute, but for me, it didn't quite live up to the precedent set by the others. With it being a novella, there's less time to really invest in Likotski and Fabiola's relationship. The split narrative between past and present made it hard to build that tension and anticipation that I loved so much in the other books. However, Likotsi is my favorite secondary character, so I loved getting to see more of her personality. I'm also just happy she got her girl!
Coming Soon:
You may think two books and a novella do not a series make, but I am counting down the days until book three AND another novella are released (April 30 and March 19, respectively):
The third full length novel, A Prince on Paper, features Nya (Naledi's cousin from Thesolo) and Prince Johan (a friend of Thabiso's who appears as a minor part in the first two books as a Prince Harry type back when he was partying and in all the gossip columns).
The novella, Can't Escape Love, will feature another non-royal like Likotsi: Regina, Portia's blogging twin sister, and a new male love interest who designs escape rooms. It's like Cole wrote this one just for me.
FTC Full Disclosure: We did not receive money or Girl Scout cookies of any kind (not even the lame cranberry ones) for writing these reviews. The Reluctant Royals series is available now.
Shop Our Romance Themed Merch