Cover Story: Bicycle Built For Two
BFF Charm: Eventually
Talky Talk: (Magical) Realism
Bonus Factors: Sea Animals, Seaside Town
Relationship Status: Something There
Cover Story: Bicycle Built For Two
This cover is super cute, and fits the recent illustrated cover trend for romcoms—which I don't mind at all! But there is something very wrong with that bike …
The Deal:
Prudence has a nemesis, and his name is Quint Erickson. Quint's been her partner all year in Marine Biology class, but he's perpetually late, does far less than his share of their team work, and completely went against her wishes on their final project, earning them a C. Pru has never gotten a C, and will not let it stand. Their teacher will let them redo the project, but only if they do it together … and Quint wants nothing more to do with Pru.
So Pru goes on a mission to do it herself, which leads to learning things about Quint that has her second-guessing everything she assumed.
Oh, and she's recently found herself with an ability to inflict karmic justice on the people of her town …
BFF Charm: Eventually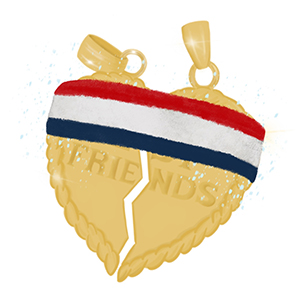 Pru is a headstrong overachiever who, honestly, makes me feel like I'm tagged in this book and I don't like it. She'll sooner take over a group project than let people do their fair share because she's worried that their best isn't good enough. She's super confident—unless you're asking her to get up in front of a crowd or wear a bathing suit in public, but she'll never let you know that she wasn't 100% in control at. all. times. She sees her ability to direct karma as the universe recognizing her as a good judge of characters and situations. And yet …
Swoonworthy Scale: 8
Let me tell you, the enemistry in this book is real. But also maybe one-sided? Pru thinks Quint is an irresponsible ass who's only halfway decent looking. There are hints throughout the book that Quint doesn't "hate" Pru nearly as much as Pru "hates" Quint, but we don't often get to see the relationship from his eyes—mostly because Pru doesn't want to see it, and she also doesn't want to let Quint change her mind about anything, him included. But her slow realization that he's maybe not that bad and that his huge eyebrows are actually kind of nice and his irresponsibility is actually not what she understood it to be … the lady doth protest too much, methinks.

Talky Talk: (Magical) Realism
Instant Karma is Meyer's first contemporary novel, but it's not straight-up no-nonsense contemporary: Pru's karmic abilities definitely lean toward the magical. Her ability is used more as a plot device than any real fantastical element, however; some of the decisions she makes have unforeseen consequences, which in turn teach Pru lessons and help her grow as a character (by the end of the book, at least). Her abilities aren't ever fully explained, but as many magical elements of romcoms often aren't, it's easy to just go with it.
In addition to creating characters who—in my case—feel all too real, Meyer's worldbuilding abilities shine in Instant Karma. With her previous series, she's had more time to flesh out the worlds, but she does a great job in this standalone novel of creating a truly robust little seaside town.
Bonus Factor: Sea Animals
As part of her efforts to redo her marine biology project, Pru ends up volunteering at a local marine life rescue non-profit. And the descriptions of the sea lions and otters had me squeeing throughout.
Bonus Factor: Seaside Town
Fortuna Beach, the town in which Pru and Quint live is a fictional California city semi-near San Francisco. It's super idyllic and not unlike Colby, the fictional town from many of Sarah Dessen's novels (albeit on the opposite coast). It's the perfect rom-com setting.
(And, although Instant Karma is a standalone, it might just be the first book to be set in this town, or so Meyer said when she stopped by our lockers earlier this week!)
Relationship Status: Something There
We had a great time together, Book. I know we met in the summer, but I feel like there's more to this spark between us than just a summer fling. I hope you're game to give this a chance? I bet there's good karma in it for both of us!
Literary Matchmaking
A Million Junes
For another book that mixes magic and swoon, try Emily Henry's A Million Junes.
Today Tonight Tomorrow
And for another helping of delicious enemistry, read Rachel Lynn Solomon's Today Tonight Tomorrow.