Cover Story: The Gloaming
BFF Charm: Platinum Edition
Talky Talk: The Real Deal
Bonus Factors: Tami Taylor Award for Amazing Motherhood, Story Within a Story
Relationship Status: I'm Listening
Cover Story: The Gloaming
That purple twilight sky, the distant lights on the horizon: this is the kind of cover that makes me want to read the book without knowing anything else about it. It looks like the type of book that could be about aliens or some runaways or even just a road trip! Looks like a good story, right?
The Deal
Frances Janvier is a super smart, super motivated British student whose one and only goal is to be accepted into Oxford or Cambridge, and this is the year it's going to happen. But this is also the year that Frances and her neighbor Aled become best friends, and everything starts to change. For the first time in her life, Frances can be herself with someone—her YouTube watching, fan-art drawing, Avengers-leggings wearing self. She even gets to share her favorite thing in the world with Aled: Universe City, the mysterious podcast with a cult following. She's determined not to mess this up and drive Aled away like she did with his twin sister a few years ago (wait, what?!). But when a big secret gets out, Aled blames Frances, leaves for college, and goes on total radio silence. Suddenly everything Frances had is now out of reach, and she must decide who she wants to be—for herself and for her best friend.
BFF Charm: Platinum Edition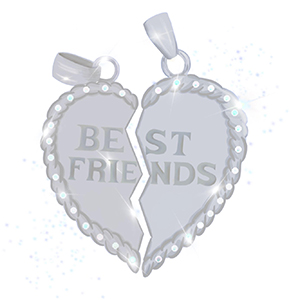 There's not one single thing that I don't like about Frances. She supposedly drove one twin away a couple years ago, and is now doing the same with the other. But I don't blame Frances at all. I blame the twins. Frances is great. She's kind, hardworking, talented …and a fan of Doctor Who, so I KNOW we'd get along. She's self-deprecating in a funny way—it's only funny because she actually has a healthy self-image, all things considered. I mean, she's a teen, so of course she feels like a loser sometimes. It's true that she's way different from the girls she hangs out with, and technically a nerd (but who doesn't love a good nerd nowadays?!). But she has so much love and support from her mom, it's no wonder that she's got a solid sense of self.
Swoonworthy Scale: 3
This was a tough one to rate, and if you read Radio Silence, you'll understand why. It's clear that Alice Oseman didn't want to write a book that was primarily or even secondarily about teens and romance. And yet, there's not zero swoon. I think the best way to describe it is that while many books I read follow the formula PLOT + ROMANCE = STORY. The heroine finds out she's the chosen one … and also that she's in love with that one guy. I mean, I enjoy it, don't get me wrong. But if you took out the lovey dovey stuff, the plot would be exactly the same (just not as fun for meeee!!). But in Radio Silence, it's not about what happens; it's about how the characters relate to each other, and how they feel about themselves. And if you took out their history with one another, if you removed the kisses or the heartbreak or the misunderstandings, it wouldn't be the same story at all.
Talky Talk: The Real Deal
Oseman wrote this book when she was, like, 20. And it was her second book! Needless to say, she's got her finger on the pulse of what it's like to be a young British female. I would call her story "relatable," but what do I know? I was young SEVERAL days ago, I have never been British, and I … well I am female, so I've got that going for me. But this book isn't about what it's like to be a girl. Or a boy. It's almost the opposite of that. Much like the swoon issue, gender is treated very intentionally here. The two main characters don't really have binary gender identities, and they even speak to each other about it once, in a pretty awesomely understated conversation. They've got baggage and guilt, fears and doubts. But what they don't have is some idea that they need to dress a certain way or label themselves a certain way or fall in love a certain way (or at all).
Bonus Factor: Tami Taylor Award for Amazing Motherhood
If I really was Frances' BFF, nine times out of 10 I would just go knock on her door and be all like, "Um, can your mom play?" I want to hang out with her mom! She watches How I Met Your Mother and Game of Thrones, and on Saturday mornings, she chills out in her UNICORN ONESIE! Plus, she's just the most supportive mother. She's so sweet and fun it almost hurts! The morning after Frances goes out dancing with friends, her mom A.) chides her for not staying out late enough, saying she deserves a proper break before exam revision starts, and B.) pretends to be clueless and asks how it was at "the disco":
"Did you get down? Did you turn up?"


"Oh yeah, we were jiving and everything," I said, and did a little rendition of a jive.


"Good, good. That'll get you laid."
Oh Mrs. Janvier, you are a delight!
Bonus Factor: Story Within A Story
The fictional Universe City podcast (modeled after real audio-only YouTube channels) is hugely central to this book. It's about the adventures of an agender sci-fi university student named Radio Silence who solves mysteries with the help of various sidekicks. (Full disclosure: I have no idea what a sci-fi university is.) Radio can never take his gloves off, has special powers, and transmits messages to anyone who might be listening and able to help him escape the dark and futuristic "Universe City." The book is peppered with random snippets of episodes—a lot like Fangirl. Also like Fangirl, it's awesome. And there's this YouTube convention appearance by Radio at the end of the book that honestly gave me goosebumps.
Relationship Status: I'm Listening
Book, I'd listen to you for hours. I mean, I basically did! Thanks for being yourself.
FTC Full Disclosure: I received a copy of this book from HarperTeen, but got neither money nor YouTube fame in exchange for this review. Radio Silence is available now.
---
About the Contributor:
It's taken a decade, but Lacey Nadeau has finally decided she misses the beaches of Southern California where she grew up. (It took only about a minute for her to miss the Mexican food.) However, she's pretty committed to the fun and sun of Denver, CO, where she plays with spreadsheets by day, and drinks boozy slushies with her husband and puppy by night. The puppy just pretends.