About the Book
Title:
The Gilded Ones (Deathless #1)
Cover Story: Montell Jordan
BFF Charm: Yay
Talky Talk: Epic
Bonus Factors: Worldbuilding, Feminism
Relationship Status: We Who Are Readers Salute You!
Cover Story: Montell Jordan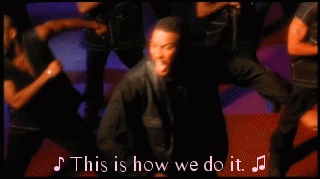 HELLO, GORGEOUS. From the rich colors to the power and poise emanating from Deka's face, this artwork is stunning, like to the level that I started humming, "can't take my eyes off of you…" the first time I saw it. Sure, some of the details don't exactly match the book (I don't think her hair is that long? And the gold on her face is actually just on her arms and hands?) but shut up, who cares, IT'S ART.
The Deal
Having grown up in a small village in northern Otera, where everyone is white, Deka has always felt like an outcast due to her dark skin. She prays every day to Oyomo that she can become the model of a virtuous woman, and with the upcoming Ritual of Purity, she'll have a chance to prove once and for all that the color of her skin doesn't make her sinful. Unfortunately, monsterous creatures known as deathshrieks crash the Ritual party, and in trying to save her father, Deka accidentally taps into a hidden power which exposes her as an alaki, a half demon who bleeds gold, or "cursed," blood. The local priests are obviously NOT down with that, and they try their damnedest to kill Deka, but she simply can't die. Well, not permanently.
After a few rounds of death, Deka is whisked away by a mysterious woman and offered the chance to fight for redemption–if she joins the army of alaki and kills deathshrieks for 20 years, she will be granted purity, i.e. the chance to rejoin humanity. What a bargain! Deka has no choice but to agree, and as training begins, she quickly learns that being a half-demon really puts the "bad" in badass. But unlocking her power also releases a growing number of questions about Otera's culture, her heritage, and her place in the world, and Deka will have to fight beyond the battlefield to find the truth.
BFF Charm: Yay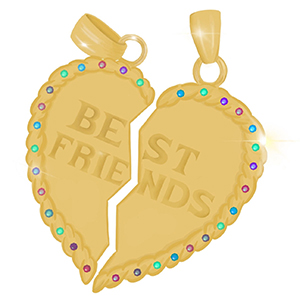 Not that she needs any help from me in the brute force department, but I wish I could face punch every single person who made Deka feel worthless. It was maddening to see how strong and compassionate and brave she is when she couldn't see it for herself due to years of being shamed and repressed by Otera's patriarchal society. (Ah, there's the urge to face punch again.) Thankfully, that frustration just made me savor her journey even more, as she finally begins to view her abilities as a gift rather than a curse. I still found myself occasionally shaking the book in lieu of shaking her (gently!) by the shoulders, because she's so hard on herself, but for the most part, I just felt lucky to be in Deka's corner to witness her discovery of her value as a warrior but, more importantly, as a human.*
*Or half-human. Whatever. Y'all know what I mean.
Swoonworthy Scale: 4
At the training camp, every alaki is paired with a uruni, a brother in arms, and when Deka is partnered with Keita, it's the opposite of a meet cute. He's a fearsome soldier who seems to detest everything about Deka, and before you think there's some enemistry brewing–there's not, mostly because Deka dislikes herself even more than Keita does. But over time, both of them begin to comprehend just how amazing Deka can be, and their romance blossoms sweetly, though TBH it can't hold a candle to the heat from the raids and insane fighting. My pulse was already racing at a pretty fast clip from the intense action, so the love story struck me as unnecessary and even a little bit boring. (I never say that so y'all know the carnage is bonkers.)
Talky Talk: Epic
Namina Forna did NOT come to play, and she wastes no time in hurtling us into a rich, complex world teeming with surprises and danger around every corner. While she throws a lot at you to establish this universe, it never feels overwhelming thanks to pitch perfect pacing and the fact that much of this is new to Deka as well. All of the twisty reveals, not to mention the ominous threat of the deathshrieks, result in a hella exciting read, even though tonally it can be a little uneven. For example, it's a biiiit of a shift to go from a beheading in battle to the introduction of an adorable magical creature, and I wished that Forna had gone full-on hard R rather than blending in some Disney. When you realize that the alaki can die several times before their "true" death, you know you're in for some gruesome shit, and no amount of cute critters can lessen that kind of horror.
Bonus Factor: Worldbuilding
From the religion of the Infinite Wisdoms to the legend of the Gilded Ones (four ancient demons who once ruled the universe), Forna weaves such a fascinating, colorful tapestry as the backdrop to Deka's story. This is the kind of world begging for a film adaptation (which apparently Forna is already writing!) so that you can savor every detail on the big screen. I legit cannot wait to see those CGI deathshrieks because whoa.
Bonus Factor: Feminism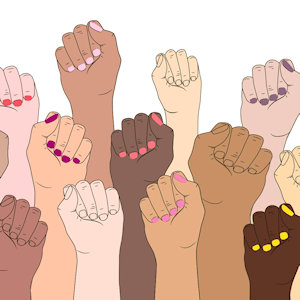 In her letter to the reader, Forna (who grew up in Sierra Leone) writes, "At its heart, the book is an examination of patriarchy." Women in Otera are subservient to men, and they can't attend school, learn a trade, or go anywhere without a male guardian. (And when they are in public, they have to cover their faces with masks.) As much as this culture will fill you with rage, it's no match for the absolute JOY you will feel as Deka rolls up her sleeves and goes Rosie the Riveter on those asshole men. The Gilded Ones is incredibly empowering, and you don't need gold blood to embrace Forna's bold, uplifting message of equality.
Relationship Status: We Who Are Readers Salute You!
Any time the alaki army is given orders by their commanders, they respond with, "We who are dead salute you!" And while I'm no half-demon or half-immortal, I am inspired to salute this book for its blazing storytelling and the light it shines on racism and misogyny. It has my respect and my gratitude, and I hope that it finds its way to anyone who thinks they are undeserving of love, because Deka is eager to prove them wrong. (And trust me, you don't want to disagree with her.)
Literary Matchmaking
Akata Witch (Akata Witch #1)
Forgive me for stating the obvious BUT for more fearless feminism mixed with African-inspired fantasy, step into the world of Akata Witch.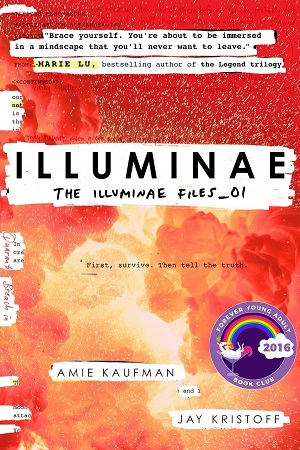 FTC Full Disclosure: I received a free copy of this book from Random House Children's Books and got neither cocktails nor money in exchange for this review.