About the Book
Title:
The Improbable Theory of Ana and Zak
Cover Story: Montell Jordan
BFF Charm: Yay x 2
Talky Talk: LOL IRL
Bonus Factors: Sci-Fi Convention, 24 Hours
Relationship Status: Casablanca
Cover Story: Montell Jordan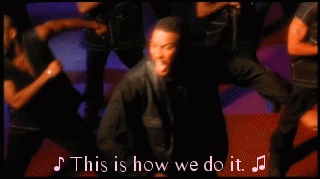 This cover is so cute—pixelated Ana and Zak! Math! The implied promise that Ana and Zak are totally getting together! It's simple, with shades of An Abundance of Katherines, but I would definitely pick this one up off the shelf.
The Deal:
Ana is the product of extraordinarily overprotective, demanding parents, and has the extracurriculars, the grades, and the fear of getting kicked out of her home to prove it. Zak is a sweet but lazy slacker who thinks copying from Wikipedia is a good way to complete an assignment. (I just felt the wince-and-clench of teachers and professors everywhere.) When Zak gets caught, he has to join the high school quiz bowl team as an alternate in order to stay in school; Ana is less than thrilled, and even less so when her genius younger brother and quiz bowl teammate, Clayton, immediately worships Zak.
It seems Ana's not the only one chafing under her parents' leash, either: when Zak complains to Clayton that he's missing the sci-fi convention, Washingcon, Clayton takes the opportunity to see what Seattle's most eccentric cosplayers have to offer him. The next 24 hours involve a reluctantly paired Ana and Zak storming the con castle, trying to find Clayton and bring him back before Ana loses her parents' trust forever.
BFF Charm: Yay x 2
At first, I didn't like Zak or Ana at all—a plagiarizer and a girl who regards cosplayers and other women as somehow less-than? And yet, as the book went on, both Ana and Zak managed to utterly charm me—Ana, as she relaxed and stopped judging everyone so harshly, and Zak, as he stepped up to help, despite risking his own neck. By the end of the book, I was ready to give them passes to BFFCon for life.
Swoonworthy Scale: 7
It's no spoiler to tell you that this is the story of how Ana and Zak get together (the cover alone gives that away), but the way they fall for each other seems natural. Even though it's set mostly in a 24-hour span, they see each other at their best and worst. When they start acknowledging that there's more to the other than they each initially thought, I smiled, and when they both go out of their way to impress each other, I fist-pumped. Kids these days, with their bows, their arrows, their broadswords!
Talky Talk: LOL IRL
Despite Brian Katcher being a regular contributor here at FYA, this was the first book of his I've actually read (!). I've always found his reviews and submissions to FYA Photo-A-Day funny, especially the gas station guide to courting, and his dry sense of humor comes through in Ana and Zak.
Even if you don't have any geek cred at all, you'll still be able to follow the book. There are a lot of pop-culture and geekdom references, from Doc Savage to Hunger Games, but they don't dominate. (Ana's a newbie and she survives at Washingcon just fine.) The dialogue is witty (particularly the things Ana and Zak don't say to each other) and I laughed out loud several times.
Bonus Factor: Sci-Fi Convention
The motley crew of characters Ana and Zak encounter while trying to locate Clayton are perfect (occasionally perfectly frustrating), including one '80s-cartoon-impersonator that had me laughing and wincing at the same time. More than that, though, the book really reflects what a joy it is when you finally find your tribe, whether they're into cosplay or kittens. Watching Ana stop judging and start appreciating was one of my favorite parts of the book.
Bonus Factor: 24 Hours
The bulk of the story takes place over 24 hours, which not only is hard to write, but also means that Ana and Zak get into some hilarious (although occasionally unrealistic) situations to keep the action going. Oh, to be young and able to stay awake that long.
Relationship Status: Casablanca
Book, you were funny, charming, and full of heart. Of course I want you to hang out with me, whether we're wearing capes or evading extra-bubbly cosplayers. This, dear book, could be the beginning of a beautiful friendship.
FTC Full Disclosure: I received my free review copy from Katherine Tegan Books. This review was originally posted on Kirkus Reviews in exchange for monetary compensation, which did not affect or influence my opinions. The Improbable Theory of Ana and Zak is available now.