About:
Title:
Gilmore Girls S3.E16 "The Big One"
Gilmore Girls S3.E17 "A Tale of Poes and Fire"
Gilmore Girls S3.E18 "Happy Birthday, Baby"
Drinks Taken: 36
Cups of Coffee: 12
Hey, it's Week 20! And for this nice round number we have three wonderful episodes that really get at the heart of what Gilmore Girls is about: the ways that our family and friends sustain us. Also coffee. And junk food. And Kirk.
So let's dive in, but first! A reminder of our drinking game rules: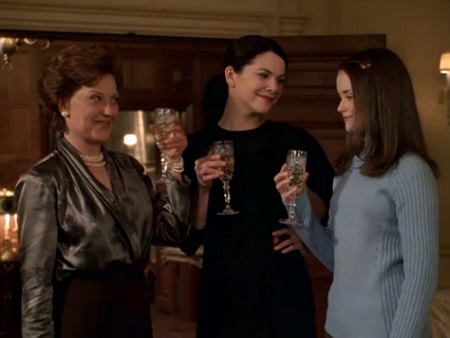 The Gilmore Girls Drinking Game Rules
Drink once every time:
Lorelai or Rory drinks coffee.
Emily gets flustered by Lorelai's bizarre sense of humor.
Sookie is controlling about food.
Paris is controlling about anything.
Michel snubs a customer.
Luke is crotchety.
Taylor has an absurd scheme for Stars Hollow.
The girls acquire massive amounts of food and then fail to take even one bite.
Drink twice every time:
Kirk has a new job.
You see a town troubadour.
Emily gets a new maid.
On to the episodes!
3.16 "The Big One"
Rory and Lorelai are eagerly awaiting word back from Harvard and the other universities to which Rory applied when Chilton offers a fun distraction – they're holding a contest for the best writer to give a speech at Chilton's bicentennial ceremony, and CSPAN will attend and air the presentation! Of course Rory and Paris are crazy competitive over it, and of course they tie for first place and of course Headmaster Charleston insists they give the speech together. At first it looks like Paris is going to continue holding a grudge against Rory for the Francie nonsense, but then she comes over to Rory's house, apologizes for acting stupid and confesses that she had sex with Jamie the night before. Yay, they're back to being confidantes! Rory gives her some excellent advice (which Lorelai overhears – more on that below), and everything seems to be going well – until the Chilton speech the next day. Paris shows up late and looking hella disheveled, and she gazes off like a space cadet until Rory resigns herself to giving the speech without Paris' help. At this point Paris interjects and announces the following to Chilton and the entire planet via CSPAN:
(She also announces that Rory's a virgin. Thanks, Paris.) Yep, Paris didn't get into Harvard. Rory, however? After comforting Paris in the sweetest way possible, she heads home with Lorelai to discover four or five big envelopes in her mailbox – including one from Harvard.
In other wonderful news, SOOKIE IS PREGNANT OMG. All of her food is being sent back for tasting weird, and she's entirely affronted until Lorelai confirms that it does, indeed, taste weird. Something's up with Sookie's taste buds! I spent ages searching for a gif or a clip of the moment that Sookie and Lorelai realize simultaneously that Sookie is pregant and celebrate together, but alas, there are none. Here is but a glimpse of their joy:
Jackson, however, does not celebrate the way Sookie expects him to after the whole four in four thing. He panics and does a lot of calculating and measuring and tries to take away all of Sookie's knives – but eventually, he tells her quite sweetly how happy he is, and gosh, I'm happy for them too.
Finally, Lorelai runs into Max at a drugstore in Hartford – and homeboy is lookin' fine! He's awfully friendly to Lorelai, far friendlier than she deserves, as Sookie and Rory are quick to point out. When Lorelai sees him later at Chilton, she tries awkwardly to apologize for, you know, dumping him like two days before their wedding, and he tells her cheerfully that he's over it. But later in the coat room, they have a very sudden and rather hot kiss! "And apparently…I'm not over it," Max concedes before taking off. WHAT COULD IT MEAN?! Lorelai confesses to Rory that she has no idea. Aww. I like Max.
How many times do I have to drink?
13.
How many cups of coffee do the Gilmore girls drink?
2.
Flirtation quota
Lorelai does a little of her patented fight-flirting with Luke over his new diner menus, then pouts a bit when she learns that the change is because Nicole wanted more salads. But most of her flirting is reserved for Max – even when they aren't kissing, their entire dynamic is so flirty.
Best/most dated pop culture reference
Poor, put-upon Brad has returned! Turns out he's been giving a "winningly naive" performance in a Broadway production of Into the Woods! So of course Paris tortures him mercilessly with Broadway references, including calling him Mary Martin, Chita Rivera and Jerome Robbins.
Sookie's best dish of the episode
I know it all looks good, but these dishes are evidently the stuff of nightmares.
Lorelai's craziest outfit
Up top, in the header image. I don't even know how to describe that shirt.
Kirk insanity
Kirk is Stars Hollow's newest mailman (drink!). He is really, terribly bad at it. He's very slow and doesn't sort the mail beforehand, and QUIT TELLING HIM WHAT TO DO, EVERYONE IS ALWAYS TELLING HIM WHAT TO DO. "I am the mail carrier in this town and I will carry the mail the way that I carry the mail, and if you don't like that, then you can carry the mail. But you'll have to apply for the job first and get hired. And there's a test, and it is a hard test, my friend. Ow, paper cut."
Michel madness
Nope.
Best Gilmore Gal witticism
Oh man, when Lorelai tastes Sookie's pregnant food: "Are you sure you didn't just accidentally drop something in the food tonight, like, I don't know, strychnine? Or manure?" hah!
Random observation
There's one moment of this great episode that sits the wrong way with me. Lorelai overhears Rory advising Paris on the Jamie situation, as Rory tells Paris that she hasn't had sex yet because she isn't ready, but that doesn't mean it wasn't the right time for Paris. Lorelai looks so relieved and later tells Rory that she's going to take her shoe shopping, and I'm fine with all of that – any mom of a teenage girl (particularly one who was a teenage mom herself) is going to be relieved to hear that her daughter isn't ready to have sex yet. (Especially after her talk with Rory last week.) But when Rory walks out of the room, Lorelai smiles to herself and whispers, "I've got the good kid."
I just don't feel comfortable with this idea that Paris – a brilliant, responsible, motivated 17-year-old who decided after a lengthy courtship to have sex with her very sweet and also responsible boyfriend – isn't "the good kid." I know Lorelai has some understandable baggage about teen sex, but I still think that scene would have been better served if she'd just said to herself, "I have such a good kid." Not THE good kid. You know what I mean?
3.17 "A Tale of Poes and Fire"
I love this episode! Lorelai and Rory are working on one of their famed pro/con lists to help Rory decide between her top three schools: Harvard, Princeton and Yale. Everyone assumes Rory will go to Harvard, because that's all she's talked about her entire life, but Lorelai and Rory want to continue collecting data the way they've always done with big decisions. Meanwhile, Paris hasn't returned to school in a week since she cracked up on CSPAN, and Rory goes to her house with her schoolwork and gives her a much needed pep talk. "You need to check the mail so that you can see the other millions of universities that have no doubt accepted you and that are probably dying to be in the Paris Gellar business." Aww. Lorelai points out that it looks like the pro-con list is heavily favoring Yale, and Rory seems abashed at the prospect. Lorelai says that even though she's behaved like an idiot (my words, not hers) about Yale in the past, whatever is right for Rory is right for her – and it looks like Yale is right for Rory. Rory points to her Harvard wall and asks how she can go to Yale with a wall covered in Harvard merchandise? Lorelai points out that it's just a wall, but Rory remains uncertain.
Luke is so proud to learn that Jess has been awarded Employee of the Month at Walmart. After giving Rory an awkward congratulatory hug over her many university acceptances, he cutely brags about Jess' accomplishment to Lorelai, who beams at him in the loveliest way. When he goes to the ceremony (so sweet!), he hears that Jess has been working around 45 hours a week. How can he possibly be doing that and working at the diner and going to school full time? No one knows for sure, but Jess promises he's got it covered. (Spoiler: he doesn't.)
The Poe Society has invaded the Independence Inn, and during a double recitation of "The Raven," Lorelai and Rory pick up on a little weirdness from Lindsay and Nicole. Seems Dean's and Luke's new girlfriends are the jealous types! Later, as they're sleeping, Lorelai receives a call – the Inn is on fire! She jumps into gear, and I have to say, I love seeing how great Lorelai is at her job during this catastrophe. We can see that she's stressed and upset, but she keeps her cool and takes care of everything that needs to be done while elevating the spirits of everyone around her. She finds lodging for all of the guests around town, organizes volunteer efforts and gets Sookie to work with Luke on preparing food at the diner for the misplaced Poe folks.
One last Poe couple – who were supposed to be headed home – decide to stay in Stars Hollow because, as Lorelai puts it, she "made the whole emergency fire accommodations sound so fun." So she gives them her bed and has nowhere to stay, and to no one's surprise she ends up at Luke's. They make the bed together and do a little pre-sleep chatting, and AUGHHH it's so cute I can barely handle it. As they're about to nod off (Luke on the couch, alas), Lorelai tells him about her season premiere dream in which she and Luke are married and she's pregnant with his twins. Luke, hearing all of this, is looking pretty pleased, and GAH I love this scene so much I could watch it a hundred times.
ALSO Luke doesn't tell Nicole that Lorelai's bunking at his place, and when Lorelai calls him on it, he admits that she's a sore spot between him and Nicole because he spent their entire first date talking about Lorelai. SWOOOOOON. He says he was just nervous and rambling, but I think we all know the truth. Even Lorelai, try as she might to ignore it.
Rory's crashing at Lane's, and she learns that Young Chui is no longer dating Karen and refuses to fake-break up with Lane. After taking stock of the situation, Rory gathers that Young Chui is actually in love with Lane and trying to take the fake out of fake-dating. Lane is aghast – Rory points out that she's a catch, and Lane replies, "But not his catch, I'm Dave's catch! I've already been caught!" QUIT RUBBING IT IN, LANE.
The next day Lorelai, Sookie and Michel go back to the Independence Inn to survey the damage, which is extensive. It's terrible and they're all deeply dismayed. At the same time, Rory heads back to their house and sees that Lorelai has transformed her Harvard wall. This part will always, always bring me to tears. What a good mom.
How many times do I have to drink?
12.
How many cups of coffee do the Gilmore girls drink?
5.
Flirtation quota
Good god, Lorelai and Luke are burning up this entire episode – even before they're bunking together. He's really nice about letting them use the kitchen after the fire, and she's really nice when he tells her about Jess' award. Also Luke looks SMOKING HOT in this episode.
Holy haircut, that boy cleans up good.
Best/most dated pop culture reference
We learn that Patty was once Ricardo Montalban's receptionist!!! I wonder if she ever had to take phone calls for his majestic chest.
Sookie's best dish of the episode
Of course at first she and Luke bicker non-stop in the kitchen, but they fall into a super cute rhythm and end up making a tremendously successful Cajun eggs benedict together.
Lorelai's craziest outfit
She's in the throes of a genuine crisis, so maybe I won't give her too hard a time about this striped, studded, ice cream jersey.
Kirk insanity
Kirk has embarked on a new moneymaking scheme (drink!). He makes t-shirts featuring a humorous topical headline of something he witnessed around town and then sells them. The first one reads "Babette Ate Oatmeal.", and if I don't one day own this shirt it won't be for lack of trying. And of course my heart warms at the end of the episode as Rory picks up a shirt Lorelai left on her bed that reads, "Rory's Going To Yale!"
Michel madness
Right after the fire, Lorelai overhears him on the phone with the nearby Cheshire Cat Inn and thinks he's trying to find lodging for the guests, when he's actually looking for a new job because he's evil.
Best Gilmore Gal witticism
As Lindsay and Nicole are shooting daggers at Lorelai and Rory during "The Raven," Lorelai muses, "Weird vibe in here. Very Poe." Rory agrees cutely, "VERY Poe!"
Random observation
This is one of my favorite episodes; there's just so much to love in it. The Yale wall, the competing Poes, Kirk's shirts, Rory's pep talk to Paris, Luke's pride in Jess, the way Luke finds out Sookie's pregnant ("You're the one that's cracked." "Nice thing to say to a pregnant woman." "You're pregnant?!") and the way they later work together so well in the kitchen, seeing how efficient and collected Lorelai is in a crisis, all of it. But that scene between Lorelai and Luke in his apartment is an all-timer, one that makes my cheeks ache from grinning every time I watch it.
3.18 "Happy Birthday, Baby"
It's Lorelai's 35th birthday, and Rory has planned all SORTS of fabulous weeklong festivities to celebrate the birthday girl. She spells out HAPPY BIRTHDAY MOM in Mallomars on the table, makes a giant bowl of mac and cheese (pictured above), plans facials, a double feature at the movies, a trip to Sephora, a makeover and a blowout party featuring a Lane Kim playlist (one song from every year Lorelai's been alive), tons of snacks and the world's largest pizza. (Well, the biggest pizza in their part of Connecticut, at least.) Rory spends the entire episode finalizing the details, and it almost makes me want to have a kid so someone will one day plan a glorious birthday week like Rory has planned here for Lorelai.
Lorelai and Rory tell the grandparents that Rory has decided to go to Yale, and at first they sit in stony silence, clearly afraid that Rory's going to Yale against Lorelai's wishes and that Lorelai will resent them for it. When Lorelai tells them how genuinely happy she and Rory both are about this decision, they respond in simply the best way:
Meanwhile, the Inn is still deep under construction (which means we get to see lots of Stars Hollow's grouchiest contractor, Tom!), and Lorelai's a wreck over it. On the plus side, Richard invites her to coffee and presents her with a check. On the day she was born, he made a real estate investment in her name, and the investment has paid off: Lorelai now has $75,000!! Of course Lorelai is at first suspicious that this is some sort of gift or charity, until Richard gravely (and cutely) informs her that he is legally obligated to give her this money. Now she can celebrate with various yacht schemes!
Luke and Nicole are getting more and more serious, and she invites him to meet her parents for lunch. (Lorelai is displeased upon discovering this, naturally, although she tries her best to act supportive.) But beforehand Luke confirms that Jess has been skipping school to work extra shifts at Walmart, and when he very nicely confronts Jess about it, offering to give him a raise at the diner and pay for his insurance so Jess can quit, Jess is a total jerk (surprise surprise). So when Nicole's mom begins super inappropriately hounding Luke about having kids, he snaps and starts yelling about Jess. He later promises to Nicole that he'll make it up to her parents the next time they're in town, and Nicole seems happy that Luke is making plans for months in the future with her. Also, he totally steals Jess' car so Jess can't drive to Walmart anymore.
Before Lorelai's big birthday party she and Rory head to Friday night dinner, which starts out pretty well until Lorelai proudly – and pleasantly, not for nothing – offers a check to Emily to pay her back for Rory's Chilton tuition. Despite Lorelai's best intentions, Emily is furious that Lorelai is freeing herself of her obligation and knows that she'll never come back to Friday night dinner. Emily responds very badly, and I'm on Team Lorelai here – maybe she should have found a better way to repay her parents, but she's not trying to rub it in. She always intended to pay them back, and I like Lorelai's independent streak, even if it's one of her most stubborn qualities. Emily tells Lorelai that she's no longer welcome at Friday night dinner because she doesn't want Lorelai throwing her a bone, and then she storms upstairs after tossing out a "Have a nice life!" Richard's angry too, because he thought it was implicit that he didn't want Emily to know about the check, and Lorelai's stymied, but not Rory – she's upset with her mom for making waves. Lorelai stands her ground and says she won't let Rory or Emily make her feel guilty for repaying a loan, and Rory apologizes – so they make up just in time to witness this magnificence:
How many times do I have to drink?
11.
How many cups of coffee do the Gilmore girls drink?
5.
Flirtation quota
Apparently for Lorelai's birthday every year, Luke offers her five hours of free maintenance, which is kind of impossibly adorable. He shows up at the house and gets to work, and she flirtily asks him where he's hiding his French maid uniform and when he says something about needing a drill he cuts off her "dirty!" before she can get it out. SO CUTE.
This, however? Even cuter. In fact, possibly the cutest Rory and Jess moment of all time. Good thing it's in the same episode that he's such a dick to Luke, or I would write him off forever.
And I mean this: awww.
Best/most dated pop culture reference
Sooo many good ones, but my favorite is when Rory's trying to get Pete the pizza guy to go back to her original concept of the world's largest pizza. "This is not Gangs of New York now with Cameron Diaz. This is Gangs of New York twenty years ago with Meryl Streep as Scorsese originally imagined it. Come back, refocus, remember the goal. Am I making myself clear?"
Sookie's best dish of the episode
Well I can tell you what she's not making: the world's largest pizza. And her pregnancy hormones have made her VERY upset at this fact, so Jackson goes to yell at poor Rory as she's carting around cases of soda for the party. et voila:
Lorelai's craziest outfit
I cannot believe Emily let her get away with wearing this snake shirt to Friday night dinner, but I guess it's her party and she can make my eyeballs bleed if she wants to.
Kirk insanity
Per Pete, the pizza guy: "So as Kirk's putting the pizza on the rack, the thing collapses, the pizza slips, long story short – Kirk has got some severe cheese burns." He is pretty well bandaged up for the occasion, too.
Michel madness
So we finally meet Tobin, the night manager, a chipper sort, always willing to help out – the exact opposite of Michel, actually, unless we're talking ambiguous sexuality. So naturally, Michel loathes him. Tobin brings bagels. Michel hates bagels. Tobin flatters Sookie and pitches in wherever he is needed. Michel seethes with barely concealed rage. Tobin buys Lorelai a birthday gift; Michel decides to buy her a better gift. Then Tobin gets her an even better gift (Joe Strummer's leather jacket!), so naturally Michel has to run an errand RIGHT THEN. Oh Tobin. I love you and your bagels and the way you make Michel make this face:
Best Gilmore Gal witticism
As the episode opens, Richard is excited to make a dish his grandmother used to cook for him when he was sad. Emily sniffs, "I saw an open can of cream of mushroom soup. Nothing good can come of that." This is the dish. Yum!
Random observation
It makes me so sad that the episode has to end with Lorelai and her parents fighting again. Every other scene with Richard and Emily is so lovely this episode: their reaction to Rory's Yale news, Richard's casserole prowess, how happy he is to present Lorelai with the check. (When she insists she's going to spend it on 150 pairs of Jimmy Choos, Richard replies, "But that's ridiculous. You are not going to spend seventy-five thousand dollars on Jimmy Choos when you could buy four hundred pairs of less prestigious but I'm sure equally stylish shoes. You will shop around first. Is that clear?" Precious!) Things have been going so well between them, and that makes it extra disheartening that they aren't speaking to each other now.
---
So there you have it! I love these episodes wholly and I can't believe three such gems all aired in a row. What an embarrassment of riches! So next week we have "Keg! Max!", "Say Goodnight, Gracie" and "Here Comes the Son." Two of those episodes are excellent! One, well…we'll get to that next Wednesday morning, so meet us here bright and early.
And I leave you with a question, dear FYA readers: those of you who watched Gilmore Girls live when this season aired in 2003 – did you know how lucky you had it? I hope you didn't take this run of incredible episodes for granted. And another: how do you feel about Lorelai's latest fight with her parents? Is she to blame? Is Emily? Both? Neither?