Well, it's the start of a new year! And while that has some folks thinking of resolutions and important life changes, it has us thinking about ALL THE DELICIOUS BOOKS we might get our grubby little hands on during 2013. So the ladies of FYA have compiled a list of some of the books we're especially excited to see. And while there will be PLENTY of sequels coming out for the series we've already obsessed with, we kept this list to new series or standalones. (We also tried to stick to those with covers designs out because sometimes those potential publication dates can be LIES. SORRY BUT, BRIDGE OF CLAY WILL NEVER COME OUT, EVER, LET'S STOP FOOLING OURSELVES. Sigh.) To the list!
Note: This post contains affiliate links. Learn more about our affiliate policy here.
Title: Paper Valentine
Author: Brenna Yovanoff
Publication Date: 2013 January 08
Official Blurb:
The city of Ludlow is gripped by the hottest July on record. The asphalt is melting, the birds are dying, petty crime is on the rise, and someone in Hannah Wagnor's peaceful suburban community is killing girls.


For Hannah, the summer is a complicated one. Her best friend Lillian died six months ago, and Hannah just wants her life to go back to normal. But how can things be normal when Lillian's ghost is haunting her bedroom, pushing her to investigate the mysterious string of murders? Hannah's just trying to understand why her friend self-destructed, and where she fits now that Lillian isn't there to save her a place among the social elite. And she must stop thinking about Finny Boone, the big, enigmatic delinquent whose main hobbies seem to include petty larceny and surprising acts of kindness.


With the entire city in a panic, Hannah soon finds herself drawn into a world of ghost girls and horrifying secrets. She realizes that only by confronting the Valentine Killer will she be able move on with her life—and it's up to her to put together the pieces before he strikes again.
Why I'm Excited:
I loved Yovanoff's debut The Replacement, but somehow missed that she has already published a second book, The Space Between — must remedy this fact as soon as I work my way through my TBR pile. Anyhoo, I'm always on the lookout for a good dark mystery, and this book sounds like it will be right up that alley. Even though she's a fairly new author, I already feel that I can put my trust in Yovanoff's creepy, melancholy hands. -Jenny
Title: Level 2 (The Memory Chronicles #1)
Author: Lenore Appelhans
Publication Date: 2013 January 15
Series: The Memory Chronicles
Official Blurb:
Three levels. Two loves. One choice. Debut novelist, Lenore Appelhans has written a thrilling otherworldly young adult novel about a place that exists between our world (Level 1) and what comes after life (Level 2).
Why I'm Excited:
Lenore Appelhans wrote a book!!! And it's a suspenseful thrill ride with swoon!!! (I can attest to the nail-bitingness of this book, because I was fortunate enough to read it in its early stages, when Lenore doled out 3 chapters at a time, and while I was supposed to be giving her constructive feedback, my emails to her pretty much consisted of "OMG!!!!! WHAT HAPPENS NEXT?!!!!! SEND ME MOAR!!!!!!!!!!!!"). But EVEN MORE important than all of that — in regards to why you and me and everyone we know should be excited about this book — is that its concept is so fresh, it might just start its own genre: Afterlife Dystopia. What WHAT. -Jenny
Title: How to Lead a Life of Crime
Author: Kirsten Miller
Publication Date: 2013 February 21
Official Blurb:
A meth dealer. A prostitute. A serial killer.


Anywhere else, they'd be vermin. At the Mandel Academy, they're called prodigies. The most exclusive school in New York City has been training young criminals for over a century. Only the most ruthless students are allowed to graduate. The rest disappear.


Flick, a teenage pickpocket, has risen to the top of his class. But then Mandel recruits a fierce new competitor who also happens to be Flick's old flame. They've been told only one of them will make it out of the Mandel Academy. Will they find a way to save each other—or will the school destroy them both?
Why I'm Excited:
Back in 2006, I met a fictional character named Kiki Strike. Kiki was mysterious; she was dangerous; she was incredibly intelligent. She taught me tricks like how to tell if someone's lying and the importance of mapping out escape routes. She was literally the coolest girl I've ever known, and I was devastated when, after we met via a sequel in 2007, I never saw her again. Then, I heard a rumor that her creator, Kirsten Miller, was bringing her back (on Jan 22!!!!), and, even better, she was giving us a whole new world of excitement with How to Lead a Life of Crime. While Kiki doesn't make an appearance (as far as I know), this book is packed with the adventure and intrigue I've come to associate with her. Boarding school, teenage criminals, New York City, simmering romantic tension– it's basically a roll call of all of my favorite bonus factors. And while I'm a law-abiding citizen in real life, I can't wait to dive into this underground world and break all the rules. -Sarah
Title: A Corner of White (The Colours of Madeleine #1)
Author: Jaclyn Moriarty
Publication Date: 2013 April 01
Series: The Colours of Madeleine
Official Blurb:
Madeleine Tully lives in Cambridge, England, the World – a city of spires, Isaac Newton and Auntie's Tea Shop.


Elliot Baranski lives in Bonfire, the Farms, the Kingdom of Cello – where seasons roam, the Butterfly Child sleeps in a glass jar, and bells warn of attacks from dangerous Colours.


They are worlds apart – until a crack opens up between them; a corner of white – the slim seam of a letter.


A mesmerising story of two worlds; the cracks between them, the science that binds them and the colours that infuse them.
Why I'm Excited:
I'm already a huge fan of Jaclyn Moriarty's Ashbury/Brookfield books, so I did a little happy dance (or whatever the equivalent is that you can perform in a desk chair – maybe a happy wiggle) when I heard she had a completely new series coming out. The plot is still centered around pen pals (YES, PEN PALS!) but with what sounds like dark fantasy and mystery elements! I cannot WAIT. (Those of you in Australia don't have to, since it's already out there. LUCKIES.) -Megan
Title: Dark Triumph (His Fair Assassin #2)
Author: Robin LaFevers
Publication Date: 2013 April 02
Series: His Fair Assassin
Official Blurb:
Sybella arrives at the convent's doorstep half mad with grief and despair. Those that serve Death are only too happy to offer her refuge—but at a price. The convent views Sybella, naturally skilled in the arts of both death and seduction, as one of their most dangerous weapons. But those assassin's skills are little comfort when the convent returns her to a life that nearly drove her mad. And while Sybella is a weapon of justice wrought by the god of Death himself, He must give her a reason to live. When she discovers an unexpected ally imprisoned in the dungeons, will a daughter of Death find something other than vengeance to live for?
Why I'm Excited:
I fell hard into LaFever's alternate history world with Grave Mercy. Girl assassins who manipulate history in a very woman-unfriendly time and place (medieval Europe)? Yes please! I also am a total sucker for sequels that pick up with different characters, and Sybella had me spellbound with just the few glimpses I got in the first book. -Meghan
Title: The Lucy Variations
Author: Sara Zarr
Publication Date: 2013 May 07
Official Blurb:
Lucy Beck-Moreau once had a promising future as a concert pianist. The right people knew her name, her performances were booked months in advance, and her future seemed certain.


That was all before she turned fourteen.


Now, at sixteen, it's over. A death, and a betrayal, led her to walk away. That leaves her talented ten-year-old brother, Gus, to shoulder the full weight of the Beck-Moreau family expectations. Then Gus gets a new piano teacher who is young, kind, and interested in helping Lucy rekindle her love of piano — on her own terms. But when you're used to performing for sold-out audiences and world-famous critics, can you ever learn to play just for yourself?


National Book Award finalist Sara Zarr takes readers inside the exclusive world of privileged San Francisco families, top junior music competitions, and intense mentorships. The Lucy Variations is a story of one girl's struggle to reclaim her love of music and herself. It's about finding joy again, even when things don't go according to plan. Because life isn't a performance, and everyone deserves the chance to make a few mistakes along the way.
Why I'm Excited:
It's Sara Mother-Lovin' Zarr. You KNOW this book is going to be good. This is the literary genius who brought us Cameron Quick of Sweethearts, ultimate MLD, and most recently, the exquisite How to Save a Life. She could take up writing paranormal romance retellings of Dickens novels set in a dystopian fairy tale land populated by glittering zombie vampires and I would STILL read her books and they would STILL be amazing. I don't need to know anything about this book other than its author and publication date to know that come May, I will be locked in my room with 17 boxes of tissues, sobbing into my kindle about how beautiful it all is. -Alix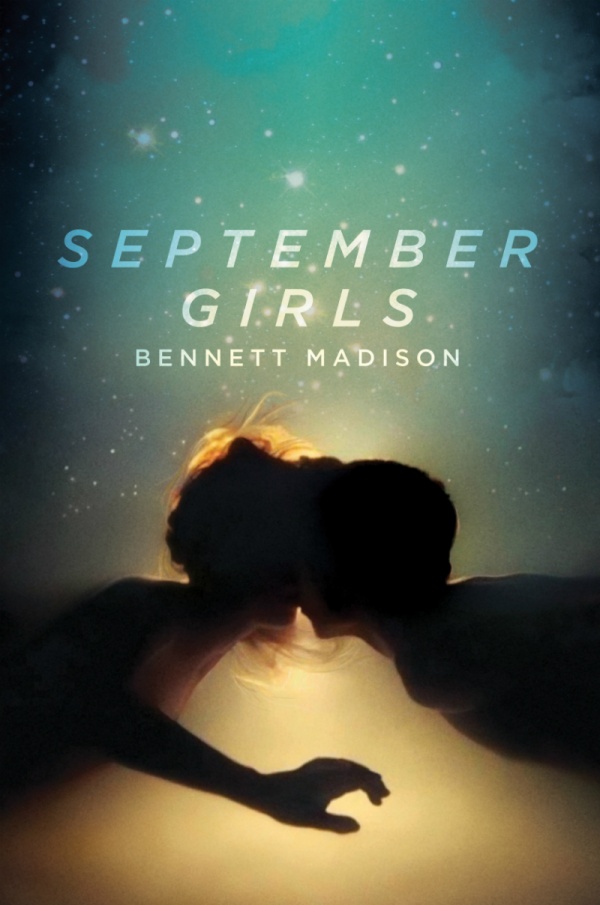 Title: September Girls
Author: Bennett Madison
Publication Date: 2013 May 21
Official Blurb:
When Sam's dad whisks him and his brother off to a remote beach town for the summer, he's all for it– at first. Sam soon realizes, though, that this place is anything but ordinary. Time seems to slow down around here, and everywhere he looks, there are beautiful blond girls. Girls who seem inexplicably drawn to him.


Then Sam meets DeeDee, one of the Girls, and she's different from the others. Just as he starts to fall for her, she pulls away, leaving him more confused than ever. He knows that if he's going to get her back, he'll have to uncover the secret of this beach and the girls who live here.
Why I'm Excited:
Bennett! Bennett's dreamy writing has long been a favorite of mine. He captures creepy whimsy (does that even exist?) like no one else, and I can't wait to see what he does in this not-your-usual mermaid story. I've been hearing about this book for TWO YEARS and I am so pumped to see it is finally for real. -Meghan
Title: The Moon and More
Author: Sarah Dessen
Publication Date: 2013 June 04
Official Blurb:
Emaline works at her family's vacation rental company the summer before she leaves for college. She must confront her values, goals and choices as her relationship with city-boy Theo evolves and she's forced to say goodbye to the beach town where she grew up.
Why I'm Excited:
Sarah. Mothereffing. Dessen. Oh, you need more of an explanation than that? Really? I mean, I could talk about how I love it when YA books features a hero/heroine on the cusp of college, because that final high school summer is a thrilling, sometimes terrifying mix of excitement for the future and nostalgia for the past. Or I could talk about how I have been DYING to return to Colby, a place that I often forget is fictional because I've been there so many times. (It's pretty much my favorite vacation spot, ever.) But really, it all comes down to my completely unabashed swimfandom of Sarah Dessen. (Exhibit A. Exhibit B. Exhibit C. Exhibit D. I REST MY CASE.) Her books are comfort food for the soul, and she never fails to deliver the swoon. I'm not sure how exactly I'll survive the months until June, but I do know that once I get my hands on this book, I'll be absolutely over the moon. This will certainly only make the wait harder, but if you want to torture yourself, you can read an excerpt from the book here. -Sarah
---
So what books are you looking forward to in 2013? Let us know in the comments!