About the Book
Title:
A Sky Beyond the Storm (An Ember in the Ashes #4)
Cover Story: The Sexy Reaper
BFF Charm: Platinum x 2 + With Benefits
Talky Talk: Epic
Bonus Factor: The End of a Series
Relationship Status: Til Death The Waiting Place Do Us Part
Hold it right there! Have you read the first three books in the Ember in the Ashes series? If so, please proceed and know that I have intentionally avoided spoiling more than the premise of A Sky Beyond the Storm, because I'm not an asshole. If you haven't read this series yet, what the hell are you doing? Quit with this review and get to work!
Cover Story: The Sexy Reaper
Damn, this cover is smokin'! I do miss Helene, but that scythe is a real knockout, and Laia's face means business. Also, may I call your attention to the item in Elias' hand? Sa-woon.
The Deal
It's been five months since the Nightbringer freed the jinn and Cook's sacrifice enabled Laia to escape Antium with the Blood Shrike, her sister Livia, and Baby Emperor Zacharias. In that time, Elias' emotions and memories have been dwindling as he more fully becomes the Soul Catcher, focused on serving Mauth and passing ghosts through the Waiting Place.
Laia and the Blood Shrike are now allies and (adorably) friends, united in their mission to take down Keris, who has declared herself Empress and continues to weave a path of destruction through the Tribal lands thanks to the unholy union of the Martials and the jinn army. But it soon becomes apparent that there is a greater battle to be fought, with the entire future of the world at stake, and while Laia, Helene, and Elias are no strangers to sacrifice, this war will test their limits, their relationships, and most of all, their humanity.
BFF Charm: Platinum x 2 + With Benefits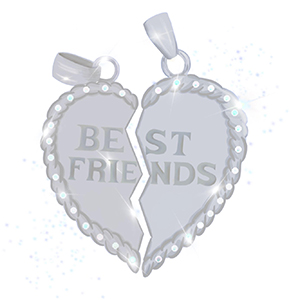 Laia, Helene, and I have been through some shit, to put it lightly, but this book left us bonded for life. Both women have grown exponentially throughout this series, and in this final installment, they are forced to dig deep within themselves until they reach an inner strength of such magnitude, it took my breath away.
Laia's journey is, in many ways, the heart of the story: how do you maintain compassion (which has always been her superpower) in the face of evil like the Nightbringer? Her struggle with this question is heartwrenching to witness, and yet the passion and light we saw in her since the very beginning remains unwavering.
As for the Blood Shrike, I'm basically drowning in hugs because I know she would never accept them and I have MANY TO GIVE. Jeezy creezy, Sabaa Tahir, you are SO mean to Helene! But damn if that doesn't make her even more badass than I even thought possible–shout out to the scene in Antium involving a pit that forever cemented the Blood Shrike as Absolute Legend. (Don't tell Laia, but Helene is my favorite.)
Also don't tell Laia that I remain intent on stealing her man. As the Soul Catcher, Elias spends much of this book being insanely enfuriating in his determination to quit people and deal only with ghosts, but that heart of gold is still beating under his broad, muscled frame (*fans self*), and it gets quite a workout as he wrestles with his connection to Laia and his duty to the spiritual realm. Plus, in his colder moments, Elias exudes a real MLD vibe (what is the Grim Reaper but the ultimate loner dude?!), in a swoll soldier kind of way, i.e. H to the O T.
Swoonworthy Scale: 9
While I would love to get into the SPICY details, I'm intent on not spoiling anything, so I'll be brief and leave it at this: Sabaa Tahir might be cruel to her characters, but she is very kind to her readers when it comes to, shall we say, romantic satisfaction. Hoooweeee!
Talky Talk: Epic
Over the course of the series, Tahir has built a sprawling, complex, and rich world populated by a dynamic cast of characters, and in this conclusion, she takes this framework (and the story it houses) to even greater heights. "Saga" seems like too small a word to capture the intricate mythology, the brutal battles, the vast imagination, all of which come together to deliver a spellbinding and stunningly singular tale. After three books, there's a lot of moving pieces to manage, and yet Tahir masterfully conducts them in an electrifying symphony of emotion and adventure, with all of the intensity and gut punches we've come to expect. Oh, and lots of blood. Buckets of blood, y'all.
Bonus Factor: The End of a Series
Not that I was worried, but when one of your favorite series is coming to an end, you approach the final installment with a fair amount of trepidation and expectations you realize might be WAY too high. I'm pleased to inform you that Sabaa Tahir did not disappoint–in fact, she surpassed my hopes and completely blew away my predictions in terms of the plot. While I won't get into the how and what, because spoilers, I'll just say two things. One, it was awesome to get to hang with all of the characters that have collected over time, from Musa to Mamie Rila to Quin to Tas (!). And two, while the genesis of the series is based on the horrors of war and violence in our own world (which makes the story all the more powerful)–and Tahir doesn't flinch from that in this conclusion–she also explores a theme of hope, leaving readers with a fitting and beautifully bittersweet ending that certainly drew a few tears* to my eyes.
*At least some were of the happy variety, phew!
Relationship Status: Til Death The Waiting Place Do Us Part
I've been with this series for five years, and rather than growing stale, our relationship remains as passionate and as vibrant as the day we met. Simply put, these books amaze me, and I plan to bask in their incredible glow until the Soul Catcher greets me in the Forest of Dusk.
Literary Matchmaking
FTC Full Disclosure: I purchased my own copy of this book and received neither money nor cocktails for this review. A Sky Beyond the Storm is available now.