About the Book
Title:
Bloodmarked (The Legendborn Cycle #2)
Cover Story: Back to Back
BFF Charm: Heck Yes
Talky Talk: Modern Fantasy (On the Run)
Bonus Factor: Rootcraft
Anti-Bonus Factor: Love Triangle
Relationship Status: Making Room in My Dresser
Red alert! Bloodmarked is the second book in the Legendborn Cycle. If you have not read the first book in this series (Legendborn), man your battle stations turn away now, as there might be spoilers in this review. If you're caught up, however, feel free to continue below.
Cover Story: Back to Back
The covers for this series continue to highlight Bree and her powerful gifts, and I adore that. I also adore that Sel's featured on this cover, rather than Nick. I think it hints at the true partner Bree needs. (Am I reading into this because I'm #TeamSelwyn? Likely.)
The Deal:
During a battle with Shadowborn in which Bree pulled the legendary sword Excaliber out of a stone, Bree discovered that she was the true heir to King Arthur and his gifts.The Legendborn society which she is now "ruler" of is split on their feelings about this revelation; some folks are treating her like she should be treated while others question her worthiness (*cough*racism*cough*). But she can't quite get Arthur's gifts to work like they should, and her rootcraft—also immensely powerful—seems to only come out when her life's on the line.
While trying to discover how to use both sides of her power, and how to make them work together, Bree ends up on the run from the very people she assumed would protect her, the Crown Scion. Sadly, old prejudices and the lust for power run deep, even in organizations that are supposed to be all about the safety of humanity.
BFF Charm: Heck Yes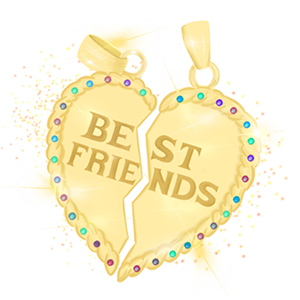 Our girl Bree has a lot on her mind and her plate in Bloodmarked, and that makes her a bit flighty when it comes to being a friend. But that doesn't make her any less of an excellent one, on the whole, and her connections to the wild secret Legendborn society and it's Mess would be worth the price of admission. (The price of admission sometimes being your safety, stability, and even your life. Poor Alice. I'd give her a BFF Charm in a heartbeat, too.)
Swoonworthy Scale: 8
The CHEMISTRY in this book, I tell you. Very little happens, in a physical sense, but the lead up to what does happen and the TENSION between the two folks it happens to had me fanning myself in glee. I'm not going to spoil who the swoon happens between, because Bree's got options, but I am knocking the score down a notch because of the love triangle-ness of it all. I am completely uncertain about who Bree will eventually end up with (if anyone) and nervous that Deonn might have to get brutal when resolving the whole thing.
Talky Talk: Modern Fantasy (On the Run)
Thanks to circumstances, Bree spends much of Bloodmarked running for her life around the southern U.S. There's a heightened urgency to Bloodmarked that wasn't in Legendborn because of this, and the book rarely lets you pause to catch your breath. That said, it did feel a bit bridge book-y; although a lot happens, the plot doesn't progress as much as it could have. It expands outward, with more worldbuilding and character development, but the timeline feels super short.
Bonus Factor: Rootcraft
Where Legendborn focused more heavily on the Arthurian side of Bree's gifts (in that we needed to learn about the workings of the society and the magic that comes with), Bloodmarked focuses a bit more on the other side of Bree's powers, the rootcraft. It's fascinating to read about, and a great opposite (and sometimes complement) to Arthur's gifts.
The rootcraft community at Volition, a safe haven for rootcrafters and Black folk, specifically, is a truly beautiful setting, too.
Anti-Bonus Factor: Love Triangle
There were already hints to the triangle in Legendborn, but things get SO MUCH WORSE (in the best way?) in Bloodmarked. I truly cannot deal. But I'm really trying to trust that Deonn knows what she's doing and won't break our hearts too badly before the end.
Relationship Status: Making Room in My Dresser
You had me at "Black girl is heir to the King Arthur legacy," Book, and you've kept me with "Unapologetically powerful Black girl is the heir to King Arthur's legacy but also so much more than that." There's definitely chemistry between us, and I'm excited about the possibilities in our future.
Literary Matchmaking
Daughters of Jubilation
Kara Lee Corthron's main character also comes from a long line of Black women with magical gifts that were cultivated as a form of survival.
FTC Full Disclosure: I received a copy of this book from Simon Schuster Books for Young Readers, but got neither a private dance party with Tom Hiddleston nor money in exchange for this review. Bloodmarked is available now.