Cover Story: 🙂
Drinking Buddy: Guarded
MPAA Rating: PG (Language, adult situations)
Talky Talk: I Need a Word…
Bonus Factors: Improv Comedy, ALS, Breakin' 2: Electric Boogaloo
Bromance Status: Scene Partner
Cover Story: 🙂
The emojis kind of sum it all up. The minimalist cover is what first piqued my interest.
The Deal:
Fifteen-year-old Winnie Friedman is funny. She knows she's funny. Just like her father, the ex-actor. But when she tried to do a standup routine at her bat mitzvah, she failed hard. Hard, as in one of those memories that randomly makes you cringe years later. She's given up on trying to be funny since.
But one day she cracks a joke and draws the attention of Evan, the funniest guy in school. Evan invites her to join the school's improv group. And maybe, just maybe, this will be a chance for Winnie to open up again. To speak in public. To let the world know that she is, in fact, funny. It's time to laugh!
And that night her father announces that he's been diagnosed with ALS. So much for humor.
Drinking Buddy: Guarded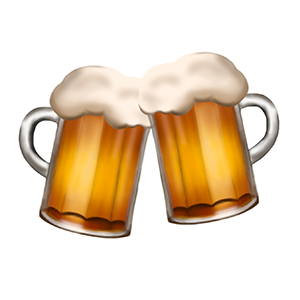 I went back and forth on this. On the one hand, Winnie is a loyal friend, a wonderful daughter, and a kid who's being overwhelmed by a lot in her life. On the other hand, she frequently tells the reader how funny she is. Sorry, that's not something you get to decide for yourself. It's like someone who brags about how crazy they are or how tough they are. It comes off as unattractive bragging. Also, Winnie likes to tell the reader all about the author's her favorite comedians, which, in the absence of actually seeing them perform, smacks of a lecture.
MPAA Rating: PG (Language, adult situations)
A pretty laid-back book that I would not hesitate to recommend to middle schoolers. No sex or violence, and most of the strong language is Winnie's reaction to her father's illness. I have to say though, a lot of the relationship dynamics in this book were kind of toxic. Evan thinks Winnie is the funniest person on earth…until people start thinking she's funnier than he is. Then he starts to get sullen and angry. It takes Winnie a while to realize how inappropriate that is. Also (SPOILER ALERT), Winnie's mother comes off as rather cold and humorless in the book. Late in the story she admits that her friends used to think of her as the funny one in the couple, until she realized that her husband resented this, so she gave up trying to make people laugh. Like forever. No thank you.
Talky Talk: I Need a Word…
So Winnie is hilarious. It says so right on the cover blurb. That's the entire premise of the book. But the thing is, she's not funny. She looks down on people who make fart jokes, but to be honest, her attempts at humor are less funny. When she jokes that she served in Vietnam with the lunch lady or when she pretends to be a dog while doing the morning announcements didn't even strike me as jokes. They were just some words she said. And yet all her friends…hell, the entire school, is so impressed that you'd think they were in a Chevy commercial. That goes for her father as well. When he's practicing his new standup act with his daughter, my reaction was 'Oh, the poor man has lost his edge and has been reduced to making jokes about Facebook.' And yet, Winnie thinks he's hilarious. This book about a teen comedian never made me laugh out loud. It didn't even make me smile out loud.
On the other hand, this book had heart. Winnie is having to deal with a suddenly desperately ill father, her first boyfriend, and attempting to learn the ins and outs of impov comedy. And not all of Winnie's attempts at humor are successful. Some of the book's most cringeworthy moments involved her standing on a stage in front of dozens or more people…and no one is laughing. That's the stuff of nightmares.
The dramatic parts of this book were well done, but there were too many crickets and tumbleweeds during the 'funny' parts.
Bonus Factor: Improv Comedy
Evan and Winnie's friend Leili encourage her to join the school's improv group (because it's a fictional school and there's a budget for an improv group). Winnie thinks this will be a good way to get back into her comedy routine. But improv is different from stand up comedy. You can't memorize a routine or develop a funny character. You have to be able to change direction in an instant, play off other people's actions, and above all, be able to go with the flow. Kind of like real life.
Bonus Factor: ALS
So one afternoon, Winnie is getting her flirt on with Evan and cracking up her classmates. And that evening her parents drop the bombshell: her beloved father has ALS (Lou Gehrig's Disease). It's a disease of the nervous system which affects muscular movement. Already her father is losing his balance and dexterity, and has to walk with a cane. Prognosis varies from patient to patient, but Winnie knows that she'll never see her father as an old man. To make things worse, her father is determined to put on a happy face, almost pretending that none of this is happening. Her parents are fighting, and Winnie wonders if maybe their marriage wasn't as strong as she thought. No one knows what she's going through and her friend Leili accuses her of being distant and not there for her. It's the worst time to try to make people smile. Or maybe…it's the best time.
Bonus Factor: Breakin' 2: Electric Boogaloo
So maybe Evan isn't the best example of manhood in Winnie's school. But not all boys are jerks. Take Fletcher, the guy in the improv troop who specializes in physical humor and whose jokes are much more subtle. Fletcher shares with Winnie the magical 80s films, Breakin' and Breakin' 2: Electric Boogaloo. And despite being over-the-top cheeseball movies, they obviously have a special place in Fletcher's heart. And now I'm sharing that magic with you.
Bromance Status: Scene Partner
Like an improv sketch, you were entertaining, but also sometimes tedious. I enjoyed the read, but just this once.
Literary Matchmaking
Wreck
Wreck, by Kirstin Cronn-Mills, also involves a daughter dealing with her father's ALS diagnosis.
FTC Full Disclosure: I received neither money nor a spot on stage for writing this review.