About the Book
Title:
A Question of Holmes (Charlotte Holmes #4)
Cover Story: Sherlockian Toile: Orange Edish
BFF Charm: Make It Rain
Talky Talk: Modern Watson Holmes
Bonus Factor: Oxford, Murder Mystery
Relationship Status: The Art of Seduction
Cover Story: Sherlockian Toile: Orange Edish
I read a lot of books, so I've become *extremely* picky about which books I own/buy/keep hard copies of, because space is limited and I'm trying to live my best Marie Kondo life. But the Charlotte Holmes series covers are so beautiful, I would buy and happily display them on my shelves for all to see. This is my highest praise.
~*~sPoILeR aLeRt~*~ This is your official warning that A Question of Holmes is the fourth and final book in the Charlotte Holmes series, and thus, this book report may definitely contains some light major spoilerage for A Study in Charlotte, The Last of August, and The Case for Jamie. Continue at your own risk, babies.
The Deal:
After taking down Moriarty Major in The Case for Jamie, Charlotte Holmes and Jamie Watson finally, finally get a chance to be normal teenagers together. Well, almost normal. Charlotte is living with her uncle Leander in Oxford, where Jamie is visiting for the summer, and the pair are enrolled in a pre-college summer program at Oxford University. But when the summer program's theatre teacher approaches Charlotte about a series of mysterious happenings and a salacious disappearance during the previous summer's semester, Charlotte can't resist the pull of the unsolved case. She and Jamie team up to figure out who is behind the dangerous accidents befalling the theater, all the while trying to figure out who they are and what they mean to one another.
BFF Charm: Make It Rain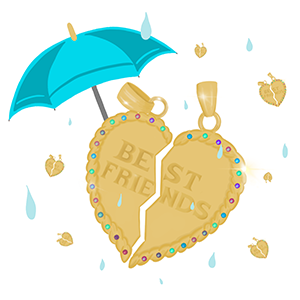 When this series started out, I was VERY unsure of how I felt about both Jamie and Charlotte, but as the books have progressed, I've grown to like them more and more. In the previous book, we finally got a glimpse into Charlotte's mind, and in A Question of Holmes, the entire book is written from her POV. And getting to see what Charlotte is really, truly like made me love her so much more than ever before. She is absolutely brilliant (no surprise) with a sense of humor that could cut like a knife, while also being extremely vulnerable. She struggles with wanting to solve mysteries while also wanting to be "boring," live in her uncle's apartment, go grocery shopping, go to college. And she worries that if she does become a person who does normal person things, Watson will lose interest in her. Watching Charlotte navigate the real world without a ticking Moriarty time bomb on her heels was delightful.
Meanwhile, seeing Watson from Charlotte's point of view gave me a whole new perspective on him as well. He alternately calms and excites her. He kept her on track when she needed to be, then distracted her thoughts at the right moment. He knew when to have Charlotte's back and when to give her the space she needed to do her thing. He was, honestly, a good friend and a great boyfriend, especially when Charlotte could be challenging. And romance aside, without the danger of a Moriarty hunting him down, this version of Jamie was the chillest, least jealous and petty version of himself to date. A truly good dude.
Swoonworthy Scale: 8
Whew boy, these two! With Leander gone most of the time, Charlotte and Jamie are living mostly unsupervised, which is a recipe for sexy times. But Charlotte is still in recovery and she needs to take things at her own pace, but taking things slow only notches up the tension between them. Plus, this is the first chance they've had to really get to know each other and try dating like a couple of (almost) normal teenagers – they go on dates! They makeout! They go for walks and hold hands on campus. But while they're figuring out how to date IRL, they're also pretending to date for the case they're trying to solve, and navigating what's real and what's not real only muddies the waters (in a good way tho). These two kids who have witnessed true horrors, lived dangerous lives, been hunted by murderers – these two kids are nervous to try dating each other. It is delicious.
Talky Talk: Modern Watson Holmes
As previously mentioned, we finally get a full Charlotte Holmes book narrated by Charlotte, and I think it's for this very reason that A Question of Holmes was my favorite book of the series. It will come as no surprise that Charlotte's voice is smart, analytical, extremely British, very posh. All of these in and of themselves would make for a delightful read, but what makes Cavallaro's writing so rich and stand-out is the perfect restraint she shows as Charlotte lets herself taste this new life, feel the comfort, awkwardness, and vulnerabilites of normal teenagers, but still filter them through her scientist's brain. I'm pretty sure I highlighted 78% of this book, but here's a passage from one of the very first pages that had me hunkering down for a long read, knowing this book was going to be so good:
May in Oxford is a milky, diluted affair, with little natural cause for celebration. Not to mention that my uncle was serving in loco parentis to me, a girl who had long passed the age when parenting was necessary…And still I found myself reveling in it: the hiss and splutter of the electric kettle first thing, and the double-knock on my bedroom door that meant eggs and turkey bacon on the stove; the issues of New Scientist in the post, a magazine my uncle didn't read, but I did; how sometimes I'd return home from the library to find my shirts and socks spinning in the little washing machine in the kitchen when I hadn't put them in myself.
Bonus Factor: Oxford
I am always here for a book set in Europe, and I loved reading along as Charlotte and Jamie traipsed all over Oxford – both the town and the university, which are beautiful, full of history, and the perfect backdrop for a Holmes mystery.
Bonus Factor: Murder Mystery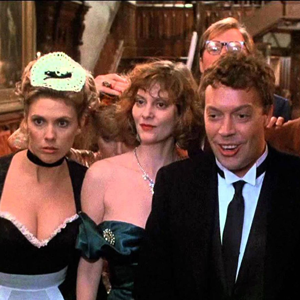 On top of everything else I loved about this book, the murder mystery was a classic! Someone terrorizing a school production of Hamlet, with just the right amount of camp (sending orchids to the victims of their traps ::chef's kiss::), a new group of roommates with mysterious pasts and plenty of shared secretive glances. Cavallar kept me guessing till the end!
Relationship Status: The Art of Seduction
No doubt about it, this series charmed me from day one, and as we've gotten to know each other better, I've fallen hard for its machinations. I want to keep these beautiful books on my shelves, show them off for all to see, then relish a reread whenever I feel like disappearing into its world again. If love is an art, Book, you're a true artiste.
Literary Matchmaking Every Breath (Every #1)
For a modern day Sherlock Holmes retelling with a heaping helping of swoon, check out the Every Breath series by Ellie Marnie.
One of Us is Lying
Like a murder mystery that will keep you guessing till the end? One of Us Is Lying by Karen M. McManus should do the trick.
FTC Full Disclosure: I did not receive money or Girl Scout cookies of any kind (not even the gross cranberry ones) for writing this review. A Question of Holmes is available now.