About the Book
Title:
If You Don't Have Anything Nice to Say
Cover Story: Tone-deaf
BFF Charm: Yay!
Talky Talk: Straight Up with a Shot of Wry
Bonus Factors: Society & Social Media, Words
Relationship Status: Favorited
Cover Story: Tone-deaf
We hosted the cover reveal for this novel back in October, and at the time, I dug the pop of colors and the way Leila Sales' other books got a branding makeover to match. Aesthetically, I still think the design is cute, but now that I've read the (pretty serious) pages between the jacket, I can't help but wish the artwork was a little less bubblegum. Also, what the hell does a girl listening to music in a field of flowers have to do with a story about social media crucifixion?*
*Yes, I realize that by now, I should know better than to expect a YA cover to actually relate to the book.
The Deal
The road ahead for Winter Halperin is looking pretty smooth. She's a National Spelling Bee champ, a beloved daughter of a parenting guru and a high school senior set to enroll at Kenyon College in the fall. But all of that goes to shit when, in response to the latest Spelling Bee, she sends out the following tweet:
We learned many surprising things today. Like that dehnstufe is apparently a word, and that a black kid can actually win the Spelling Bee.
It takes less than 12 hours for Winter to become Internet Enemy #1 and only a few days more for her entire life to fall apart. But it requires months (and a stint at an identity rehab center called Revibe) for her to pick up the pieces and finally answer the question: is she a bad person?

BFF Charm: Yay!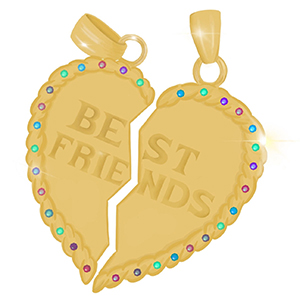 It might seem strange to want to be besties with a girl who wrote a racist tweet, but that just goes to show what a layered, complicated character Leila Sales has created. Winter is far from perfect, and that's exactly what makes her so relatable—she's a teen who, like many of us, has a major blindspot, and while that's a problem, it's not her defining quality. It's an exception to all of the great things about her: her fierce intelligence, her loyalty to her friends and family and, my favorite, her obsession with words and grammar. Take, for example, Winter's reaction to Kevin, one of the directors of Revibe, when he uses the phrase "completely unique":
This made me immediately dislike Kevin, since modifying unique is one of my pet peeves—either something is unique or it's not unique, but "completely unique" is redundant.
She's a nerd, basically, which makes it that much harder for her to wrestle with her culpability. And for every time I wanted to smack her because girl, you are so not as woke as you think you are, there were multiple moments when I applauded her attempts to learn and change and grow.
Swoonworthy Scale: 6
At Revibe, Winter meets an assortment of other social media pariahs, including Abe, whose father cheated his clients out of billions of dollars of their investments. The first thing that Winter notices about Abe is that he uses a wheelchair, but after their first night at the center, when they stay up late talking, she notices that he is legit great. Candid, thoughtful and without pretense, Abe listens to Winter and seems just as bent on helping her as he is on helping himself. Their connection is sweet yet substantial, and if I were to tweet about it, heart eyes emojis would be plentiful.
Talky Talk: Straight Up with a Shot of Wry
I've been a fan of Leila Sales since her first novel, and while I've always admired her writing, this book truly raises the bar. In spite of the sobering themes explored, her signature wit is still on display, particularly through Winter's fellow Revibe residents and her high school friend, Mackler:
"When I eat cinnamon Jelly Bellies, it's only because I thought they were cherry," Mackler declared. "Cinnamon is wannabe cherry. Cinnamon is a pathetic sack of sugar dressed up in a cherry cloak."
Her conversational tone, which I adore, is peppered with snappy dialogue and embellished with clever turns of phrase like, "her sweetness by now wearing as thin as ribbon candy."
All of that is what I've come to expect from Sales. What sets this novel apart is her piercingly insightful exploration of and commentary on the judge, jury and executioner known as the internet. More on that below, but TL;DR, this is Leila Sales' best book yet.
Bonus Factor: Society & Social Media
I wasn't sure how to label this at first. At its core, the book is about internet shaming, which seems more like an anti-bonus factor, but the way that Sales tackles the facets of internet mob justice is my favorite thing about this novel. She masterfully exposes the dark side of social media vigilantism without making Winter the victim–there's a significant acknowledgement that what Winter wrote and thought was wrong, but there's also a brave examination of the blurred ethics and destructive toxicity of the internet's herd mentality.
So many passages struck me like whoa, but I'll limit myself to two:
When we decide someone is an angel, she is an angel only until she falls from the sky. But when we decide someone is a villain, she is a villain forever. Everything she says or does is only more proof of her villainy. She cannot be redeemed.
And this one, when Winter is reflecting on the residents of Revibe and their varying degrees of transgressions:
But when the internet responded to every one of us with the same level of judgement and punishment, then it was impossible to distinguish between who really was or wasn't a true villain. When everything's a ten, then there's no point to having a scale.
No matter what you think about online culture, this book is guaranteed to impact your perspective.
Bonus Factor: Words
As a former Spelling Bee champ, Winter's passion for words should come as no surprise. But her interest lies far beyond the letters that compose the words—she relishes the meanings, the origins, the applications. Because of this, the book is laced with references like this:
Maelstrom. Dutch origin, obviously. If a single word alone could make you want to go to the Netherlands, it's that one.
There's lots of fascinating words and definitions scattered throughout the pages, but sometimes Winter just says a word, like pulchritudinous, and I have to use my Kindle dictionary to look it up. Which I simultaneously love (because I'm learning!) and hate (because it makes me feel like an idiot).
Relationship Status: Favorited
If this novel was a Tweet, I would favorite it. If this novel was a Facebook post, I would share it with all of my friends. If it was an Instragram pic, I'd re-gram it and hashtag the cuss out of it. And if it was a Snap, I would… do nothing, because I don't know how to Snapchat (get off my lawn!). In other words, I want to fill everyone's feeds with my admiration for what Leila Sales has accomplished with the story of Winter. This ain't fake news y'all, it's the real deal: read this book!
Literary Matchmaking
Deacon Locke Went to Prom
For a totally different (and charming) take on internet fame, check out Brian Katcher's Deacon Locke Went to Prom.
You Look Different In Real Life
It's one thing to be thrust into the spotlight, but what if your parents signed you up for it? Jennifer Castle explores growing up in front of the entire country in You Look Different In Real Life.
Counting Backwards
Interested in another rehab romance? Dive into Counting Backwards by Laura Lascarso.
FTC Full Disclosure: I received a free e-copy of this book from Macmillan Children's Publishing Group. I received neither money nor cocktails in exchange for this review.