Cover Story: Creepy Cute
BFF Charm: Caution x2
Talky Talk: True Crime+
Factor: True-Crime Podcast
Relationship Status: Subscribed
Cover Story: Creepy Cute
There's an unsettling vibe to this cover—appropriate for the story within—that is also lovely in a way that I'm not sure I can explain. Is it the seeming fragility of the women's faces? Their red cheeks juxtaposed with the paleness of the rest of their faces? They look a little like water nymphs with their hair floating about. Regardless, I would not like to run into any of them in the dark, restless (heh) or not.
(This black-and-white line drawing style seems to be becoming more popular with YA cover designers. Two other examples: The Sullivan Sisters and The Forest of Stolen Girls.)
The Deal:
Lucy Wilson is the last person serial killer Joseph Kincaid, better known as the Cloudkiss Killer, tried to harm. Now she's back at the site of the attempted assault—and Kincaid's suicide—along with nearly 50 fans of the true-crime podcast Human Beasties, which is sponsoring a search for Kincaid's bones. (His body was never found by authorities.) Lucy thinks the event might bring her closure, but the more time she spends in the fog that permeates Cloudkiss Canyon, the more she's convinced that Kincaid's not actually dead … or someone is pretending that he's not.
BFF Charm: Caution x2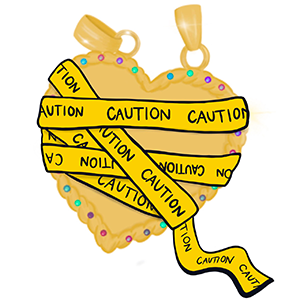 When Lucy arrives at Cloudkiss Canyon, she does so with the intent of keeping her true identity a secret. But then she meets Carolina Cassels and Maggie Rey, two women who intrigue her for a variety of reasons and whom she feels comfortable (or compelled) to tell the truth. The Restless Dark is told through the POVs of both Lucy and Carolina. Although we're asked to trust them both, neither of them are reliable narrator, and there's something questionable about Maggie, regardless of how attractive/intriguing Lucy might find her to be. So, my BFF charms would come with a whole lot of hesitation.
Swoonworthy Scale: 3
Lucy's immediately smitten by Maggie, whose confidence and swagger are compelling. They pair off almost immediately, although Carolina rounds out their trio through a trick of the plot. Maggie makes Lucy feel strong and like her wish to be rid of Kincaid's ghost by finding his bones is a great idea. Carolina feels like she and Lucy could have had something special had it not been for Maggie, but she's willing to step back and let the other two women have their joy … until she begins to question Maggie's intentions.
Talky Talk: True Crime+
The Restless Dark feels very "true-crime" contemporary until you start poking around in the mysteries of Cloudkiss Canyon (aside from the missing body of Joseph Kincaid) and thinking about Waters' other books, which all have a heavy magical realism element. There's more to the spooky of this story than the possible copycat killer at the podcast's event and it can't be explained away as human evil. Waters has a deft hand at crafting stories that feel creepy even when they're their most mundane, and I definitely went to bed after finishing this book praying to the universe that my baby wouldn't wake up in the wee hours in which everything about my very safe, very not spooky house seems most sinister.
Factor: True-Crime Podcasts
Waters calls out the questionable nature of some true-crime podcasts, but in a way that shows she's not saying they're all bad. She questions all of them through the lens of the fake Human Beasties podcast: Are they really trying to help the people hurt by the stories they tell? Or are they merely out for fame and reveling in sensationalism? Human Beasties was obviously created for this book, but I'm sure it's very close to some of the more problematic ones out there.
Relationship Status: Subscribed
You're not my usual cup of tea, Book, and I'm notoriously bad at keeping up with my podcast listening. But you've intrigued me enough that I'm inclined to craft a lasting relationship with your story. At least until you start to feel too commercial, and then we might have to revisit my subscriber tier.
Literary Matchmaking
The River Has Teeth
Waters' previous book has similar magical and murdery themes, along with a good amount of fist-pumping feminism.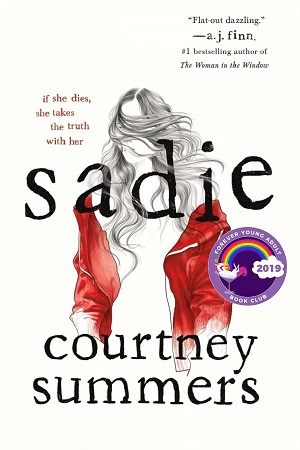 Sadie
Courtney Summers' book is also about a true-crime podcast, but the subject of the story isn't as lucky as Lucy.
The Sullivan Sisters
Kathryn Ormsbee's novel features sisterly secrets rather than serial killers, but it has a similar sinister foggy vibe, thanks to the weather on the Oregon coast.
FTC Full Disclosure: I received a copy of this book from HarperTeen, but got neither a private dance party with Tom Hiddleston nor money in exchange for this review. The Restless Dark is available now.