Listen guys, we're feeling the hazy, lazy days of summer pretty hard around here. Sometimes, you want something simple and sweet to read on the beach or by the pool while you sip a tiki drink with a little umbrella in it. WE GET IT!
So we've scoured the archives for our favorite, super-swoony, stand-alone books, and boy, did we find the goods. You want Mysterious Loner Dudes and European princes? We got'em. You want enemistry and You've Got Mail retellings? We got those too. You want road trips with cute boys and hotel rooms with *oops* only one tiny bed? We're about to hook you up. In no particular order, here are 25 books for those days when you just want to read something as hot as the temps outside.
Note: This post contains affiliate links. Learn more about our affiliate policy here.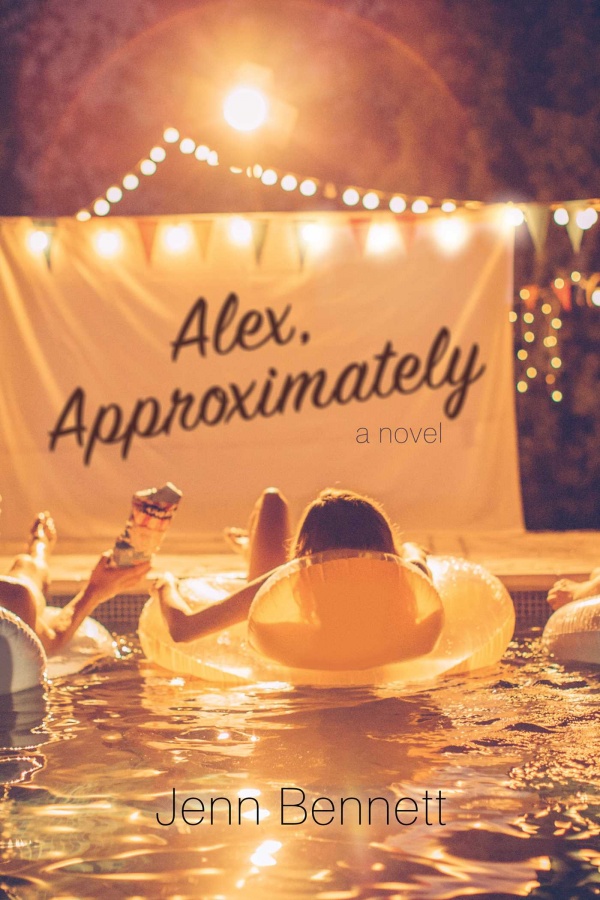 Title: Alex, Approximately
Author: Jenn Bennett*
Swoonworthy Scale: 9
The Deal:
Bailey has just moved from DC to the funky beachside town of Santa Cruz—er, Coronado Cove, that is. (It's immediately recognizable as Santa Cruz to anyone who lives in the area.) She's here to live with her dad…and also, possibly, sleuth around for details about her online classic-movie-loving crush, Alex, before she actually meets him. I mean, he could be a serial killer, or worse, just disappointing. Better to know now before she puts herself out there, right?
Armed with clues from their near-constant correspondence, Bailey sets out to spy on Alex before she mentions that she's actually in his very town, working at a touristy museum/showcase home and making new friends.
She also doesn't mention that she's got a smokin' hot, incredibly annoying coworker, either…and that he's taking up a lot of the head space that Alex used to fill.
Jenn Bennett's charming, pants-melting You've Got Mail retelling is the cure for what ails you in your real life. Come for the romance, stay for the characters and delicious sense of place.
*Editor's note: Jenn Bennett has NEVER scored lower than a 9 on the Swoonworthy Scale, and thus any of her books would be perfect for this list. However, I tried to limit to one book per author and this book takes place AT THE BEACH so it felt the most apropos.
Title: The Truth About Forever
Author: Sarah Dessen
Swoonworthy Scale: 9
The Deal:
Ever since her father died of a heart attack right in front of her, Macy Queen has been trying her hardest to be fine. Not just fine, actually, but perfect, because perfect means being in control, and being in control means nothing like that will ever happen again. She volunteers on a regular basis, dates the high school valedictorian and combs the part in her hair until it's straight as an arrow, just like her life. Everything is going according to plan until the day her boyfriend, Jason, emails from Brain Camp to say that it's obvs in their best interest as a couple to take a break. [Spoiler alert: JASON IS A TOOL.] With her ice queen composure suddenly shaken, Macy finds herself drawn to the chaos of Wish Catering, a company that recently worked at one of her mother's realty events. In spite of her safety pants nature, she begins working at Wish and spending time with its menagerie of employees, all of whom encourage her to LIVE A LITTLE SHEESH. Soon, Macy finds herself opening up to the world– to life, to grief and, most fearfully, to Wes, the (SUPER SEXY) artist with a tragic past of his own.
Title: Jellicoe Road
Author: Melina Marchetta
Swoonworthy Scale: 9
The Deal:
Although it may look like your average scenic route, Jellicoe Road is a magical place that, like Gretchen Weiners' hair, is full of secrets. And for Taylor Markham, those mysteries include the key to her past, present and future. See, when Taylor was a kid, she was abandoned on Jellicoe Road by her mother, and she's been raised among other orphans at the Jellicoe School. Now that she's finally a senior, Taylor has been chosen to serve as the head of her house and given the responsibility of looking after the younger students and, more importantly, waging the summer territory wars against the Cadets (boys in military training, kinda like the Australian version of ROTC) and the Townies (the kids who live in town). In spite of the weight of these duties, Taylor finds herself deeply disturbed by the sudden departure of her mentor, Hannah, and the manuscript she left behind, which tells the tragic tale of five people who met their destinies on Jellicoe Road. Haunted by this enigmatic story, Taylor begins a quest to find out what happened to the five (Fitz, Jude, Narnie, Webb and Tate) in the hopes of discovering the truth about her own identity. Complicating matters further (as if the girl didn't have enough crap to deal with!) is the fact that the head of the cadets is none other than Jonah Griggs, a boy who shares a piece of Taylor's dark past.
Title: Not That Kind Of Girl
Author: Siobhan Vivian
Swoonworthy Scale: 8
The Deal:
When Natalie Sterling, president of the Ross Academy student council and straight-A senior, takes Spencer Biddle, freshman flirt and self-proclaimed "Rosstitute," under her wing for some lessons on self-respect, it's no surprise that shizz immediately goes B-A-N-A-N-A-S. As Spencer electrifies the school with her in-yr-face, body flaunting ways, Natalie's desperate need for control pushes away her best friend, Autumn, and inexplicably draws her closer to Connor Hughes, the hottie king of the jocks. With her carefully composed self-image falling apart, Natalie struggles to define her identity with absolutes, only to discover herself in the overlap between black and white.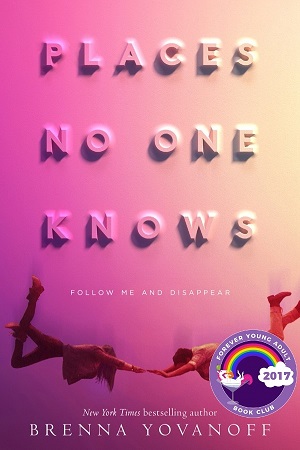 Title: Places No One Knows
Author: Brenna Yovanoff
Swoonworthy Scale: 8.5
The Deal:
Waverly Camdenmar is perfect. Waverly Camdenmar is an architect of popularity, a five star general of social warfare. Waverly Camdenmar has no feelings (that she will admit). Waverly Camdenmar runs until her feet blister, and then she runs harder. Waverly Camdenmar can't sleep.
Out of all of those qualities, it's the last one that will lead to her unraveling.
She's tried a variety of insomnia cures, but one night, after she lights a candle and begins a meditative countdown, she finds herself drifting–not towards slumber, but into a house party where Marshall Holt, resident high school stoner, is on a very bad acid trip. It seems like a dream, yet Waverly wakes up with leaves on her feet and a distinct feeling of connection with Marshall. And then it happens again. And again. And again.
In the shadows of the night, Waverly and Marshall draw closer, but in the harshness of daylight, they stand miles apart. Is there a place in between, where their relationship is real? And, more importantly, can they reach it?
Title: A Million Junes
Author: Emily Henry
Swoonworthy Scale: 9
The Deal:
Jack O'Donnell Jr.—or June, as she's called—has always been told to stay away from the Angerts. Their families have been at war for a century. Although no one really knows the reason for the feud, aside from some beautifully-worded tall tales, her parents said it, so it's good enough for her. June has no reason to doubt them—her life has always been surrounded by very specific magic in Five Fingers, Michigan, so a feud that's larger than life is nothing out of the ordinary.
Then Saul Angert comes back to town. Despite June's reservations, she keeps finding herself in Saul's path…and liking it. If their families hate each other, why are the two of them so drawn to each other? Is she dishonoring her late father's memory? What is this whole feud about, anyway? And what is that very specific Five Fingers magic trying to tell the two of them?
Title: Let's Talk About Love
Author: Claire Kann
Swoonworthy Scale: 8
The Deal:
After getting burned too many times in relationships—most recently when she (sort of) confessed her asexuality to her now ex-girlfriend—Alice is done with dating. She's just going to live with her best friends and work at the library over the summer after her freshman year of college.
But then she meets Takumi and develops full-blown, all-consuming feels for him. As the two of them grow closer, will Alice risk her heart again for the possibility of finally being in a relationship on her terms?
Title: Someone Else's Summer
Author: Rachel Bateman
Swoonworthy Scale: 9
The Deal:
Anna grew up in the shadow of her older sister Storm and Storm's best friend Cameron. She tagged along, a third wheel on their adventures, until she found her own path in high school and parted ways with her sister and the boy next door. But when Storm dies in a car accident on graduation night, Cameron seems like the only person who can truly understand Anna's loss. One night, Anna finds a summer bucket list that Storm made before her death and decides to embark on a road trip with Cameron to do all the things her sister will never be able to do. On their journey, Anna and Cameron learn a lot…about Storm, about themselves and about each other.
Title: Love and Other Alien Experiences
Author: Kerry Winfrey
Swoonworthy Scale: 8
The Deal:
It's been 67 days since Mallory left her house. Her anxiety disorder reared its ugly head sometime after her dad left, and now she's attending classes via Skype and spending all her time chatting with other extraterrestrial enthusiasts she met on the forums of her favorite website – We Are Not Alone. But when she's nominated for homecoming queen as a mean prank, her brother and best friend convince her to go for it, and Mallory agrees to it ONLY because she could really use the $500 cash prize to find her dad. If she can convince the school's hottest, most popular jock, Brad, (who conveniently happens to be her neighbor) to go as her date, then she stands a really, really good chance at winning. Now, if only she can convince herself to leave the house.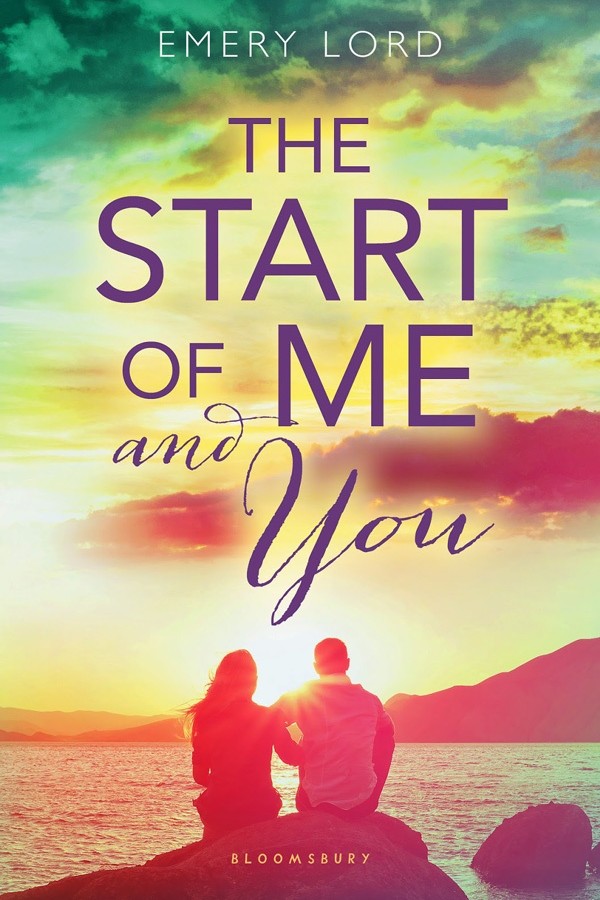 Title: The Start of Me and You (The Start of Me and You #1)
Author: Emery Lord
Series: The Start of Me and You
Swoonworthy Scale: 7
The Deal:
Paige Hancock used to be known as Grammar Girl, a nickname she earned (and despised) for correcting people's sentences. But now that she's known as The Girl Whose Boyfriend Died, her former title doesn't seem so bad.
After Aaron drowned while on a camping trip, Paige's world was consumed by grief and, perhaps worse, guilt for only knowing him a few months. Thanks to the support of her tight-knit group of friends, she eventually crawled out of the darkness, but its shadow still follows her through constant looks of pity from the residents of her small town. Paige, determined to shake it off, concocts a plan for the upcoming school year, a strategy for a better life that includes joining a new club and dating Ryan Chase, high school god.
But, as is often the way with plans, things go awry. But maybe awry is just what Paige needs
Title: Isla and the Happily Ever After (Anna and the French Kiss #3)
Author: Stephanie Perkins
Series: Anna and the French Kiss
Swoonworthy Scale: 10
The Deal:
Isla's been crushing on Josh for as long as they've both been at the same boarding school in Paris. After a fateful encounter the summer before their senior year, Isla's unrequited crush might not be so unrequited after all. But when school starts up, Isla and Josh discover that falling in love isn't the hard part; staying together is.
Title: The Royal We (Royal We #1)
Authors: Heather Cocks and Jessica Morgan
Published: 2015
Series: Royal We
Swoonworthy Scale: 8
The Deal:
American college student Rebecca (Bex) Porter heads off for adventure to study art at Oxford, and finds herself living down the hall from the future King of Great Britain. NBD. Bex makes lots of charming new friends while enjoying all that Oxford has to offer, like all the pints, and hot Brit boys. But it's not long before Bex and Prince Nick are bonding over their shared insomnia and addictions to American junk food and bad paranormal genre shows. Falling for a prince sounds pretty great until you remember that navigating college, careers, and family drama are tricky enough without factoring in the expectations of the royal family, a fame hungry sister, and an ensuing media circus. That glass slipper is really pretty, but can't be very comfortable. If you've ever picked up a magazine, then you know that it could take these crazy kids a few turbulent years to find their way to Westminster Abbey.
Title: Outcast
Author: Adrienne Kress
Swoonworthy Scale: 9
The Deal:
The angels have been coming for the past six years. On the same night, at the same time. They swoop down and bam! They've taken your brother. Or sister. Or best friend. At first, the townspeople feared them, but after a while, and mostly thanks to the new pastor in town, they started worshipping them. See, there must be something special about this tiny Louisiana town that the angels have chosen them, right? Except Riley Carver doesn't think it's too special. She's fed up of being afraid. Fed up with missing the best friend who was taken from her a year ago. And that's why, when she sees one of them in her yard on the night of the Taking, she shoots him in the face.
So yeah, now she's got a dead angel on her hands. When she goes out to hide the body, though, what she finds instead is a guy. A totally hot guy. A totally hot naked guy. Who thinks it's 1956. See, Gabe (oh yeah, Kress went there) doesn't remember anything from after he was taken all those years ago, but as he and Riley learn to trust each other, they hatch a plan to rescue the rest of the taken and free the town from the curse of the angels once and for all.
Title: Emmy & Oliver
Author: Robin Benway
Swoonworthy Scale: 8
The Deal:
There's something incredibly special about a childhood bestie. When you're a kid, the criteria for friendship isn't based on race or class, it's about a willingness to share toys and buy into a mutual world of imagination. That connection is pure and uncomplicated, but it's also ephemeral in nature, and the friendship often fades or falls apart as adolescence approaches. For most of us, our first best friend is someone who occasionally crosses our Facebook newsfeed and then disappears back into the dusty corner of our memory. But for Emmy, it's a whole different kind of disappearance.
She lost her best friend Oliver, not because of the passage of time or the onset of diverging interests, but because he was kidnapped by his father in second grade and never heard from again. Until, 10 years later, he resurfaces.
Now he's back, living next door to Emmy in his old house, a ghost from the past and a stranger in the present. Emmy aches to know him again, but striking up a friendship is no longer as easy as offering him her toy, especially since Oliver barely even remembers her.
Title: Little & Lion
Author: Brandy Colbert
Swoonworthy Scale: 8
The Deal:
After a year away at boarding school in Massachusetts, Suzette has returned home to Los Angeles for the summer. A lot has changed in that time – herself included – but nothing has Suzette as nervous as being reunited with her stepbrother, Lionel. Even though they've been best friends from the day their two families became one, Suzette hasn't been around much since Lionel was diagnosed with bipolar. Wanting to be supportive of her brother, Suzette soon finds herself facing the difficult choice of compromising his trust or his well-being – all while trying to reconcile different aspects of her own identity and sexuality.
Title: Flat-Out Love
Author: Jessica Park
Series: Flat-Out Love
Swoonworthy Scale: 8.5
The Deal:
Julie Seagle is pumped about starting her freshman year of college in Boston, until she shows up to the apartment she rented on Craigslist to find that she was scammed and her "apartment" doesn't exist. In a bind, Julie's mom calls up her old college roommate, Erin Watkins, and arranges for Julie to stay with her until things get sorted out. But Julie quickly realizes that something is…off in the Watkins household. Erin and her husband Roger are distant and strange; their oldest son, Finn, has disappeared to travel the world; Matt, the middle child and a junior at MIT, is a socially awkward geek who shoulders most of the family responsibility. And then there's 12-year-old Celeste, fastidious, freakishly smart, and at any given moment, hauling around a cardboard cutout of her oldest brother. She treats Flat Finn as though he were Real Finn, and the family seems to just go with it. Before she knows what's happened, Julie is in deep – with Celeste, with Finn, with a family secret that begins to bubble to the surface, whether they're ready for it to or not.
Title: Saving June
Author: Hannah Harrington
Swoonworthy Scale: 9
The Deal:
A few days before graduation, Harper's older sister June killed herself. June was the perfect one — perfect hair, perfect grades, perfect attitude — and Harper spent her whole life trying to be Not June. After the suicide, she questions just how perfect June's life really was, especially after finding out how much it hurt June to crush her dreams of going to California just to make her parents happy, and finding a mix CD full of music June would never listen to from a boy she can't imagine June ever meeting. Her mother is slowly drinking herself to death, despite the best efforts of her Bible-thumping aunt to Save her Soul, and before Harper can talk herself out of it, she is on a mission to take June's ashes to California. Joined by her best friend Laney and mix-CD boy (also known as Jake), Harper hopes the road trip will help her learn more about June. She ends up learning a lot about herself.
Title: Sweethearts
Author: Sara Zarr
Swoonworthy Scale: 9
The Deal:
In grade school Jennifer Harris and Cameron Quick (cue massive sighs) were the outcasts to beat all outcasts. But they had each other, and their childhood love was so deep and pure, the adults in their lives couldn't really fathom it. So when Cameron Quick (I can't really say his first name without saying his last name, you know?) disappeared suddenly, Jennifer felt that the one bright shining star in her world had been snuffed out, taking her with it.
Now in high school, she's known as Jenna. Jenna has lost a lot of weight, has multiple friends, and for the very first time, a boyfriend. She's learned how to be funny, easy-to-get-along-with and popular. But every time she looks in the mirror, Jenna sees Jennifer, and she can't shake the desolate feelings of being an outcast, or the ones that Cameron Quick left behind.
So when Cameron Quick reappears, Jenna's heart is turned upside-down as she faces their shared memories of the past, and who they have become in the present.
Title: Since You've Been Gone
Author: Morgan Matson
Swoonworthy Scale: 7
The Deal:
It was Sloane who yanked Emily out of her shell and made life 100% interesting. But right before what should have been the most epic summer, Sloane just…disappears. All she leaves behind is a to-do list. On it, thirteen Sloane-inspired tasks that Emily would normally never try. But what if they could bring her best friend back?
Apple picking at night? Okay, easy enough.
Dance until dawn? Sure. Why not?
Kiss a stranger? Um…
Emily now has this unexpected summer, and the help of Frank Porter (totally unexpected), to check things off Sloane's list. Who knows what she'll find?
Go skinny-dipping? Wait…what?
Title: Simon vs. the Homo Sapiens Agenda (Simonverse #1)
Author: Becky Albertalli
Series: Simonverse
Swoonworthy Scale: 8
The Deal:
Simon Spier has a problem. It's not that he's gay or that he hasn't told anyone about it. It's not that he's been baring his soul via emails to Blue, the pen name of a classmate that's also in the closet. No — Simon's problem is that all these secrets have been discovered by class clown Martin Addison, who's blackmailing Simon for help with his own love life. To protect his own privacy and that of the guy he's totally crushing on (whomever he might be), what choice does Simon have but to play along?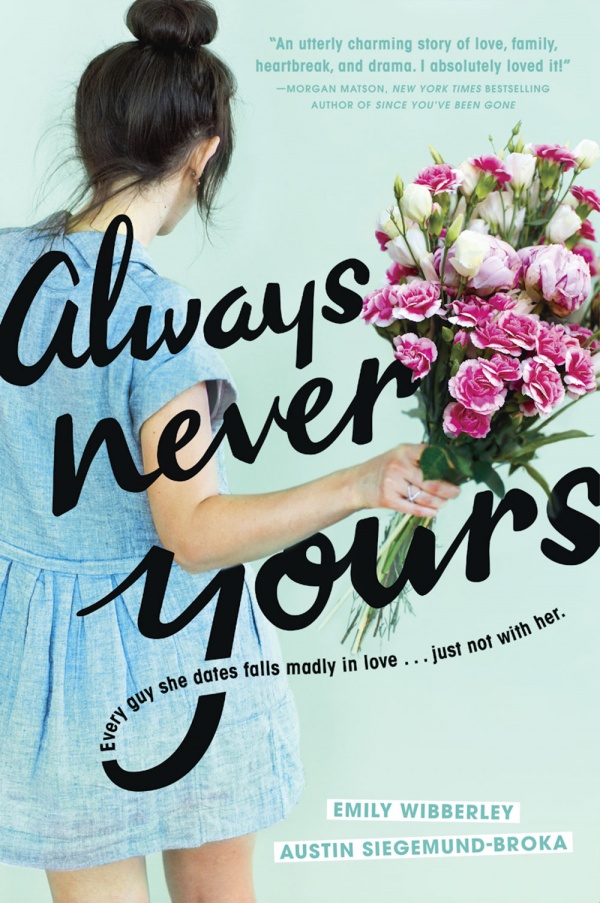 Title: Always Never Yours
Author: Emily Wibberley and Austin Siegemund-Broka
Swoonworthy Scale: 8
The Deal:
Megan Harper wants two things: 1) to get into the theatre school of her dreams to study directing and 2) a boyfriend. The problem with the first is that despite years of directing experience and a longing to stay behind the curtain, her dream school requires at least one acting credit on her resume. The problem with the second is that no matter how hard she tries, Megan is always the girl a guy dates just before he meets his One True Love. She's the Rosaline to everyone else's Juliet – not even the star of her own life. But when she auditions for her school's performance of Romeo and Juliet, hoping to land the smallest possible role and fulfill her acting requirement, she is inexplicably cast as Juliet. It's her worst nightmare – Megan is no actress, and everyone in the play knows it. Everyone except Owen Okita, the quiet playwright who is cast as Friar Lawrence. He and Megan strike a deal – he'll help her catch the eye of his friend and stagehand, Will, if she will lend her life experience to him while he writes a play about Rosaline. Then maybe, finally, Megan will get to be the star of her own love story.
Title: Prince Charming (Royals #1)
Author: Rachel Hawkins
Series: Royals
Swoonworthy Scale: 7
The Deal:
Has your ex-boyfriend ever tried to sell your prom photos to a tabloid? No? Daisy's has. Before her older sister, Ellie, began dating future-king-of-Scotland, Prince Andrew, Daisy didn't have to worry about weird stuff like this happening; she hails from a tiny town in Florida where her Little Mermaid dye-job is a major highlight. But when Ellie comes home for a surprise visit with a shiny new rock on her finger, Daisy realizes her future is probably going to include way more weird shizz and about 100% more bagpipes than it ever did before.
Now instead of going to Key Con in Key West with her BFF, Daisy is spending her summer in Scotland getting to know her future royal in-laws, including Andrew's teenage siblings, Sebastian (the UK's most eligible teenage bachelor) and Flora (the wild-child princess). The tabloids are painting Daisy as some kind of royal-hunter, out to get Prince Sebastian just like Ellie did with Andrew, but there are plenty of people—like Miles Montgomery, Seb's best friend—who mean to make sure that never happens.
Title: What I Thought Was True
Author: Huntley Fitzpatrick
Swoonworthy Scale: 8
The Deal:
Living on an East Coast island seems like a pretty good gig, but when you're a girl with a bad reputation and a blue collar family, life's less of a beach and more of a bitch. After Gwen Castle made the mistake of hooking up with three different members of the swim team, she's looking forward to a summer of avoiding everyone from school except for her bestie, Vivien, and her cousin, Nico, who lives in the house Gwen shares with her mom, her grandfather and her handicapped little brother, Emory. Unfortunately, Cassidy Somers, one of Gwen's mistakes, has accepted a job as the island "yard boy," and he seems intent on being a part of her world, in spite of his wealthy background. Rather than repeat the past, Gwen is determined to focus on her responsible plans for the future, but as the sun melts the lines between black and white, the straight and narrow is suddenly full of twists and turns.
Title: I'll Meet You There
Author: Heather Demetrios
Swoonworthy Scale: 10
The Deal:
Creek View is the kind of small town that many dream of escaping but few ever do. Freshly graduated Skylar Evans is more than ready to leave this life behind for art school in San Francisco. But when her mother loses her job, Sky's bright future suddenly doesn't seem so certain anymore.
Josh Mitchell did make it out of Creek View—all the way to Afghanistan with the Marines. But he returns home from battle with one less leg and way less of the cocky 'tude he once had as the town stud.The only thing Sky and Josh seem to have in common is working at the Paradise Motel. As the two of them grow closer, their unexpected friendship starts to become something more.
Title: Love and Gelato (Love and Gelato #1)
Author: Jenna Evans Welch
Series: Love and Gelato
Swoonworthy Scale: 9 + 8 = 17
The Deal:
Having never known her father, Lina and her mother were always super close. But when her mother dies from pancreatic cancer, Lina is shocked to learn that it was her mother's dying wish that she go live with her father Howard, a man Lina has never met and knows nothing about. To complicate matters? Howard lives in Florence, Italy. While the thought of spending time in Italy might seem amazing in theory, Lina is not super psyched about living with a stranger, especially a stranger who is the manager of an American war solider memorial and lives in a cemetery. But when Lina arrives in Florence, she's given a copy of her mother's journal from her time living in Italy 16 years earlier, and as she reads, questions Lina has always had about her mother's life before her and who her father is are slowly answered. As she starts to explore the beautiful country she's in with the help of Howard's cute neighbor, Lorenzo, Lina has to decide if she should stay in Italy for her senior year, or go back to the life she's always known.
---
Did your fave swoony books make the list? If we missed something, or if you have good recommendations, GIMME!!!!! I mean, um, haha, let us know in the comments! And if you're looking for even more romantic reads, browse our Swoonworthy Scale for more reviews!