Well, we've got another year under our belts, and once again, books truly carried us through. From creepy nail-biters to epic fantasies to swoony romances, here's our list of the cream of the 2021 literary crop.
Which novels gave you a mean case of TEABS this year? Let us know in the comments!
Note: This post contains affiliate links. Learn more about our affiliate policy here.
Sarah
Title: Winterkeep (Graceling Realm #4)
Author: Kristin Cashore
Series: Graceling Realm
Since Bitterblue came out almost ten years ago, I had no idea how much I needed a new installment of the Graceling Realm series in my life. And then Winterkeep came along and blew me out of the water (no pun intended… okay, maybe a little). It was straight up wonderful to reunite with old friends while being introduced to fascinating new characters, not to mention the whole new world of Winterkeep, vibrantly imagined and brilliantly designed. A master of YA fantasy, Kristin Cashore has crafted a deeply relatable story set in a wildly different reality—with telepathic animals and a giant sea monster, among other things—and though this might be a hot take, I think it's the best book in the series.
Title: Instructions for Dancing
Author: Nicola Yoon
This book had me at ballroom dancing, and then it completely swept me off my feet thanks to its wisecracking protagonist, Evie. She's Platinum BFF material, from her love/hate relationship with romance novels to her tender heart, which she hides underneath an awesomely dry cynicism. I'll admit, sometimes Nicola Yoon's whimsicality doesn't work for me, but the balance between raw emotion and magical quirks is pitch perfect in this book, with its slow burn swoon and riot of characters (Fifi, the Eastern European dance instructor, is ICONIC).
Title: Catch the Light
Author: Kate Sweeney
This book filled the Sarah Dessen void in my 2021 stacks, which is one of the highest compliments I can give to an author, and it's Kate Sweeney's debut, y'all! Her writing is stunningly poignant; her exploration of grief is staggering; and her skills in the romance department are smokin'. (Like, girl is cooking with GAS when it comes to Jesse, the very tall, very earnest, very intriguing love interest.) With its piercing portrait of a girl grappling with a sea change on the cusp of adulthood, Catch the Light reminds me of why I fell in love with YA in the first place.
Mandy W.
Title: The Forgotten Memories of Vera Glass
Author: Anna Priemaza
Confession: it's been another year in which I haven't read very many new releases, but this book would have blown me away against any competition. Even though I've known bits and pieces about it from the author, it was nevertheless thrilling and surprising. The Forgotten Memories of Vera Glass was an intriguing riddle that had me racking my brain to solve, and Anna Priemaza definitely kept me guessing until the very end.
Mandy C.
Title: How Moon Fuentez Fell in Love With the Universe
Author: Raquel Vasquez Gilliland
I don't know about y'all, but it's been a struggle over the past two-ish years to be able to focus on books, even when they're normally something you could easily get lost in. How Moon Fuentez Fell in Love with the Universe came along at the perfect time, right when I was struggling most this past summer, and kept me up past my bedtime with its sassy, swoony, and magical story. I couldn't have asked for a better slump-buster!
Title: One Last Stop
Author: Casey McQuiston
McQuiston's sophomore novel proves that they're an author to watch—it brought the swoon and the magic as much as Red, White & Royal Blue, with an added magical realism/sci-fi twist. The found family aspects had me swooning in a totally different way, too; it's one of my favorite tropes, and McQuiston nails both the wonderful and messy aspects.
Title: Rule of Wolves (King of Scars #2)
Author: Leigh Bardugo
Series: King of Scars
Anytime I get to visit Ravka is a good time in my book, and it was especially bittersweet to check back in with Nikolai and the gang in this duology closer and possible ending (I'm holding out hope that it's not) to the Grishaverse novels. The cameos in this book were spectacular, and someone who was truly deserving of a happy ending finally got one.
Title: Little Thieves (Little Thieves #1)
Author: Margaret Owen
Series: Little Thieves
Owen's last series was a delightfully good time, and Little Thieves is even better. A book filled with grey characters (who actually have really good hearts), slow-burn romance, and unapologetically queer characters is right up my alley, and Little Thieves has all of those—plus a heist plot, which y'all know I also love!
Title: The Ones We're Meant to Find
Author: Joan He
This dystopian novel came out of nowhere and immediately cemented itself in my top reads of the year. It's equal parts mysterious and hopeful, and He's writing is superb; her ability to capture two very different personalities in the POVs is so impressive. I definitely had a book hangover after finishing this one, and I'm looking forward to it being an upcoming FYABC selection so that I can chat about it with even more folks!
Rosemary
Title: Mister Impossible (Dreamer Trilogy #2)
Author: Maggie Stiefvater
Series: The Dreamer Trilogy
The second book in Stiefvater's Dreamer Trilogy was as Stiefvater-y as ever. Gorgeous writing, perfectly imperfect characters, dazzling dream things, little teases of big swoon, and an ending that has me obsessively refreshing the mostly blank Dreamer Trilogy #3 Goodreads page for updates. In Mister Impossible, she managed to make me fall in love with DECLAN of all people. Kudos, Maggie. KU-DOS.
(Seconded by Sarah)
Title: People We Meet on Vacation
Author: Emily Henry
I didn't think Emily Henry could outdo herself after Beach Read, and before I read Beach Read, I didn't think she could outdo her YA books. What I now know is that Emily Henry continues to prove me wrong. In People We Meet on Vacation, she pulls off the best-friends-to-lovers trope with aplomb – something that (IMO) a lot of authors struggle with – and does it in her signature style that made me a fan from her first book.
(Seconded by Mandy C. and Sarah)
Title: A Lesson in Vengeance
Author: Victoria Lee
Haunted boarding schools, a historical mass murder of witches, secret covens, unreliable narrators with unhealthy obsessions – A Lesson In Vengeance was sapphic dark academia at its finest. I'm officially filing this one under "Books I'll Need To Reread Every October."
Title: A Court of Silver Flames (A Court of Thorns and Roses #4)
Author: Sarah J. Maas
Series: A Court of Thorns and Roses
I feel the need to preface this by saying: this book was not perfect. It was way too long, and I didn't love Rhys and Feyre's plot. But I guess when a book is nearly 800 pages long, you can dislike parts and there's still plenty left to love. And I loved Nesta. I hated Nesta. I loved to hate Nesta, which was exactly how Nesta felt about herself. She was a much more interesting character than Feyre, and Cassian was a perfect foil for her. I loved the romance, but I also loved the new characters Maas introduced us to.
(Seconded by Mandy C.)
Title: Small Favors
Author: Erin A. Craig
Erin Craig's prairie horror novel had an almost uncanny valley effect on me. It wasn't about jump scares or big spooks. What made it creepy was the way everything was just a little…off. She managed to keep the tension building over the course of the whole book in a way that had me afraid to turn the lights off at night.
Stephanie
Title: Concrete Rose (The Hate U Give #0)
Author: Angie Thomas
Series: The Hate U Give
I am normally not one for prequels, but I will take an opportunity to head back to Garden Heights and hang out with the Carters anytime. Angie Thomas has such a gripping voice; I fall into her books so easily. In this case, Mav went through so much that I actually appreciated knowing how his life turned out so I could feel less stressed as he was going through it.
Title: Firekeeper's Daughter
Author: Angeline Boulley
It took me more than a month to finish this book (which, if you know me, is highly unusual and normally means I'm just not that into you) but I really think it was a case of being in the right emotional mood, because once I really settled into the story I breezed on through. This book is big, in both length and story depth, and you can feel the appreciation and love Boulley has for her culture in every line.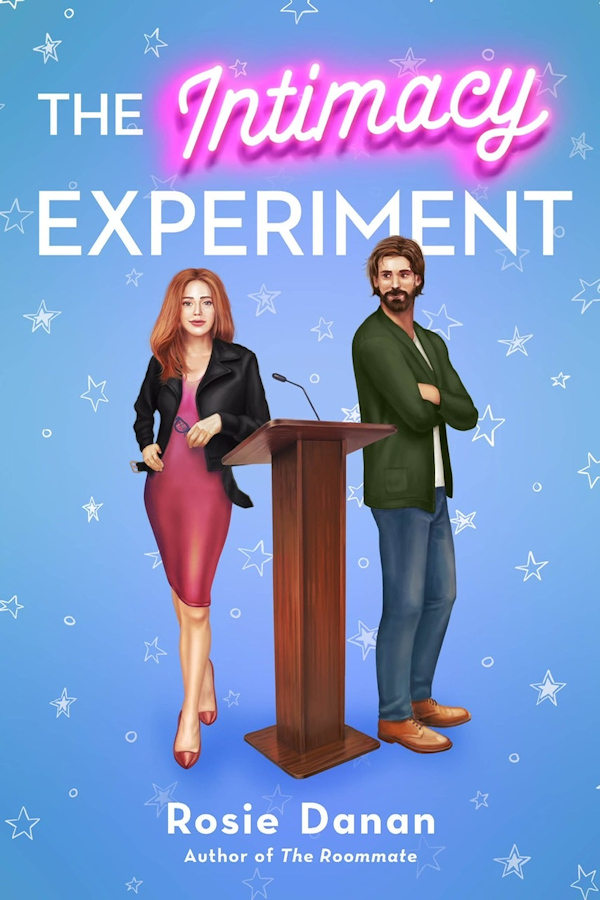 Title: The Intimacy Experiment (The Roommate #2)
Author: Rosie Danan
Series: The Roommate
I look at my Goodread's Reading Challenge for 2021 and I'm like, what did I even read?! It's been a really weird year, somehow even more so than 2020. I've really needed a lot of lightness in my fiction, so if we were being completely truthful here, my top 5 "reads" of 2021 would just be a myriad of fan fiction (HEA only, please!). Hence my final three picks are all romance, because that is my happy place. Naomi is such a fun, sexy, fierce, and smart character that I'd love to read more books about her (even though I am anti-sequel for romance novel couples; let them be! Looking at you, Outlander.)
Title: These Hollow Vows (These Hollow Vows #1)
Author: Lexi Ryan
Series: These Hollow Vows
Lexi Ryan is no stranger to romance, but she also gave us some fun magical world-building in this new faerie-focused fantasy series. There's a love triangle–what faerie romance would it be without it–but I don't even care. Take me along for the ride!
Title: The Duke Undone (Duke Undone #1)
Author: Joanna Lowell
Series: Duke Undone
I love a good historical romance, especially when I come away having learned something new (why, yes, I DO work in Education; how'd you guess?). This wasn't exactly the "lightest" of romances, but it still had a HEA, and anyway I prefer when my romance has plenty of other plot to round it out.
Brian
Title: Where There's a Whisk
Author: Sarah J. Schmitt
I really don't like reality TV, and cooking shows drive me to distraction, this was a sweet story that combined both of them. It it didn't get too technical and make me feel stupid because I didn't know what a 'spatula' was.
Title: Bluebird
Author: Sharon Cameron
Return to the days of 1945, when the majority of Americans accepted the fact that Nazis were bad.
Title: The Devil Makes Three
Author: Tori Bovalino
Lovecraftian grimoires and hero librarian? Yes, please.
Title: The Bitterwine Oath
Author: Hannah West
I love me a good book about a small town with secrets to keep.